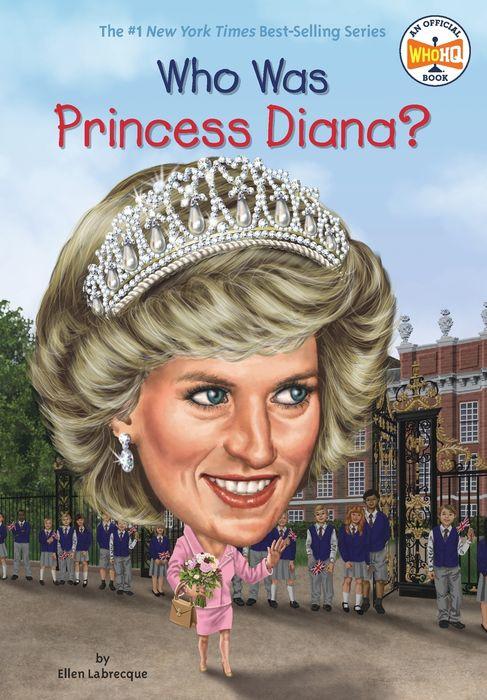 Buy This Book
---
---
"I knew my job," Diana said once. "It was to go out and meet people and love them." –Who Was Princess Diana?  
Who Was Princess Diana?
by  Ellen Labrecque
AR Test
At A Glance
Interest Level

8+
Entertainment
Score
Reading Level
6.0
A shy twenty-year-old girl stepped out of a horse-drawn coach and into the world spotlight, capturing the imagination of millions as a real-life fairytale princess. Although the storybook marriage didn't have a happy ending, Diana learned to use her fame to champion charitable causes near to her heart. She became the "People's Princess" by humanizing the image of the royal family and showing care and concern for all people, including the homeless, the sick, and others in need.
Even though Princess Diana was born into a wealthy, noble family, her father taught her to "treat everybody with kindness and never act more important than another person." Because of her caring and compassionate nature, Princess Diana was loved by millions. Princess Diana used her fame to help people in need, including AIDS patients, the Red Cross and Mother Teresa. Again, though her fairy tale didn't have a happily-ever-after, Princess Diana's life is still an inspiration for millions around the world.
While the majority of Who Was Princess Diana? focuses on Diana's life beginning with her early childhood, the book is full of other interesting facts. Scattered throughout the book are one-to-two-page non-fiction articles that talk more about the royal residences, the order of succession, Mother Teresa, as well as other topics that affected Princess Diana's life. The end of the book includes a timeline of Princess Diana's life and a timeline of the world.
Who Was Princess Diana? shows that life as a princess isn't like it is in a fairy tale. The book has an easy-to-read format with large font. Large black-and-white illustrations appear on almost every page. Many of the illustrations show the royal family; however, the drawings are a bit off-putting because of the strange expressions on people's faces. In addition, some of the drawings are of people in Diana's life, but the picture doesn't look much like them.
While Princess Diana was an admirable person, she is not portrayed as a perfect person. Throughout her life, her caring nature was a bright light. She was never afraid to show her love for people including the sick and the poor. Today, Princess Diana's legacy is carried on by her two sons, Prince William, and Prince Harry. Who is Princess Diana? is perfect for readers who are researching the princess. However, learning about the princess will also encourage everyone to be a kinder person. Diana said, "I knew my job was to go out and meet people and love them."
Sexual Content
Violence
After Princess Diana visited Angola, she joined the Red Cross to help get rid of land mines. After a civil war, "Close to fifty thousand people—including children—had lost an arm or leg in land-mine accidents."
The paparazzi followed Princess Diana everywhere. Diana and her boyfriend, Dodi, were in a vehicle. Their driver tried to outrun the paparazzi. "The driver was going too fast and lost control. The car crashed into a concrete pillar inside a Paris tunnel." All three passengers died.
 Drugs and Alcohol
Language
Supernatural
Spiritual Content
---
"I knew my job," Diana said once. "It was to go out and meet people and love them." –Who Was Princess Diana?