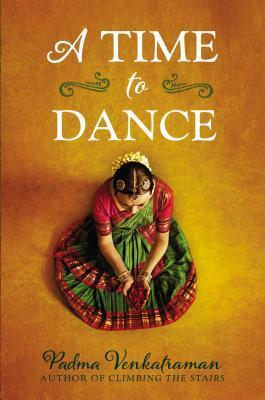 Buy This Book
---
---
"Some dancers thrill audiences with exotic poses and excessive speed. I think you should care more about entering people's hearts and elevating their souls than about entertaining their minds," Govinda. –A Time to Dance  
A Time to Dance
by Padma Venkatraman
AR Test, Teaches About Culture
At A Glance
Interest Level

12+
Entertainment
Score
Reading Level
4.8
Veda, a classical dance prodigy in India, lives and breathes dance—so when an accident leaves her a below-knee amputee, her dreams are shattered. For a girl who's grown used to receiving applause for her dance prowess and flexibility, adjusting to a prosthetic leg is painful and humbling. But Veda refuses to let her disability rob her of her dreams, and she starts all over again, taking beginner classes with the youngest dancers. Then Veda meets Govinda, a young man who approaches dance as a spiritual pursuit. As their relationship deepens, Veda reconnects with the world around her and begins to discover who she is and what dance truly means to her.
First and foremost, Veda is a likable teenager who deals with many types of normal teenage problems including conflicts with her parents and friends, crushes, insecurities, as well as the loss of her leg. Readers will connect with Veda because she is an imperfect teen who feels an array of emotions. Throughout her journey, Veda refuses to give up. Despite the loss of her leg, she is determined to continue Bharatanatyam dance. For Veda, dance is "a sacred art, an offering of devotion to God." When Veda wrestles with the way her disability affects her dancing, her grandmother tells her, "There are as many perfect poses as there are people. . . Shiva sees perfection in every sincere effort. He loves us despite—or maybe because of—our differences."
When Veda is learning how to use her prosthetic limb, the story skips past the difficulties of learning how to use the prosthetic as well the other physical ailments. Instead of explaining the difficulties, Veda's time with the doctor is spent describing her infatuation with him. To learn more about how amputation can affect an athlete, The Running Dream by Wendelin Van Draanen is an engaging story that can give you more insight.
A Time to Dance is written in beautiful verse that magnifies emotions and conflicts but is never confusing. The inspirational story shows Veda's courage, perseverance, and the importance of personal growth. A Time to Dance is an entertaining story that contains positive life lessons and teaches readers about Veda's traditions, culture, and religion.
Sexual Content
Veda's grandmother tells her about the history of dancers. Brahmin dancers "weren't allowed to marry. And somehow, somewhere along the way, / society retracted / its promise to respect these women. / They were treated as prostitutes / and their sacred art degraded / into entertainment to please vile men."
Govinda helps Veda overcome her leg's phantom pain. "His fingers feel good/stroking my invisible skin./So good I want him stroking my real skin. / Want to reach out and stroke his. / My desire scares me, and I reach for the safety of my teacup."
Violence
Veda is on a bus when it crashes. "Pain / sears through me / as though elephants are spearing my skin with sharp tusks and trampling over my right leg. . ." Her dance teacher covers her eyes, but "through his fingers I see / shredded skin, misshapen muscles. / Mine. Feel sticky blood pooling / below my right knee." Veda's leg is amputated below the knee. The bus driver "hit a tree. He died."
 Drugs and Alcohol
Language
Supernatural
Spiritual Content
Veda's Hindu religious belief is an integral part of every aspect of her life. Below are some specific examples; however, it is not a complete list of everything in the book.
When Veda was a child, she climbed up a ladder to touch Shiva's feet. The priest tells her, "You don't have to climb ladders to reach God. He dances within all He creates. . . God is everywhere. In everybody. In everything. He is born at different times, in different places, with different names."
Veda believes in reincarnation, which is mentioned often. For example, Veda's grandmother says Veda was always able to "shape thoughts" with her fingers. "It was as if you remembered the sign language of Bharatanatyam from a previous life you'd lived as a dancer before being reincarnated as my granddaughter."
When Veda dances, she loves "portraying Shiva, who, through the steps of His eternal dance, creates and destroys universes."
After Veda's accident, her grandmother says, "God's grace moves the mute to eloquence and inspires the lame to climb mountains."
After the accident Veda doesn't "feel God is anywhere nearby let alone inside of me."
Veda wonders if losing her leg is a punishment from God or for "bad Karma we built up in a past life." Her grandmother says, "I don't believe in a punishing God. I believe in a compassionate God. To me, Karma isn't about divine reward or retribution. Karma is about making wise choices to create a better future."
Veda's grandmother tells her a story about God. "The sight of you—poverty-stricken, overcome by age and illness—turned Buddha from a mere man into a reincarnation of God."
When Veda's grandmother is dying, Veda gives her "a drink of this water from the holiest of rivers. She believes it will help wash away her sins." After she dies someone says, "I'm sure her soul doesn't need to be reborn in the world. She'll now be reunited with God."
---
"Some dancers thrill audiences with exotic poses and excessive speed. I think you should care more about entering people's hearts and elevating their souls than about entertaining their minds," Govinda. –A Time to Dance