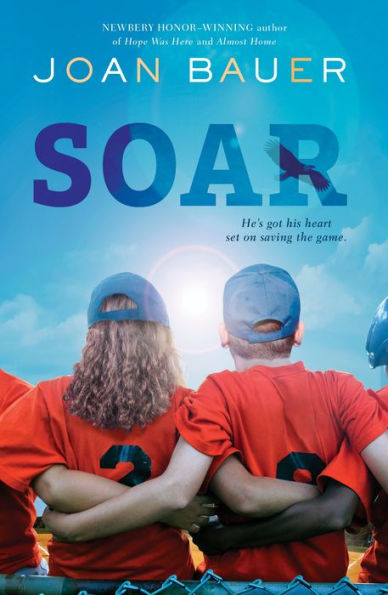 Buy This Book
---
Soar
by Joan Bauer
AR Test, Good for Reluctant Readers, Must Read
At A Glance
Interest Level

10+
Entertainment
Score
Reading Level
3.6
Jeremiah loves baseball.  When his father gets a new job in Ohio, instead of being upset at having to leave his best friend, Jeremiah is excited to go to a town that is known for its winning baseball team, The Hornets. However, soon after they arrive, the Hornets are caught up in a scandal and the town is left wondering if they would be better without baseball.
Although Jeremiah can't play baseball because of his heart transplant, he knows that baseball is too important to give up. So when he discovers that the junior high baseball team was disbanded when the coach was fired, Jeremiah takes it upon himself to coach the few who are willing to come out. However, some parents don't want their kids on the team, some schools don't want to play a town that is in the middle of a scandal, and some of the players think they are destined to be losers. Can Jeremiah's can-do-attitude overcome the obstacles to bring the team together or is baseball going to die in this Ohio town?
Right from the start, Jeremiah's voice jumps off of the page. Baseball and Jeremiah aren't the only things to love in Soar. There are many interesting characters ranging from a nosy neighbor who peaks through the bushes to the wise coach who lives next door. There is also a little bit of mystery because the story focuses on Jeremiah's neighbor, Franny, who has a dark secret that is keeping her from picking up a baseball.
Even though the story talks about the steroid scandal, the topic is handled in an appropriate way for younger children. Throughout the story, the reader will learn the importance of having a positive attitude as well as the fact that winning isn't what defines a winner. Soar is an entertaining book that has "humor, heart and baseball lore."
Sexual Content
A nurse tells about "her cheating ex-boyfriend." But no other details are given.
Jeremiah's father becomes engaged. Jeremiah sees his father and fiance kiss a couple of times.
Violence
Drugs and Alcohol
When a baseball player dies there are rumors about the cause of his death. People wonder if he was drunk or on drugs.
The story revolves around the high school's baseball team whose coach gave some of the players steroids.
Language
Supernatural
Spiritual Content
Before Jeremiah has heart surgery, he prays with his father. "The Lord is my shepherd; I shall not want. He makes me lie down in green pastures; He leads me beside the still waters; He restores my soul."
At one baseball game, a priest and a nun are part of the team's fans. One of the players is upset that "They've [the team] got God on their side!" Another player points out the Rabbi who cheers for their team and says, "Look, we've got God, too."
Before the game, the Rabbi prays. "May the Source of All Life bless these players with wisdom and strength, swiftness and skill, patience and power . . . And for the umpires—blessed is the Source of Arcane Baseball rules and those who tend them."