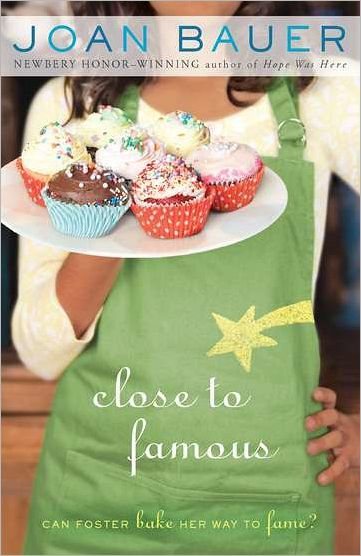 Buy This Book
---
---
"I'll  tell you something about tough times. They just about kill you, but if you decide to keep working at them, you'll find your way through." —Close to Famous
Close to Famous
by Joan Bauer
AR Test, Good for Reluctant Readers
At A Glance
Interest Level

10+
Entertainment
Score
Reading Level
3,6
Twelve-year-old Foster dreams of having her own cooking show on the Food network. When she and her mother flee Nashville and end up in the tiny town of Culpepper, Foster worries that her dream is over. When Lester, a tow truck driver, offers to let them live in the Airstream trailer in his backyard, they take him up on his offer because they have nowhere else to go.
Foster begins to feel at home as she makes friends and gets herself a job baking for the local coffee shop. When she meets Charleena Hendley, a once-famous actress, Foster is forced to face her biggest challenge—learning to read. Close to Famous has a string of loveable characters, who each have their own challenges. Although the story does not have a fairy tale ending, the ending is surprisingly heart-warming.
In Close to Famous Joan Bauer tackles the difficult issue of domestic abuse and losing a loved one in an age-appropriate way. In the end, Foster learns the importance of never giving up, and how true friends help a person overcome their challenges. As Foster tells her story, she brings the small town of Culpepper and its residents to life. Close to Famous is an easy-to-read, engaging story that has humor, and heart.
Sexual Content
One of the character's husbands had an affair and left her. "Mike Tuller was my husband, and he started seeing a supermodel while we were married . . . I was devastated, humiliated."
Violence
When Foster's mother, Ryka, tells her boyfriend that the relationship is over, he becomes violent. "Huck was shaking her by the shoulders . . . That's when he hauled off and punched her in the eye. I did a flying leap toward him; he pushed me away." Foster screams and the neighbors begin yelling. Foster and her mother leave.
Foster's mother returns to Nashville to get some belongings. While she is there, she sees her x-boyfriend. When she returns to Culpepper, her arm has a big bruise on it. "I only saw him for an hour, and when I was heading out the door, he grabbed my arm and yanked it back hard, but I left anyway. That's how I got the bruise."
Ryka's father was abusive. She tells Foster, ". . . he hit my mother. . . Once she called the police on him, but his cousin was on the force and he covered the whole thing up."
While checking out at the grocery store, someone mentions that "Zeke got jumped at the prison. Wasn't paying attention."
A prisoner escapes and goes to the house where his family was staying, and begins yelling. The confrontation is described over several pages. In the end, the prisoner ends up leaving. When he leaves Foster says, "I heard a noise outside, sounds of a fight, then shouting, 'I'm making a citizen's arrest.'"
Drugs and Alcohol
Language
Supernatural
Spiritual Content
Foster and her mother acknowledge God's existence and pray to him. While she was in a difficult situation she thinks, "I hope that God can see us through the fog. Because if he can't, we're in big trouble."
When Foster asks if memorizing is cheating, she is told that "You use whatever God's give you."
---
"I'll  tell you something about tough times. They just about kill you, but if you decide to keep working at them, you'll find your way through." —Close to Famous