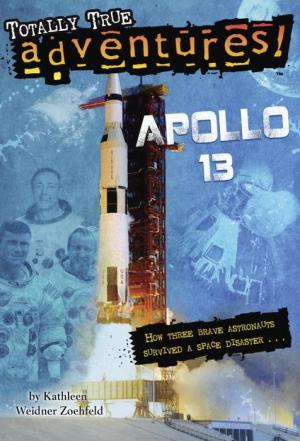 Buy This Book
---
---
Mission Control's "computers showed that the spacecraft's path was changing. Even a little change would be a disaster by the time they reached Earth. If this continued Odyssey would not be landing in the Pacific Ocean. It would bounce off Earth's atmosphere, like a stone skipping off the surface of a lake." –Apollo 13  
Apollo 13
Totally True Adventures
by Kathleen Weidner Zoehfeld
AR Test, Good for Reluctant Readers
At A Glance
Interest Level

7+
Entertainment
Score
Reading Level
4.7
On April 11, 1970, astronauts Jim Lovell, Fred Haise, and Jack Swigert blasted off to the moon. But while they were flying, part of their spaceship exploded! The ship was quickly losing power and air. They had to think of something fast, or they'd be stuck in outer space forever. How would Lovell, Haise, and Swigert make it back to Earth?
Almost everyone has heard the phrase, "Houston, we have a problem" and know it refers to traveling to the moon. Apollo 13 shows how the brave astronauts were able to safely make it back to Earth. While the book focuses on the astronauts, readers will learn a host of new facts about space travel in general. The book is packed with information explaining Apollo 13's journey including what went wrong, why it was dangerous, and how the astronauts dealt with the problems. The end of the book also has more space information, such as how a person goes to the bathroom in space.
Apollo 13 uses short chapters and explains some of the vocabulary, which makes the book accessible to reluctant readers. Large black and white illustrations appear every 5 to 9 pages that show the astronauts in action. While the book is easy enough for young fluent readers, the content will be interesting to older readers as well.
Readers who know little about space travel may find it difficult to get to the end of Apollo 13. Even though the astronauts had some scary moments, the story is missing a sense of suspense and action. The factual way Apollo 13 is told may put off readers who were expecting the book to read like a story. However, if you love space and/or need to research Apollo 13, you should definitely check out this book!
If you've ever wondered about traveling to space, Apollo 13 should be read along with several other books. Even though Counting on Katherine: How Katherine Johnson Saved Apollo 13 is a picture book, it is a must read for anyone who wants to learn more about Apollo 13. In addition, readers interested in learning more about space flight should also read The Race to Space: Countdown to Liftoff by Erik Slader & Ben Thompson.
Sexual Content
Violence
 Drugs and Alcohol
Language
Supernatural
Spiritual Content
---
Mission Control's "computers showed that the spacecraft's path was changing. Even a little change would be a disaster by the time they reached Earth. If this continued Odyssey would not be landing in the Pacific Ocean. It would bounce off Earth's atmosphere, like a stone skipping off the surface of a lake." –Apollo 13