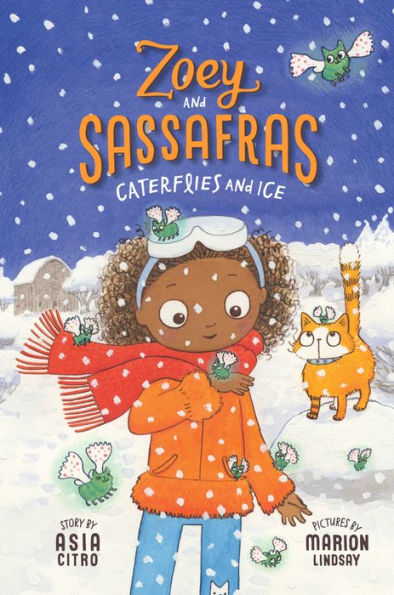 Buy This Book
Buy This Series
---
---
"I'm glad that I just grow. Shedding my skin to get bigger would be super gross," Zoey.–Caterflies and Ice
Caterflies and Ice
Zoey and Sassafras #4
by Asia Citro
AR Test
At A Glance
Interest Level

7+
Entertainment
Score
Reading Level
4.0
Zoey is excited when an unexpected spring snowstorm covers the ground in snow. Then Zoey learns that the snow is causing trouble for some of the magical creatures of the forest. Zoey and Sassafras come to their rescue. But their first attempt to save trapped caterflies eggs results in a big mistake. Can they figure out a way to fix things before the baby caterflies hatch?
Like the previous book in the series, Zoey uses science to solve problems. Her mom gives a demonstration showing what salt does to plants. This demonstration would be easy for readers to recreate. When Zoey tries, and accidentally hurts the plants that the caterflies babies will need to eat, Zoey's mother doesn't scold her. Instead, she says, "We all make mistakes." Then her mother helps Zoey find a workable solution. Zoey documents her experiences in her science journal, and when Zoey writes in the journal, the font changes to large, kid-like font. Instead of telling Zoey what to do, her mom asks Zoey questions in order to guide her to a workable solution.
Younger readers will love the cute caterflies that look similar to kittens with wings and will love when Sassafras jumps in and helps keep the caterflies safe and warm. As Zoey helps the caterflies, the reader will learn about plants, caterpillars, and how they change into butterflies. Zoey's adventure is shown through large black and white illustrations that appear on almost every page. Readers who are not fluent will need help with some of the vocabulary. However, with short paragraphs, plenty of dialogue, and a simple plot, Dragons and Marshmallows is accessible to most readers.
Caterflies and Ice will appeal to younger readers as well as parents. With her mom's help, Zoey is able to come up with creative solutions to problems. For example, when Sassafras doesn't like the wet snow, Zoey makes protective feet covers. In addition, Zoey is a relatable character who loves exploring, bugs, and using science to solve problems. Her cat Sassafras adds some humor to the story. In addition, her parents are portrayed in a positive manner and encourage Zoey to continue trying new things, even when she makes a mistake.
Zoey and Sassafras show the fun of science and the importance of taking care of the environment. The story ends with a glossary. Even though Zoey and Sassafras is a series, the books do not need to be read in order. Caterflies and Ice is an entertaining story that has a little bit of magic and a whole lot of important lessons. Readers who love science should also add The Data Set Series by Ada Hopper to their must-read list.
Sexual Content
Violence
 Drugs and Alcohol
Language
Supernatural
Zoey and her mom are the only people that can see and talk to the magical creatures that live in the forest.
When Zoey takes a picture of a magical creature, "every photo saves a bit of magic with it."
Spiritual Content
---
"I'm glad that I just grow. Shedding my skin to get bigger would be super gross," Zoey.–Caterflies and Ice