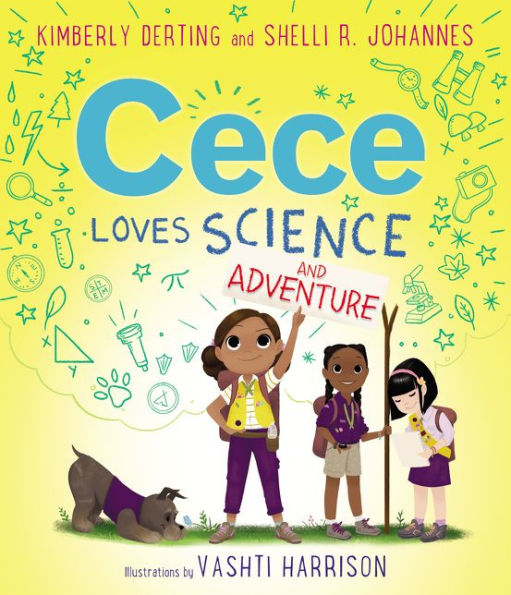 Buy This Book
---
---
"Real scientists are always prepared," Ms. Curie. –Cece Loves Science and Adventure
Cece Loves Science and Adventure
by Kimberly Derting & Shelli R. Johannes
AR Test, Picture Book
At A Glance
Interest Level

4 – 8
Entertainment
Score
Reading Level
3.2
Cece and her Adventure Girl group are going on a camping trip. Cece has packed everything including the marshmallows. Her friends, Caroline and Daisy, help set up a tent. Once that is complete, Cece's mom and the three friends go on a nature hike. They see all sorts of interesting things like a twisty oak tree and a fork in the path. Cece uses her camera to take lots of pictures.
A sudden rainstorm surprises the girls, but they're prepared. They make a shelter out of their rain ponchos. When Cece's mom loses her cellphone signal, the girls use the pictures that Cece took to make a map. Soon they are back at camp! The Adventure Girls are excited that they earned their camping pin.
Cece wants to make sure she is extra prepared for the camping trip, so she uses two lists—Adventure Girls Camping Checklist and Cece's Camping Checklist. As the girls go on their adventure, they also use a list to make sure they are able to earn their camping pin. While on the camping trip, the girls have fun and have to use math to build a tent, figure out how far away a storm is, and find out how far they are from their camp.
Several times, Cece thinks about what her teacher, Ms. Curie, has taught her in class. While the story has some scientific facts, the lessons seem rushed and have little detail. For example, when a storm approaches, Cece thinks about the different types of clouds, which are identified in a thought bubble. The story quickly moves on, without teaching more about clouds. In addition, Cece and her friends are able to use pictures to create a map back to their campsite, which is unrealistic.
While the story's plot is not as well developed as the first book in the series, younger readers will enjoy seeing Cece and her friends work together to solve problems. While the science is kid-friendly, younger readers will need help reading the text-heavy pages because of the complex sentence structure and difficult vocabulary such as Mississippi, cumulus, and gnome.
Cece Loves Science and Adventure uses an easy-to-understand format and brightly colored, full-page illustrations to engage students. Several of the illustrations show the math problems that the girls are trying to figure out. The illustrations highlight the characters' facial expressions which helps readers understand their emotions. The story ends with a STEM Pin Worksheet that shows how the camping trip meet the requirements to earn a STEM Adventure Girl pin. A two-page glossary appears at the back of the book.
The Cece Loves Science Series introduces young readers to science in a fun and educational way. Each story makes science fun and shows the importance of working together. With supportive adults, a diverse group of characters, and an adorable dog, Cece Loves Science and Adventure will entertain and educate readers.
Sexual Content
Violence
 Drugs and Alcohol
Language
Supernatural
Spiritual Content
---
"Real scientists are always prepared," Ms. Curie. –Cece Loves Science and Adventure