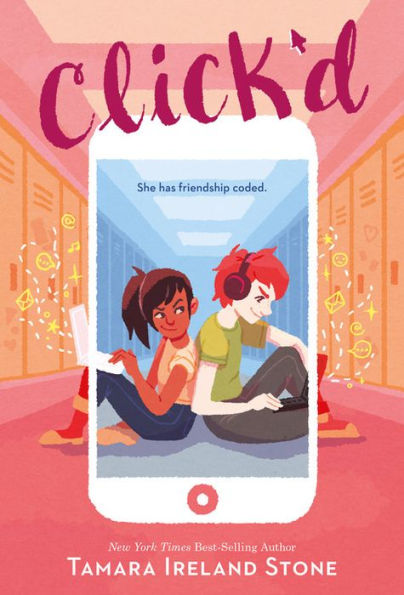 Buy This Book
---
---
"I like my game. These little animated people make sense. Real people don't always do that, you know?" Nathan. –Click'd  
Click'd #1
by Tamara Ireland Stone 
AR Test
At A Glance
Interest Level

8+
Entertainment
Score
Reading Level
4.8
Allie Navarro can't wait to show her best friends the app she built at CodeGirls summer camp. Click'd pairs users based on common interests and sends them on a fun (and occasionally rule-breaking) scavenger hunt to find each other. And it's a hit. By the second day of school, everyone is talking about Click'd.
Watching her app go viral is amazing. Leaderboards are filling up! Everyone's making new friends. And with all the data Allie is collecting, she has an even better shot at beating her archenemy, Nathan, at the upcoming youth coding competition.
But when Allie discovers a glitch that threatens to expose everyone's secrets, she has to figure out how to make things right, even if that means sharing the computer lab with Nathan. Can Allie fix her app, stop it from doing any more damage, and win back the friends it hurt-all before she steps on stage to present Click'd to the judges?
Click'd is an engaging story that mixes coding, middle-school drama, and competition between Allie and her archenemy. Readers will relate to Allie who loves the positive attention she gets because others love playing her game, Click'd. The glitch in her code highlights Allie's desire to win the completion versus her desire to do the right thing—shut the app down until she can fix the code. Throughout her experiences, Allie learns important lessons about friendship including that "clicking" with people in real life is always the most important thing.
In the end, Allie does the right thing—she shuts Click'd down and withdraws from the competition. Even though this makes Allie feel like a failure, the adults in her life—her parents, her coding teacher, and the principal—let Allie know that they are proud of her because of her dedication and hard work. Allie's coding teacher tells her, "I am so proud of you. . . For building your app. For working all week to fix it. For being here in the pavilion. I've never been so proud of one of my students." The story reinforces the idea that mistakes are nothing to be ashamed of.
Click'd will inspire middle school readers to be brave enough to try new things, whether it be talking to a classmate, going to a camp, or joining a competition. The story has the perfect amount of friendship drama, internal conflict, and crushes. The conclusion has a few unexpected twists and a sweet, hopeful ending. Click'd is the perfect book for middle school readers not only because of the engaging plot but also because the story reinforces the importance of forgiveness and being open to making new friends. Readers who love books about smart girls who can code should add Emmy in the Key of Code by Aimee Lucido to their reading list.
Sexual Content
Click'd posted a screenshot of a private conversation, where Emma talked about her crush. When the picture is circulated around school, Emma is upset because "People keep making kiss noises at me."
Violence
 Drugs and Alcohol
Language
"Oh my God" is used as an exclamation four times. For example, when Maddie tries Click'd, she says, "Oh My God, this is so insanely fun."
When people start making fun of Emma, Allie says that the people are jerks.
Darn is used once.
Supernatural
Spiritual Content
---
"I like my game. These little animated people make sense. Real people don't always do that, you know?" Nathan. –Click'd