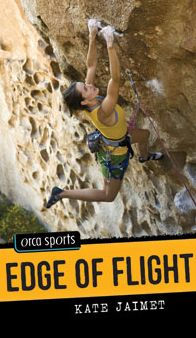 Buy This Book
---
---
"Better a live fool than a dead fool," says Rusty. –Edge of Flight
Edge of Flight
by Kate Jaimet
AR Test, Good for Reluctant Readers
At A Glance
Interest Level

12+
Entertainment
Score
Reading Level
4.1
The boxes are packed. Tuition has been paid. But before Vanisha leaves, she wants to go rock climbing with her friends one last time. So far, she has been unable to complete the Edge of Flight, the toughest rock climbing route Vanisha has ever faced. This time, she's determined to make it up the cliff.
When Vanisha and her friends, Rusty and Jeb, set up their campsite, they discover an illegal marijuana grow. When Jeb decides to explore the marijuana field, a group of bikers discovers him. When Jeb is shot, he needs immediate help. But the bikers are looking for the kids. In order to save her friend, Vanisha must conquer the Edge of Flight, hike into town, and avoid unexpected dangers. Can Vanisha overcome her fear to save her friend?
Edge of Flight is not only about rock climbing, but also about teens making decisions about their future. Vanisha plans to attend college in the fall; however, she is unsure of what she wants to do. Through her experiences, she learns, "You've got to take one road or the other. You've got to decide. And no one can decide for you. It's your decision. Because it's your road. You're the one who has to walk it. Not your mom. Not anyone else." The story has a positive message about discussing your dreams with your parents, but also the importance of making decisions that are best for you.
Vanisha's college conflict will resonate with many high school students. The easy-to-read language, straightforward plot, and short length will appeal to reluctant readers. However, those not familiar with rock climbing may not understand all of the terminology without the aid of the glossary, which is at the back of the book. Although the story should be suspenseful, the character development is lacking, which makes it difficult to connect with Vanisha and her friends. Confident readers should skip Edge of Flight and instead read Jaimet's other book, Endangered: A Death on a Deadline Mystery, which is an excellent mystery.
Sexual Content
Violence
Jeb goes to explore an illegal marijuana grow and someone shoots at him. "Another shot rings out. Jeb stumbles and crumbles to the ground."
A group of men is at a campsite drinking beer, and they smash Jeb's truck with a tire iron.
A man grabs Vanisha. "He laughs, his breath hot in my ear, and drags me towards the campsite." Vanisha's friend tries to help. A short fight ensues, and someone pulls a hunting rifle on the group. No one is injured.
Drugs and Alcohol
Vanisha and her friends come across an illegal marijuana grow. The experience makes Vanisha wonder if she can trust her friend. She wonders, "What if he's got a stash of weed in his glove compartment, or hidden under a seat? What if he's got a couple of cans of beer hidden among all of the junk in the back of his trunk?"
A woman tries to help Vanisha. In order to get around the men, she tells Vanisha, "Honey, if I know them boys, they're already drunk and stoned already. They'll pass out eventually. I'm just gonna help them along with a little home brew and Southern charm."
Language
A boy says "'scuse my dumb ass for livin.'"
"Sweet Lord Jesus" is used as an exclamation once.
A boy calls his friend a moron.
A man is "pissing against" a truck.
Supernatural
Spiritual Content
---
"Better a live fool than a dead fool," says Rusty. –Edge of Flight