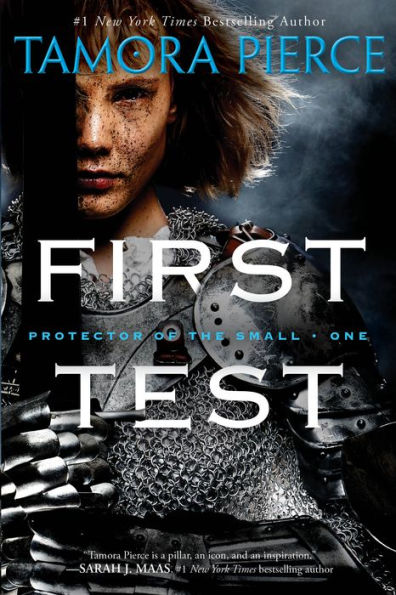 Buy This Book
Buy This Series
---
---
"You understand that you are here on sufferance. You have a year in which to prove that you can keep up with the boys. If you do not satisfy me on that count, you will go home," Lord Wyldon.  –First Test
First Test
Protector of the Small #1
by Tamora Pierce
AR Test, Diverse Characters, Must Read, Strong Female Character
At A Glance
Interest Level

12+
Entertainment
Score
Reading Level
5.3
Keladry of Mindelan dreams of becoming a lady knight. A generation ago, that would not have been possible. But ten years ago, the King announced that ladies could try for their knighthood. In the decade since, no girl has dared to try. Until now.
Kel knows becoming a knight will not be easy. Years of hard training and study lie between Kel and her dream. But that's not all. Kel did not know she would be placed on probation—something no boy has ever endured. And she did not realize how much resistance she would meet. Knights don't think she is strong enough, her trainer does not think women should be knights, and the other trainees are determined to drive her away.
A delightful start to the Protector of the Small Quartet, First Test is a thoroughly enjoyable read. Kel is a brave and kind soul that readers will fall in love with. The other characters in this book are also refreshingly well-developed, from her training master and friends, to her enemies and even her horse. Protector of the Small is an enjoyable story filled to the brim with equal parts fun and excitement. It teaches readers how to be a true knight—how to be honorable, selfless, brave, and to always protect those who are weaker than yourself.
Kel wants to fight, but she's not interested in glory. She wants to use her shield to protect those who can't protect themselves. Unlike many female heroines, Kel doesn't disguise herself as a boy or throw temper tantrums. Instead, she uses quiet determination and her intelligence to overcome obstacles. Kel's story touches on themes of friendship, bravery, and shows the importance of not bullying others.
Several characters from the Song of the Lioness series appear throughout The Protector of the Small series, which will be a treat for fans of Alanna. However, readers do not have to read the Song of the Lioness series first in order to understand this series. Jump into a medieval world where fantasy and action combine to create a girl-centered adventure that will keep readers turning the pages until the very end.
Sexual Content
Violence
Kel survived a pirate attack when she was a girl. "The lady tumbled to the ground. Kel slid out the door on her belly. Turning, too startled to cry, she saw the lady at her mother's feet. There was an arrow in the Yamani woman's back."
Kel fights with a group of boys when they try to drown a bag of kittens. No one is seriously injured. "Another lad grabbed a branch and swung at her; she blocked it with hers, then rammed the length of wood into his stomach. He doubled over, gasping."
Kel tries to rescue a bag of kittens from a spidren that wants to eat them. The spidren bites a kitten in half, then comes after Kel. Kel freezes in terror, and she does not see when soldiers kill the spidren.
Kel fights a group of bullies several times. "Gripping Zahir's index finger, Kel jammed her thumbnail into the base of Zahir's own nail . . . He yelped and let go. Joren lunged for her. She stepped back, ducking under Zahir's frantic punch . . . She grabbed Joren's tunic and turned, kneeling as she did. He went flying over her shoulder."
The pages say that "a page failed the examinations about six years ago and jumped off the Needle."
The pages go on a spidren hunt with a group of knights. The spidren took a woman, and the knights say they have to find the spidrens because, "Often they bite off a victim's limb, then slap a web on it, to keep them from dying of blood loss. The woman they took may yet live."
The pages fight when the knights find the spidrens. "The weapon's slim razor point sliced through the spidren's chest and arm, releasing a spray of dark blood. Kel reversed the spear and cut back, dragging the blade down. It bit into the spidren at the neck and stuck there as crossbow bolts riddled the immortal."
After the battle, soldiers rolled, "a barrel of blazebalm into the [spidren's] nest. A mage whispered, and the blazebalm roared into flames. Hearing the young shriek as they burned, Kel found it was her turn to vomit."
Drugs and Alcohol
Adults sometimes drink wine with their meals.
Language
Phrases such as Goddess bless are used frequently as a part of Tortallian culture. One time, Alanna thinks, "Goddess bless . . . How will I ever get on with him if I'm to help this girl Keladry?" Another time, Neal asks Kel, "Why in the name of all the gods in all the Eastern and Southern Lands would you start a fight with them?"
Supernatural
Kel lives in Tortall, a world filled with monsters and magic. The monsters include griffins, centaurs, and more. Some are good, some are not. Kel even has a basilisk for a teacher. "The creature was fully seven feet tall, not counting the long tail it used to balance itself, and it was viewing her with fascination. Its large gray slit-pupiled eyes regarded her over a short, lipless muzzle."
Several people, called mages, have the ability to use magic and some can heal with magic. Kel's friend Neal is one of them. "Neal rested her foot on his hands and bowed his head. A soft light of such a deep green as to be nearly black shimmered between his palms and Kel's flesh . . . The pounding in her foot began to soften until it had ceased. Her toes shrank back to their normal size as she watched."
"A mage was briefly granted the power to raise the dead last year." One of the things he brought back to life was, "a kind of living skeleton, a creature of bone and air. It had flown to perch on her, yet its wings were empty, slender fans made of very long finger bones."
Spiritual Content
Tortall has many gods. They are named similarly to the Greek gods. For example, Mithros is the god of the sun, and there is a god of death. The gods are mentioned often in the Tortallian culture but are not an integral part of the plot.
Characters often pray before meals or battles. "We ask the guidance of Mithros in these uncertain times, when change threatens all that is time-honored and true. May the god's light show us a path back to the virtues of our fathers and an end to uncertain times. We ask this of Mithros, god of the sun."
While visiting a foreign land, Kel hears about their sacred relics. "They are the swords given to the children of the fire goddess, Yama . . . The short sword is the sword of law. Without it, we are only animals. The long sword is the sword of duty. It is the terrible sword, the killing sword."
by Morgan Lynn
---
"You understand that you are here on sufferance. You have a year in which to prove that you can keep up with the boys. If you do not satisfy me on that count, you will go home," Lord Wyldon.  –First Test