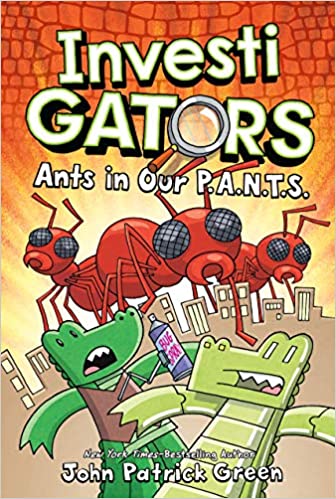 Buy This Book
---
---
"Feeling neglected in the workplace? Want to be evil and do crimes? Join T.A.I.L.Blazers! Blaze a trail to success with the Total Annihilation of Idiot Law-doers! Come to the New old opera house for more details." –Ants in Our P.A.N.T.S    
Ants in Our P.A.N.T.S.
Investigators #4
by John Patrick Green
AR Test, Good for Reluctant Readers, Graphic Novel
At A Glance
Interest Level

7+
Entertainment
Score
Reading Level
3.5
The Special Undercover Investigator Team has a new plan. "Once we get wind of an evildoer's schemes to form a team, the Anti-Crime Unit will go undercover as fellow evildoers and follow this simple procedure: pinpoint the possible perpetrator's position; avoid blowing your cover; neutralize any superweapons; thwart their villainous plan, and stop them from getting away."
However, the procedure does not go according to plan. When Cilantro (a chameleon) isn't promoted to an agent, he considers teaming up with other evildoers. When he goes to the New old opera house looking for other evildoers, he feels guilty, but he also discovers important information that will help solve a crime. In the end, Cilantro must decide if he will fight for good or evil.
The mission is made more difficult because Brash is in the hospital, unconscious, and MegaRoboBrash cannot access all Brash's memories. With the help of a medium, Mango can enter Brash's mind. While there, Mango discovers that Brash has "regressed into a child as some sort of coping mechanism!" Can Mango discover what is keeping Brash from waking up? Will Mango, Cilantro, and RoboBrash thwart the evil villain?
Ants in Our P.A.N.T.S brings back a host of old characters as well as a sprinkle of new characters. While much of the conflict was established in previous books, the addition of giant ants adds humor and interest. Even though Brash is unconscious, he still appears frequently. Brash appears as a small child (which is adorably cute) and later as an adult. The large cast of characters may be confusing, but they help keep the story fresh and interesting.
Even though Ants in Our P.A.N.T.S is laugh-out-loud funny, it still has a positive message. Brash refuses to wake up because he is battling fear. With Mango's help, Brash decides, "This is my mind. I decide how much space I'll let my fears take up." He learns that he must forgive himself and let go of the fear and guilt. The story also highlights the importance of believing in yourself.
Ants in Our P.A.N.T.S has many positive aspects. The combination of human and animal characters blend to create a ridiculous story that uses wordplay to add humor. The imaginative story comes alive in brightly colored artwork that shows the characters' wide range of emotions. The text is large and uses different font sizes, which helps emphasize the characters' emotions and important aspects of the story.
The illustrations and the unique storyline of Brash and Mango will appeal to even the most reluctant readers. Each page has 3 to 11 sentences. The sentences range from one word to more complex sentences. The story does an excellent job of giving enough background information so readers who are new to the series will understand the plot. However, for maximum enjoyment, the series should be read in order.
The Investigators Series is immensely enjoyable to read because of the ridiculously silly scenes, the unique characters, and the fun puns. Each story contains plenty of surprises that will keep readers flipping the pages. No matter your age, you will find something in the series to love.
Sexual Content
Violence
An evil villain uses the Embiggerner to supersize ants. The ants then attack the city. People run from the ants, but no one is injured. The "savage beasts" are put to sleep with music. The scene is illustrated over six pages.
Two villains team up and use the ants to attack the city, destroying many buildings. They also use the Embiggerner to make "ginormous gemstones," "jumbo shrimp," and "big money." The attack is humorous instead of scary.
Brash and Mango trick the evil triceratops into charging a red cape. Chameleon trips him and the triceratops ends up with his horns stuck in a sidewalk.
Ants attack MegaRoboBrash, who hits them. Then he ties their antennas together and throws them into space. The scene is described over seven pages.
A chameleon and a group of ants attack the triceratops so he can be sent back to jail. They use trickery, knitting, and balls of yarn to retain the villainous triceratops. The scene is described over four pages.
 Drugs and Alcohol
Language
People who follow the law are referred to as "Idiot Law-doers."
Darn and dang are both used once.
A construction worker is called a dummy.
Supernatural
Most of the characters are animals such as an octopus, a chameleon, a skunk, etc. There is also a character that is a squash.
Mango needs help to find out why RoboBrash cannot access all of Brash's memories. Dr. Hardbones tells Mango to go to the Séance Factory. Dr. Hardbones says, "the medium there may have some ideas about how to see into Brash's unconscious mind."
The medium at the Séance Factory is a tick.
In a previous book, an agent was "turned into a radioactive saltine cracker."
Hardbones is a skilled brain surgeon who turns into the Action News helicopter.
Spiritual Content
---
"Feeling neglected in the workplace? Want to be evil and do crimes? Join T.A.I.L.Blazers! Blaze a trail to success with the Total Annihilation of Idiot Law-doers! Come to the New old opera house for more details." –Ants in Our P.A.N.T.S