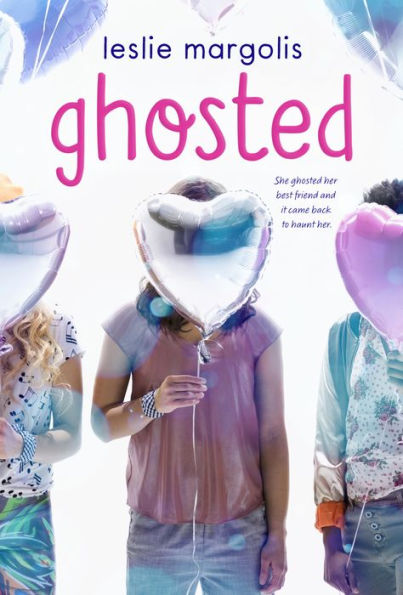 Buy This Book
---
---
"She doesn't want to be around her mom when she's upset. Her mom will ask her what's wrong and she doesn't want to talk about it. What's wrong is that she's jealous of her best friend, who knows exactly who she is, and doesn't care what other people think," Ellie. –Ghosted  
Ghosted
by Leslie Margolis
AR Test
At A Glance
Interest Level

10+
Entertainment
Score
Reading Level
4.1
When Ellie entered junior high, she promised herself that she would never look weak. She became the smartest, prettiest, best-dressed, and most popular kid at Lincoln Heights Middle School. She is also the most feared. Ellie has figured out that the more horrible she is, the more people fear her, and the more they respect her. Ellie has perfected the ability to manipulate people through fear.
The night of her junior high winter dance, Ellie has a terrible accident. As she lays unconscious, a ghost takes Ellie on a trip to her own past, present, and future. Ellie is forced to relive her parents' divorce, her struggles with school, and the loss of her best friend, Marley. Can what Ellie sees, inspire her to change her ways?
From the first chapter, the story focuses on Ellie's mean, manipulating ways. While the reader comes to understand the events that lead Ellie to become such a horrible person, it is hard to relate to her. When Ellie's parents first divorced, Ellie was surrounded by her best friend Marley and Marley's two dads. Instead of being comforted by their supportive presence, Ellie focused on what she didn't have and "let those feelings of hurt and sadness fester into something ugly." For the reader, Ellie's ugliness overshadows every other aspect of the story.
Margolis clearly shows the dangers of Ellie's meanness – both for Ellie and the people she encounters. However, some of the events are unrealistic and portray preteens as sheep who follow the most popular person out of fear. None of Ellie's peers have the strength of character to stand up to Ellie, even when Ellie makes them do outrageous things. In reality, parents and teachers would have stepped in and protected Ellie's classmates from her cruelty.
Ghosted follows the same format as The Christmas Carol, and like Scrooge, Ellie changes her ways. Ellie learns and finally admits that "making other people feel bad and weak distracts me from my own pain. And it props me up." Ellie chooses to own up to her mistakes and apologize; however, the conclusion has several plot holes that readers will notice. For example, while at school Ellie falls and is unconscious for 15 minutes; however, the students do not get a teacher, and they call off the ambulance because when Ellie comes to, she feels fine. In addition, the story glosses over the hurt and pain that Ellie caused others and hints that all will be forgiven.
The story moves at a fast pace. The ghost, who is sarcastic and mean herself, adds interest. Although the message is pertinent to middle school readers, Ellie's cruelty makes it hard to root for her. Readers looking for another story inspired by the Christmas Carol should pick up Young Scrooge: A Very Scary Christmas Story by R. L. Stine. On the other hand, if you're in the mood for a Christmas story that will leave you with a warm glow and a positive message, add the Celebrate the Season series by Taylor Garland to your must-read list.
 Sexual Content
Ellie takes a video of Marley, who is joking around. Marley pretends that she is boy crazy and says, "I have never kissed a boy, but sometimes at night I practice by kissing my old American Girl doll. I cut the hair off so she looks like a boy."
Violence
 Drugs and Alcohol
On Christmas Eve, Ellie and her mom have dinner with friends. Ellie's mom drinks a glass of wine.
Language
Ellie thinks that her classmates have "marshmallows-for-brains" and are morons.
The ghost calls Ellie stupid and a dummy.
Ellie thinks the ghost and her dad are both jerks.
OMG is used as an exclamation three times.
My God is used as an exclamation once.
Supernatural
After a fall, a ghost shows Ellie her past, present, and future self. The ghost can also read Ellie's mind.
The ghost drags Ellie "from place to place, year to year, shrinking you down to fit into the snow globe, changing your regular outfit into a bikini for the fish tank, only to go and transform you back into your regular size."
The ghost takes Ellie to different places. One of the places is a mural that some classmates made. Another place Ellie is transported to is a tunnel in a loaf of bread.
Spiritual Content
---
"She doesn't want to be around her mom when she's upset. Her mom will ask her what's wrong and she doesn't want to talk about it. What's wrong is that she's jealous of her best friend, who knows exactly who she is, and doesn't care what other people think," Ellie. –Ghosted