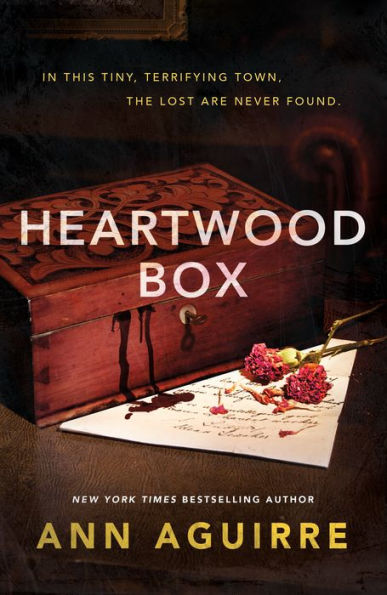 Buy This Book
---
---
". . . Saying goodbye constantly gets old, and it's exhausting to make connections repeatedly. After a while, I start feeling like there was no point because nobody ever tried to hold onto me when I was leaving," Araceli –Heartwood Box
Heartwood Box
by Ann Aguirre
AR Test
At A Glance
Interest Level

13+
Entertainment
Score
Reading Level
5.4
Araceli's parents wanted her to have a normal, American senior year, so they sent her to stay with her Great-Aunt Ottillie. Araceli is supposed to be focusing on school and getting ready for college, but she thinks that her aunt's old Victorian home may be haunted. Araceli can feel someone watching her, and it doesn't help that her great-aunt still leaves food out for her husband that has been missing for twenty years.
Araceli's great-aunt isn't the only creepy thing in town. Local businesses are plastered with missing posters. The townspeople are watchful and suspicious of each other. There are unexplained lights in the woods and a mysterious lab just beyond the city walls that no one talks about. When Araceli begins getting letters from the past, she thinks someone is playing a nasty joke on her.
When Araceli's friend disappears, she is determined to find out what is going on. In order to solve the mystery, she must investigate the other disappearances as well as the secretive lab. But someone is willing to go to great lengths to keep their secrets hidden. Can Araceli uncover the conspiracy or will someone make her disappear?
The Heartwood Box is an immensely enjoyable, complicated story that will have readers guessing until the very end. Told from Araceli's point of view, the creepy town comes alive. Although Araceli isn't the most relatable character, her story is compelling. The supporting characters are not well-developed but they help move the plot along at a fast pace. For those who love character-driven stories, The Heartwood Box might disappoint.
This story is a mix of science-fiction, mystery, and historical romance. The multiple plots may leave readers confused unless they pay close attention. Not only is Araceli falling in love with a World War I soldier, but she is also trying to fit in at a new school and solve the mystery of the town's disappearing people. The end of the story ties all of the threads together in a satisfying, if somewhat implausible, conclusion.
Aguirre also throws in the theme of colorism. Several times in the story, Araceli talks about colorism and gives examples of how dark skin people are treated differently than whites. At one point she thinks, "I wish America cared the same about Black and Brown girls, but there's a lot to do yet." Even though Araceli is bi-racial, this theme is not well fleshed out.
Readers looking for a unique time travel mystery will enjoy The Heartwood Box, which has several surprising twists at the end. Some of the vocabulary is difficult, but the majority of the story is written in easy to understand language. Although the ending is rushed, the book will captivate readers who enjoyed the Ruby Red series by Kerstin Gier or Passenger by Alexandra Bracken.
Sexual Content
When Araceli has a friend over to the house, her aunt says, "You can watch TV in the parlor if you want. I do trust both of you, but it would be disrespectful for you to go upstairs." Araceli thinks to herself, "Oh my God, if I wanted to hook up with Logan, I'd go across the street. He already said his parents aren't home."
In a dream, Araceli is able to see soldiers who are on a ship. She hears, "a slick skin-on-skin sound that I identify as a soldier jerking off, trying to be stealthy about it."
While talking to a boy, Araceli thinks, "He's thirsty for me. I've seen the look enough to recognize it, but I pretend not to know. . ."
When Araceli is sitting in a car with a boy, her aunt "saves me by flipping the porch light on and peeking out the front door, likely to make sure we're not getting hot and heavy in her Plymouth."
While in a dream, Araceli meets a soldier and, "I can touch him in this dream, so I do. There's no reason to hold back. When he drops his weapon and opens his arms, I slide into them like I belong there. . . I stretch up on tiptoe and cup his face in my hands; I feel the heat of his skin, the scruff on his chin and jaw. Then I press my mouth to his, light and soft. He drags me closer and kisses me like our lives depend on it, all heat and desperation. . . We kiss and cling until I can barely breathe."
When Araceli's aunt and uncle see her sitting in a car with an older man, her uncle asks, "Is there something you need to tell us? We won't judge you. Grown men who entice young girls should be ashamed." Araceli tells them that the man was a family friend.
Violence
The town sheriff physically abuses his son. The abuse is not described, but Araceli sees the bruises. When the boy gets to school, she "can see his lip is busted, and his face is swollen on one side. At a minimum, someone slapped the shit out of him, and it looks more like he took a few hits to the face."
In a letter, a soldier writes about his experiences. "France has become hell on earth, no way around it. Great tunnels in the dirt, piled high with bodies and you can't tell a Jerry from a Brit from a Sammy. . . Death makes every soldier the same. Nobody is coming for those men, not to give them services or say a few words or even to bury them. The birds pluck out their eyes. . ." The soldier also writes, "I killed my first Jerry and threw up afterwards. . . My friend John took one in the gut, bad way to go. Took him hours to go west, and we were all freezing next to his body in a trench during that first long hour of hate."
Araceli thinks back to the past. "The kids are protesting, shouting, waving signs. A shot rings out. The student leader goes down, bleeding from his head, and it's all mayhem, all running and screaming."
Someone tells the county sheriff to kill someone. The sheriff says, "You're trying to give me a kill order? I can't believe you think you bought me for fifty thousand."
Araceli and her friends are trying to destroy mechanisms that create the ghost light. A man sees them and Araceli "rush[es] toward him, and everything else is instinct. With the hammer, I knock whatever he has out of his hand, and then I swing again, as hard as I can, right upside his head. His body goes flying, tumbling down the hill and into the water with an ominous splash." The man dies.
Araceli and her friends are chased by guards who shoot at them. Araceli's "heart thunders in my ears as more bullets spray the area. I get stung on a ricochet and a sharp pain slices across my calf. Shit, it hurts. . ." One of her friends is shot. "His voice comes out liquid with blood and breathy from his struggle for air. . . Jackson gives me a sad smile, his teeth stained with blood. . . He goes limp in my arms. . . Jackson's blood is all over the soil and the stones, staining my hands and the suit he made to protect us." The scene takes place over seven pages.
After Araceli's friend dies, she jumps on an ATV and tries to escape. The guards, "snap shots at me as they can, but it's not as easy from the back of an ATV, firing at a moving vehicle." She crashes, and a man "twists my arms behind me and binds my wrists with what feels like a zip tie, then drags me out of sight. . .I taste blood from where my lips split against my teeth." The man gags her and then puts her in a cell. The scene takes place over 4 pages.
Over a radio, Araceli hears "the sound of a Taser discharging and the impact of a fist hitting flesh."
As Araceli and Dr. Perry try to get to the lab's control room, Dr. Perry "slams into three guards coming around the corner. His weapon flies out of his hand. . ." Araceli shoots a guard in the belly and "the guard screams and topples over. . ." Dr. Perry shoots a guard. Later Dr. Perry shoots two more guards "neatly, two chest shots, two clean kills." Eventually, someone shoots Dr. Perry. "Slugs slam into the blocks, shaking the cement. . . He's down, bleeding from several wounds. . . He manages to shoot three of the four, and I fire on the last one while he's reloading. . ." Dr. Perry dies. The scene takes place over four pages.
Drugs and Alcohol
As Araceli goes through town, she thinks about her past homes. "I can't remember ever living in a freestanding house. There will be no rooftop garden parties here, no barbeques that draw out the neighbors so that we grill whatever's on hand, and I take beer from the cooler without anyone asking how old I am."
While in the past, Araceli goes to a Halloween party and gets drunk.
Araceli goes into a pizza place where some adults are drinking beer.
A girl's mother is put on depression medication after her son disappears.
In a letter, a soldier says that while passing through England, they stopped at a town and some men got "puking drunk."
When a boy is teaching Araceli to drive, he tells her, "You're going really slow. If you're not careful, you'll get pulled over. Only people who are slightly high drive this much below the limit."
Araceli is given a document that has information about the Heartwood box. A researcher had an "unfortunate addiction to hallucinogenic drugs."
Araceli sends a note to the past, but wonders if the person receiving it, "was stoned when he got my note, laughed and rolled a joint with it."
A boy's grandfather only talked about a girl he once loved when he "had a little to drink."
Language
Profanity is used often. Profanity includes ass, asshole, bitching, crap, damn, dammit, fricking hell, holy shit, piss, pissed, shit.
Araceli meets a boy and thinks that he is "kind of a dick."
When Logan's father gets home, he yells at his wife and asks, "Where the hell is he? I told him to come straight home from school and look after the fucking yard."
OMG is used twice. Oh my god is used six times. Oh god and Oh Lord are both used once.
When her aunt gives her snacks after school, Araceli thinks, "I swear to God, I'm starting to like pretending I'm five. . ."
Araceli describes her mood as, "grumpy as hell."
Araceli thinks, "I've experienced some shit in my life, but I can't say I ever lived in a haunted house. Until now." Later she thinks, "This house is so damn haunted."
A boy is wearing a shirt that says, "Get in line B*tches."
Supernatural
While in her aunt's house and at school, Araceli feels a chill. She also feels as if someone is watching her.
Araceli has vivid dreams where she goes into the past and can interact with a World War I soldier. When she is dreaming, no other people can see or hear her besides the soldier. However, after one dream a picture of World War I changes. When she dreams, she can find the soldier because "there was a tug. . . I feel that same pull now, delicate and tenuous. . ."
Araceli goes into the attic, and "before I get to the pull cord, it's tugged by an invisible hand until the distinctive click, and the light flares on."
Araceli finds a treasure box that allows her to communicate with a World War I soldier. They write letters back and forth. Araceli also puts small objects like mint and antibiotic ointment into the box.
The town has "ghost lights" that make people slip into another time.
When people disappear, their loved ones leave out food for them, which also disappears.
Spiritual Content
When Araceli wakes up after being asleep for days, her aunt says, "Thank God."
Araceli thinks about her parents who "aren't religious. My mom's agnostic and my dad is a lapsed Catholic, so I was baptized and that's about it. . . We go to mass once a year at Christmas, and it's a somber occasion in most of the countries I've lived in."
Araceli goes to church with a friend, but the service is not described. While there, a woman says, "Everyone is welcome in God's house."
---
". . . Saying goodbye constantly gets old, and it's exhausting to make connections repeatedly. After a while, I start feeling like there was no point because nobody ever tried to hold onto me when I was leaving," Araceli –Heartwood Box