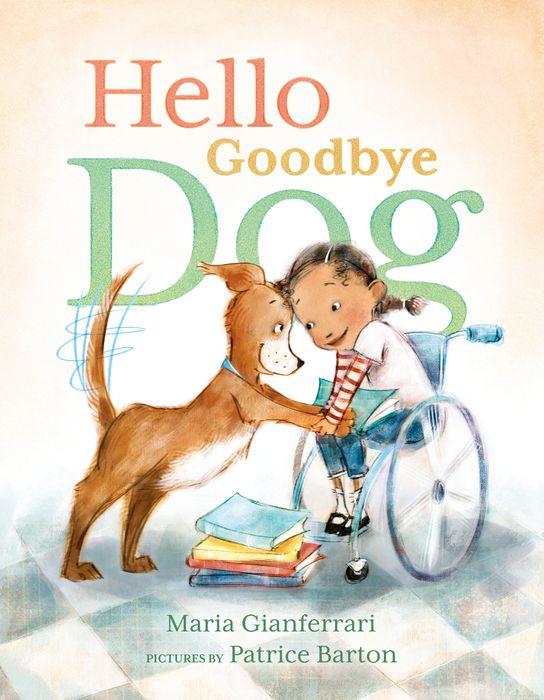 Buy This Book
---
---
"Moose will be quiet. She loves story time," Zara. –Hello Goodbye Dog  
Hello Goodbye Dog
by Maria Gianferrari
AR Test
At A Glance
Interest Level

5—8
Entertainment
Score
Reading Level
2.3
For Zara's dog, Moose, nothing is more important than being with his favorite girl. So, when Zara has to go to school, WHOOSH, Moose escapes and rushes to her side. Hello, Moose!
Unfortunately, dogs aren't allowed at school and Moose must go back home. Goodbye, Moose.
But Moose can't be held back for long. Through a series of escalating escapes, this loyal dog finds his way back to Zara, and with a little bit of training and one great idea, the two friends find a way to be together all day long.
Hello Goodbye Dog is a super-cute picture book full of fun illustrations that show Moose repeatedly escaping his house and running to Zara's classroom. The brightly colored illustrations are often humorous. The characters' faces are expressive and show a wide range of emotions. Another positive aspect of the illustrations is that the children and staff are a diverse group, including Zara, who uses a wheelchair. Each page has two to four short sentences that use easy-to-understand language.
Young readers will laugh at Moose's antics as he continually runs to Zara's school because he enjoys being with Zara and the other children. The conclusion shows a unique solution to the problem when Moose attends therapy dog school. Once Moose graduates from therapy dog school, he is welcomed to Zara's classroom by everyone, including the adults who once chased him out.
Dog-loving readers will love Hello Goodbye Dog and will want to read it again and again. If you're looking for another fun dog-related book add Shampoodle by Joan Holub and Marley Firehouse Dog by John Grogan to your reading list.
Sexual Content
Violence
 Drugs and Alcohol
Language
Supernatural
Spiritual Content
---
"Moose will be quiet. She loves story time," Zara. –Hello Goodbye Dog