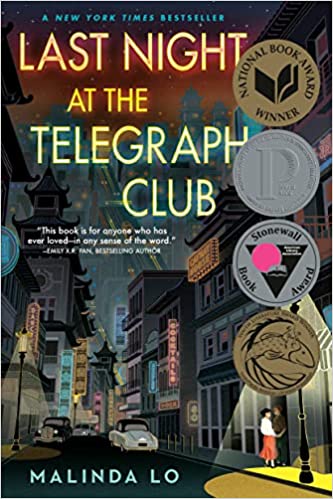 Buy This Book
---
---
"Are you like the girls in the book too? Because I think I am," Lily Hu. - 

Last Night at the Telegraph Club
Last Night at the Telegraph Club
by Malinda Lo
LGBTQ, Must Read, Strong Female Character
At A Glance
Interest Level

14+
Entertainment
Score
Reading Level
4.9
Seventeen-year-old Lily Hu can't remember exactly when the feeling took root—that desire to look, to move closer, to touch. Whenever it started growing, it definitely bloomed the moment she and Kathleen Miller walked under the flashing neon sign of a lesbian bar called the Telegraph Club. Suddenly everything seemed possible. 
But America in 1954 is not a safe place for two girls to fall in love, especially not in Chinatown. Red-Scare paranoia threatens everyone, including Chinese Americans like Lily. With deportation looming over her father—despite his hard-won citizenship—Lily and Kath risk everything to let their love see the light of day. 
When Lily is first introduced, she is shy and reserved which is evident in her interactions with her best friend, Shirley. Shirley is more outgoing and assertive and outshines Lily most of the time. Whenever Lily brings up her ambitions to study space, Shirley quickly dismisses them as boring and insignificant. In part due to her Chinese heritage, Shirley has more realistic goals—getting married and becoming a mother.  
Then, Lily meets Kath. Kath encourages Lily's ambitions and over time they become extremely close friends. Lily has been curious about the Telegraph Club (a lesbian club) after seeing an advertisement for it depicting a male impersonator. When Kath tells Lily that she has been to the Telegraph Club, Lily only becomes more curious about what is inside.  One night, they decide to visit the club. At the club, Lily discovers a whole new world that makes her question her identity.  Lily begins to explore her sexuality, which brings about an array of conflicts. 
Readers will have no trouble relating to Lily. She is dedicated to her family and culture but simultaneously struggles to find her place in the world. She also wonders whether there is a place for her outside of Chinatown. Some of the chapters are dedicated to discussing Lily's family members, which allows readers to get to know Lily's backstory better. This includes her mother, father, and aunt. While these backstories are interesting and provide extra detail to the story, it would've been more interesting to hear parts of the story told by Kath or Shirley because they are much more involved in the plot line. 
Another enjoyable part of the story is visual timelines that are provided every couple of chapters. Communism, McCarthyism, and xenophobia are big aspects of conflict within the Chinese community at this time frame. Therefore, these timelines give readers a wider view of what was happening during the 1950s. 
Overall, Last Night at the Telegraph Club is a great depiction of young romance, especially LGBTQ romance. Kath and Lily's love story is not straightforward, but has many twists and turns along the way which makes the plot more realistic. The book won the National Book Award for Young People's Literature in 2021. This was the first time a book with a female LGBTQ lead won the award. 
Sexual Content  
Lily has a sexual awakening after seeing a book featuring "two women on the cover, a blonde and a brunette. The blonde wore a pink negligee and knelt on the ground, eyes cast down demurely while the shapely brunette lurked behind her."

 

The girls go bowling. When their movements expose parts of their legs, some men "eye the girls and grin at each other."

 
Lily and Kath have a brief sexual interaction in an empty classroom where "Kath put her hand between Lily's legs, and Lily helped her, fumbling with her underwear."

 

When Shirley is changing into a dress, Lily begins to feel awkward and "couldn't help but notice the soft rise of Shirley's breasts over the cups of the bodice; the way they shifted when she twisted back and forth."

 
Violence  
Police raid the Telegraph Club. During the raid, Lily and Kath are separated. Lily reads the newspapers account of the raid, using the terms "sexual deviates" and "lewd conduct" to describe the club's attendees and activities.

 
Lily tells her mother about her sexuality. To this, her mother reacts extremely negatively, slapping Lily and saying, "there are no homosexuals in this family."

 
Drugs and Alcohol  
While at the Telegraph Club, Lily has her first beer which she describes as tasting "frothy and a little like soapy water, but it was cold and went down more easily than she anticipated."

 

After she finishes the beer, Lily says she feels "a little warm, but not unpleasantly so."

 
While at a friend's house, Lily impulsively smokes a cigarette hoping it "might burn away the haze of wine and the horrible day she'd had."

 

After the Telegraph Club is raided, a newspaper article discusses how "marijuana cigarettes were offered, and Benzedrine, known as 'bennies,' were for sale" at the club.

 

 

 
Language                                                                                                                                               
Supernatural  
Spiritual Content  
---
"Are you like the girls in the book too? Because I think I am," Lily Hu. - 

Last Night at the Telegraph Club