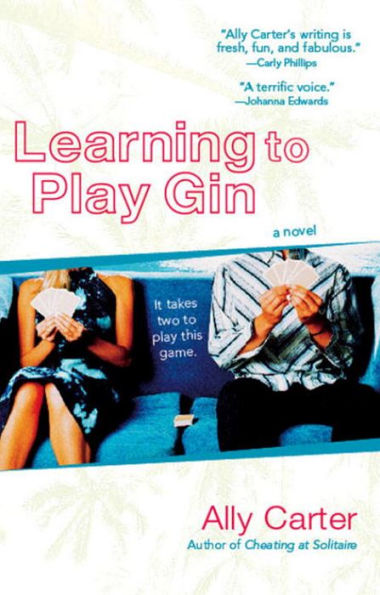 Buy This Book
---
---
"I thought my boyfriend—which is a word I despise, by the way—was going to ask me to marry him, and I had a panic attack. That's not normal. I'm not normal. It was just like the nightmare," Julia.           –Learning to Play Gin
Learning to Play Gin
Cheating at Solitaire #2
by Ally Carter
At A Glance
Interest Level

17+
Entertainment
Score
Reading Level
4.8
Julia James was on top of her game. Her new book 101 Ways to Cheat at Solitaire has sold millions. As the queen of self-help books, she has shown women how to be happy without a man. Julia had no desire to find romance, and she wasn't prepared for Lance, a gorgeous actor, or the feelings that she had for him.
Suddenly Julia's books fall off the bestseller list, and her movie star boyfriend moves to L.A. Lost and confused, Julia decides to head to the West Coast to spend some time with her new man. But life in L.A. comes with its own set of complications. Can Julia put her single life behind her and figure out how to win at the game of love?
For maximum enjoyment, readers should read Cheating at Solitaire before picking up Learning to Play Gin because the stories have many of the same characters. The funny, flirty tone does not carry through into the second book of the series. Instead, much of the conflict is internal as Julia tries to figure out how to live her new life. Even though Julia is trying to figure out how to win at love, Lance is absent for most of the book, which leaves the reader wondering why Julia would want to stay with a man more concerned with making movies than making a life with her.
Each chapter starts out with advice on how to play the game of gin; this advice ties into what is going to happen in Julia's life. The interesting quotes lead the reader to think about the complicated nature of relationships, which is a focus of Learning to Play Gin. The story doesn't just focus on Julia and Lance, but also shows a divorced couple, a struggling married couple, and a couple who have been happily married for 40 years. The story doesn't only show the positive, glowing feelings of love that a happy couple feels, but shows how staying in love is often a choice made despite difficult times.
Learning to Play Gin's slow pace and focus on Julia's internal conflict makes the story less enjoyable than the first. The ending of the story falls flat because it lacks a clear resolution. Lance appears infrequently in the story, which is a huge disappointment. If you're looking for a romance with the same fun, flirty tone as Cheating at Solitaire, you may want to leave Learning to Play Gin on the shelf.
Sexual Content
While at a party, Julia kisses Lance. As Julia is leaving, "Lance placed one arm on either side of her and leaned down to kiss her good-bye."
Julia and Lance work on their problems. Then, "there was some crying. There was some hugging. And, finally there was a long, sweet kiss."
Violence
Drugs and Alcohol
As Lance is going to an interview, he notices a bartender. Lance "remembered how it felt to trek home with aching feet and beer-soaked clothes."
In order to help Nina get through her first flight, she gets drunk. Julia thinks, "Maybe I should have gotten her drunk and put her on a plane years ago."
At a party, champagne is served. Lance's agent wants to introduce him to someone who, "is four drinks into a twelve-drink night and history has taught me you want to catch him somewhere between three and seven."
At Thanksgiving dinner, Julia offers her guest tea, which he accepts "looking like a man who'd give his right arm for a gin and tonic." Another guest can't understand why Julia doesn't drink alcohol and wonders if she is pregnant.
When a preteen throws a fit, her mother "searched her purse for a silver flask, which she emptied into her iced tea."
Language
Profanity includes: ass, bitch, damn, crap, hell
Lance asks his mother, "Why were you a bitch to Julia?"
Lance tells his mother that Julia could go home and be "a lot better without the likes of me, but she doesn't because I'm the greedy bastard that keeps asking her to stay."
Lance's mom tells her ex-husband, "I was just getting ready to tell our son he's being a horse's ass, and I thought you might want to join me."
In an email, Julia's mother writes, "When little Robbie Matthews came into church he shook the preacher's hand and said, 'Oh shit, I forgot my Bible.'"
Supernatural
Spiritual Content
When Nina's pants split, Julia "said a silent prayer that, at least, Nina had worn underwear."
Julia goes to a coffee shop that is "like church. No one spoke, but people were saying a lot of prayers. . . They were praying for agents and publicists and six-figure deals. There were praying for what she had."
Lance prays, "Dear God, thank you for this wonderful meal. . . Julia felt pretty sure that Lance could have been struck down that very moment for lying to God."
---
"I thought my boyfriend—which is a word I despise, by the way—was going to ask me to marry him, and I had a panic attack. That's not normal. I'm not normal. It was just like the nightmare," Julia.           –Learning to Play Gin