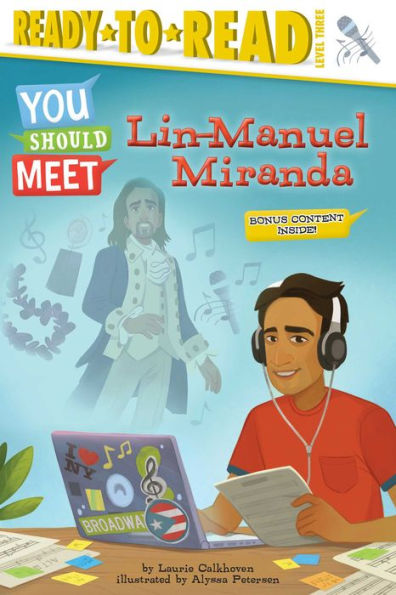 Buy This Book
---
---
"As one of the only Latino kids in school, Lin-Manuel felt he had two choices. He could try to blend in, or he could try to stand out. He decided to stand out and made sure everyone knew he was proud of being Latino." –Lin-Manuel Miranda  
Lin-Manuel Miranda
Ready to Read Level 3
by Laurie Calkhoven
AR Test
At A Glance
Interest Level

6+
Entertainment
Score
Reading Level
5.2
Lin-Manuel Miranda was always surrounded by music—Spanish songs, Broadway show tunes, and hip-hop. Inspired by his favorite Disney movie, The Little Mermaid, Lin-Manuel would jump up on his desk and sing and dance. Soon Lin-Manuel was performing in school plays and even writing musicals.
However, Lin-Manuel often felt like he lived in two different worlds. His poor neighborhood was mostly Latino, while his school was mostly white. "As one of the only Latino kids in school, Lin-Manuel felt he had two choices. He could try to blend in, or he could try to stand out. He decided to stand out and made sure everyone knew he was proud of being Latino."
Lin-Manuel went to college and continued to write musicals. With the help of his friends, Lin-Manuel produced an off-Broadway show. While on vacation, Lin-Manuel read a book about Hamilton, and he decided Hamilton was the perfect person to feature in a musical. Even though most of the people in Hamilton's time were white, Lin-Manuel "thought it was important for the cast to look like America today, not the America of two hundred years ago."
Lin-Manuel has always used his talent to show others that he is proud of his Latino heritage. Even today, he continues to share his culture with the world. Because of Lin-Manuel's hard work and dedication, he made his dreams come true. His story can inspire readers to celebrate their heritage, work hard, and make their own dreams come true.
Lin-Manuel's true story describes his life from early childhood to the present day. Many children will relate to Lin-Manuel's love of music and Disney. Lin-Manuel's story is told through both words and pictures. Each page has realistic illustrations that show Lin-Manuel's life events. Even though Lin-Manuel Miranda is illustrated, the biography is intended for proficient readers. The story has challenging vocabulary words and complex sentence structure.
Lin-Manuel Miranda will inspire confident readers to work hard to make their dreams come true. The back of the book also has facts about Puerto Rico, Broadway, and even how to write your own play. The last page of the book has 10 multiple choice questions that check for reading comprehension. Lin-Manuel Miranda would be a good choice in both a home or classroom situation. Lin-Manuel Miranda will leave readers wanting to see the Broadway hit, Hamilton. The story may also ignite readers' desire to learning more about American's early history.
 Sexual Content
Violence
Drugs and Alcohol
Language
Supernatural
Spiritual Content
---
"As one of the only Latino kids in school, Lin-Manuel felt he had two choices. He could try to blend in, or he could try to stand out. He decided to stand out and made sure everyone knew he was proud of being Latino." –Lin-Manuel Miranda