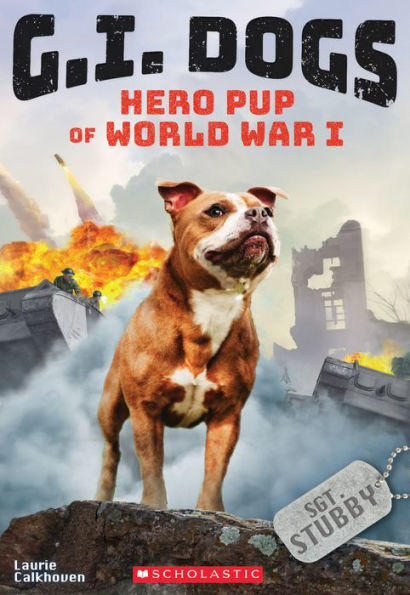 Buy This Book
---
---
"Listen to me and I will tell, of a dog who went all through hell, with the 102nd infantry, U.S.A. Stubby was with us, night and day," John Curtin. – Sergeant Stubby: Hero Pup of World War I
Sergeant Stubby: Hero Pup of World War I
G.I. Dogs #2
by Laurie Calkhoven
AR Test
At A Glance
Interest Level

7+
Entertainment
Score
Reading Level
5.6
Stubby, a stray bull terrier from Connecticut, isn't going to let anyone separate him from his human, Bob—not even a war. Determined to stay with Bob, Stubby sneaks onto the ship that is taking American troops to France. Soon Stubby and Bob are whisked off to the front lines of World War I. Stubby does his best to keep up the men's spirits, and he can also warn the men when danger is approaching. He ends up saving the G.I.s from poisonous gas attacks and a German spy. Eventually, Stubby is promoted to the rank of Sergeant! Through it all, Stubby stays close to Bob as he makes his way across Europe, fighting to defeat the enemy.
Based on a true story, Hero Pup of World War I is told from Stubby's point of view. Stubby is determined to help the soldiers as they go to battle. Through Stubby's eyes, the readers will learn about the daily life of a soldier. Not only were the soldiers in constant threat, but they also had to deal with rats and lice. The story tells about life in the trenches as well as the military hospital. Although the story doesn't go into gory detail about the soldiers' deaths, Stubby does see the loss of human life and wishes he could do more to help the injured and dead.
Because the story is told from Stubby's point of view, the human's personalities do not come to life. Despite this, Hero Pup of World War I will introduce younger readers to World War I. The end of the book has pictures of Stubby and Bob as well as information about what started World War I. The end of the book also has a shortlist of other books for any reader who wants to learn more about animals in the military.
Although Hero Pup of World War I is the second book in the G.I. Dogs Series, the books do not need to be read in order because each book focuses on a different dog's experiences. Hero Pup of World War I uses kid-friendly language to show the bravery and the hardships that G.I.s faced on the front line. Stubby is a likable character, who truly cares about the troops. His extraordinary life will inspire readers. Stubby says, "If a stray dog from the back alleys of New Haven, Connecticut can help win a world war and shake hands with the president, then anything is possible."
Sexual Content
Violence
When a German spy comes into the U.S. camp, Stubby barks at him. The spy begins to run, and Stubby follows. "With one last bark, I leaped and planted my teeth in his backside, getting a mouthful of gray serge material. The German was face down in the mud, struggling to get free. I kept my jaws clamped shut. . .Three American G.I.s ran up to us, and I knew it was safe to let go."
The G.I.s made Stubby a gas mask, but it didn't fit correctly. "In March, we experienced our first poison gas attack. I smelled something strange—something I had never smelled before. . . Bob and I didn't get our masks on in time. Hours later, when the shelling finally stopped, my eyes still burned and it was hard to breathe."
One morning, the Germans sent storm troopers to rush the American's front line. "The storm troopers overran the first trench and then advanced to the next. All the American soldiers joined the battle . . . Even the company cook jumped into the trenches and started swinging his meat cleaver at the German soldiers!" Some men were killed, and others were taken prisoners. Stubby is close to an explosive when it goes off. "A piece of fiery metal hit me in the chest. It hurt so much that I couldn't move. All I could do is howl." Stubby is taken to the hospital and recovers.
During a battle, Stubby tries to find wounded soldiers. When he finds one, he barks until a medic comes. He finds Smitty and "at first look, I thought he might already be gone, but when I licked his cheek, his eyes fluttered and he focused on me just for a second. . . I ignored the blood and snuggled up next to him. . . One tear slipped down his cheek. And then he was gone."
The French and American troops attack the Germans. "There were shells landing, bullets flying and men screaming." The troops freed a town of Germans.
Drugs and Alcohol
Language
Supernatural
Spiritual Content
---
"Listen to me and I will tell, of a dog who went all through hell, with the 102nd infantry, U.S.A. Stubby was with us, night and day," John Curtin. – Sergeant Stubby: Hero Pup of World War I