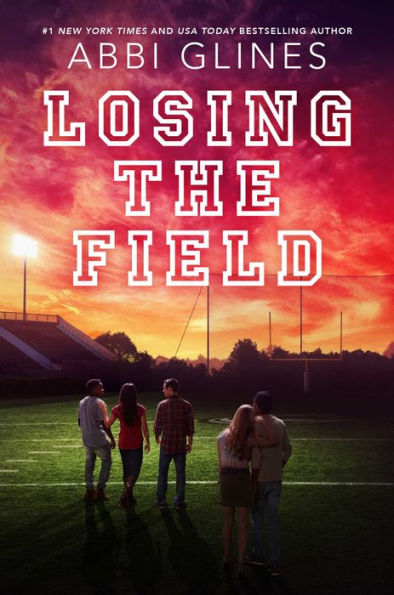 Buy This Book
---
---
"We were all the same inside. Didn't matter how we looked or who our friends were. We all wanted the same thing. To belong. To be accepted."—Tallulah
Losing the Field
Field Party #4
by Abbi Glines
AR Test
At A Glance
Interest Level

3.8
Entertainment
Score
Reading Level
14+
Tallulah has always been the overweight girl no one wants to spend time with. She focuses on her studies, ignores the teasing, and bides her time until graduation. But when Nash, the boy she's had a crush on for years, makes a joke about her weight, she becomes bent on revenge. Tallulah thought she and Nash were friends because Nash was the only person who seemed to be genuinely nice to her. After his teasing, Tallulah walks and walks all summer, losing weight and increasing her anger towards Nash, the boy who broke her heart. When her senior year starts, she's the most attractive and revenge-bent girl in school.
Tallulah's year isn't what she expects though. Once Nash realizes his mistake, he and Tallulah become friends. Then they become more than friends. He is a brand-new person this year too, after a football accident leaves him with a permanent limp and he can't play anymore. They find understanding and friendship in each other. They have to cling to this new relationship as car accidents, rumors, and inappropriate teachers all threaten to destroy their feelings for each other.
Losing the Field is a dramatic take on a tumultuous senior year of high school. The characters are easy to connect with, but at some points the plot and dialogue are overly dramatic. However, the plot does bring up important topics such as body image, bullying, substance abuse, and friendship. The main character Tallulah teaches readers that your outside appearance doesn't matter as much as what's on the inside, and she stands up for herself by telling the truth, even in a difficult situation.
This story is entertaining but predictable. The characters get themselves into hard situations because of misunderstandings and eventually come back together when they have learned the truth. Profanity is used often and is used to differentiate between the voices of Tallulah and Nash. The chapters are written in alternating perspectives and Nash uses expletives and coarse language in his narration.
The story does deal with a teacher who makes inappropriate advances on a student (Tallulah). Nothing beyond a kiss and words are exchanged, but it is presented as a serious issue. Tallulah does the right thing by telling the truth to the administration and voicing her objections to the teacher's advances. The teacher is fired, though Tallulah decides to not press charges.
Readers looking for an easy-to-read book about teenagers in love will find Losing the Field a good read. Although Tallulah lost weight, she did it for the wrong reason—to get a guy. The story does hint that in order to be beautiful, you must be thin. Another negative aspect of the story is that the non-stop drama becomes hard to believe. While the book was about Tallulah and Nash's relationship, this part of the storyline should have been better developed. It is also a misleading novel in its presentation; this book is not about sports. Nash did play football, but that is a minor plot point. Overall, Losing the Field is a quick, easy read for someone looking for a dramatic and action-packed plot. While Losing the Field is the fourth in a series, readers do not need to read the others in order to understand the plot of this book.
Sexual Content
Tallulah says to Nash that she can't be late to class because she doesn't want it to affect her college acceptance. Nash thinks, "Jesus she was serious. And it was sexy as hell."
Nash's ex-girlfriend sees him and Tallulah together at a restaurant only days after they officially broke up. Nash's ex-girlfriend accuses him of being a player, and Tallulah gets upset and defends Nash. She says, "Oh, y'all just broke up on Tuesday? Was Hunter aware of that? Because the groping session that was going on in the hallway during second period Monday between the two of you made it seem you were perfectly available."
Tallulah tells Nash that she knew Blakely, his ex-girlfriend, wasn't right for him, but that his love life wasn't her business. He corrects her and says, "Sex life, Tallulah. There was no love there." Tallulah is embarrassed he said "sex" and when he realizes this, he says, "What if I say 'blow job'?" He says this just to embarrass her. They share a first kiss after this conversation that is not described in any detail.
Before Nash heads to the sidelines of the football game, he kisses Tallulah. "Closing the distance between us, I slid a hand around her waist and tugged her close before placing my mouth firmly on hers. Just enough pressure to taste her."
When Nash meets a famous YouTube vlogger the day after the football game, he asks him why he's moving to Lawton. The vlogger says, "When your mother catches your father fucking your little brother's college-age nanny in the pool, then shit happens."
Tallulah and Nash go to his house to make out while his parents are at work. They kiss and take their tops off, but don't go any further. "His eyes were locked on my chest. My breathing making it heave with each deep intake. . . He tugged me down on top of him, and I felt the rigidness under his pants as it pressed into my stomach." Tallulah is nervous, and Nash says, "Tallulah, my pants are staying on. This is all I want. To hold you. I promise." The scene lasts two pages.
A teacher and coach at school named Mr. Dace develops an inappropriate relationship with Tallulah. He asks her to help him with grading after school one day because she is his teacher's assistant. While she's helping him, he leans in and kisses her. "Coach D leaned in closer. . . (Coach D) closed the space between them." Tallulah is shocked. "I jumped up, tripping. . . I had no words and wanted to leave just as his mouth covered mine. This was definitely not okay." She runs away to the girl's bathroom. Mr. Dace follows her to tell her how much she means to him and how much he loves her. Nothing else physical happens. This scene lasts four pages.
Nash's ex-girlfriend is suspended from school. Nash "even told me about Blakely being suspended for being caught in the guys' restroom giving Hunter a blow job in one of the stalls." The guy was also suspended.
Dace makes advances on Tallulah again when she comes in early to help enter grades. She is uncomfortable being in his classroom with him alone. He invades her personal space. "It had moved past inappropriate now. . . He turned his head, and our faces were inches apart. . . He leaned in like he was going to kiss me again. . . I jerked my head to the side to miss his mouth and it landed on my cheek." Tallulah runs out of the classroom, and the principal walks in to confront Mr. Dace after being alerted of the situation by a student who saw what happened. The scene lasts three pages.
Nash and Tallulah kiss after they reconcile at the end of the novel. "His palm touched my back and he pressed me closer. . . Then his lips touched mine."
Violence
At school, a couple of girls get in a fight over the new superstar vlogger Haegan Baylor. The fight lasts two pages, is not described in detail, and is more drama than actual violence. "Pam had a handful of Julie's red curly hair, and Julie was slapping the shit out of Pam's face."
Nash is in a car accident with Haegan. They are both extremely high after smoking weed. Their car collides with another car. Nash "heard the horn then. It was loud, the tires screeching almost sounded like screams. . . the clash of the vehicles slammed so hard my body jerked violently against the seat belt. . . His head was turned the other way, and he seemed limp. . . I shook his arm and his head fell forward, but not before I saw his eyes. Open and vacant. No life there." Haegan dies in the crash. The scene lasts four pages.
Drugs and Alcohol
Nash's cousin brings Nash to a party after school because Nash has been feeling sorry for himself. It's an effort to cheer him up, but all Nash thinks is how irresponsible it is to be drinking on a school night during the football season. Nash tells his cousin, "Stay focused. Get rest. Not drink beer for God's sake." Later during the party, the football coach shows up. He says, "if I call the cops, they'll only care about the teens consuming alcohol and the smell of weed in the air."
While walking towards the football field, Nash runs into a stranger smoking weed. The stranger throws his joint on the ground. Nash tells him, "This is Alabama, man. Pot's not fucking legal."
After seeing Coach Dace kiss Tallulah, Nash is very upset. He tells Haegan, "I need to get smoked." They go to Haegan's car to smoke pot when the chapter ends. In a following chapter, the scene picks back up. "Getting lit was probably the worst idea I'd had in a long time. . . We'd go to fucking jail if we were pulled over." They continue to drive somewhere while high. It ends in a deadly accident.
While visiting Nash after the car accident, his cousin asks him if he has any beer. Nash doesn't, saying, "My parents are being strict with that shit. Mom is worried I have a drug problem."
Language
Profanity is used frequently. Profanity includes Holy shit, shit, fucking, fuck, fucked, bullshit, ass, hell, dick, damn, asshole, shit, shitty, bitch, helluva, bastard, dammit, douche, douchebag, and motherfucking.
Ryker, a kid at school, said, "Damn, I hope she don't wear swimsuits in the summer. No one needs to see that."
After Nash calls himself a cripple, Ryker says, "Jesus, Nash, don't call yourself that."
After it surfaces that Mr. Dace and Tallulah were involved, a girl says, "You deserve this, you little whore."
Tallulah is viciously bullied after the school finds out about Mr. Dace and her being involved intimately. Students write "SLUT" in red lipstick on her locker and call her various names. People tell her. "Go home, you whore," "No one wants you here, slut," and various other insults.
Jesus, goddamn, and God are all used as exclamations a couple of times.
Supernatural
Spiritual Content
by Hannah Neeley
---
"We were all the same inside. Didn't matter how we looked or who our friends were. We all wanted the same thing. To belong. To be accepted."—Tallulah