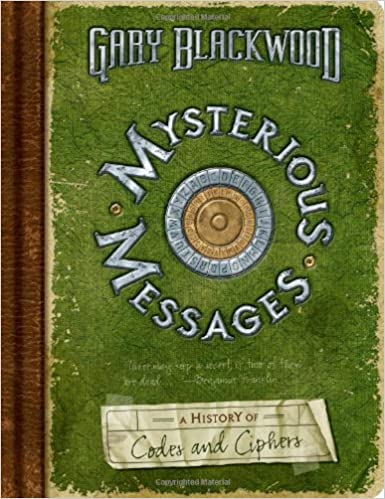 Buy This Book
---
---
"

If cryptology flourishes in an age of diplomacy, in a time of war it is put to the ultimate test; like

the strength of a sword arm, the strength of a code or cipher can mean the difference between life and death.

"

–

Mysterious Messages
Mysterious Messages: A History of Codes and Ciphers
by Gary Blackwood
AR Test
At A Glance
Interest Level

10+
Entertainment
Score
Reading Level
9.5
This fascinating look at history's most mysterious messages is packed with puzzles to decode and ciphers that kids can use themselves. In this book you can find the encrypted notes of Spartan warriors, the brilliant code-crackers of Elizabeth I, secret messages of the American Revolution, spy books of the Civil War, the famous Enigma Machine, and the Navajo code talkers. As computers change the way we communicate, codes today are more intriguing than ever.  
From invisible ink to the CIA, this exciting trip through history is a hands-on, interactive experience—so get cracking! 
Mysterious Messages is for readers who want an in-depth historical look at the practice of creating codes and ciphers. The book starts with the father of history, Greek writer Herodotus, who documented some of the first cases of hiding messages. Sections of the book go into more detail about the historical aspects of hidden messages and give examples that readers can try to solve. Along with the stories, the book contains small sections titled "the Boring Definitions Box" that define words. Scattered throughout the book are pictures of the people discussed in the stories. Many of the pictures are of statues, paintings, photographs, and black and white sketches. In addition, historical documents are featured such as a letter written in code to the Queen of Scots, who was planning to assassinate Queen Elizabeth I.   
Politics played a huge role in the development of codes and ciphers, and Mysterious Messages discusses the many ways spies secretly communicated. While the format has a visual element on every page, readers who aren't interested in history and politics may find it difficult to finish the book. However, Mysterious Messages would be an excellent source to use for a research paper. The book will also appeal to readers who want to learn more about espionage and how codes and ciphers were used both in diplomatic times and times of war.  
Sexual Content  
Violence  
In order to hide a message, a nobleman "slit open the belly of a freshly killed rabbit, hid his message inside, and sent it off with a courier posing as a hunter."

 

Christopher Marlowe was "murdered at the age of twenty-nine" because of his work as a secret agent.

 

Several people who were caught spying were hanged. 

 

Mary, the Queen of Scots, used secret messages in an attempt to assassinate Queen Elizabeth I. "The Queen of Scots was tried, found guilty largely on the basis of the deciphered message, and beheaded." The other people involved were "bowelled alive and quartered." 

 

The British caught Nathan Hale spying. When he was found guilty of espionage, he was "hanged from the limb of an apple tree." 

 

A British spy was captured with papers that contained details of a conspiracy. He was "hanged by the Americans."

 

During World War I, "a German submarine had torpedoed the Lusitania, a British passenger ship. Twelve hundred people drowned." 

 
Drugs and Alcohol  
Language    
Supernatural 
During World War II, a Polish cipher "was so desperate to read Germany's Enigma-enciphered messages that it hired a psychic to try to make sense of them." 

 
Spiritual Content  
In the 1500s, a man from Germany believed that "if you wrapped up your message in a picture of the person you were sending it to, buried it under the threshold of the house, and said the proper incantation, it would be delivered telepathically by a network of angels." 

 

Since Queen Elizabeth embraced Protestantism, "the
---
"

If cryptology flourishes in an age of diplomacy, in a time of war it is put to the ultimate test; like

the strength of a sword arm, the strength of a code or cipher can mean the difference between life and death.

"

–

Mysterious Messages