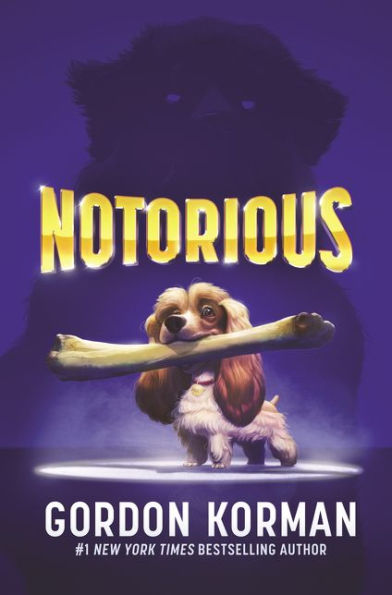 Buy This Book
---
---
"Even though I'm new to Centerlight, I'm the one who gets invited to stuff. I'm the one with friends to sit on a bench and laugh with. And by some random quirk of borders, and where she goes to school, ZeeBee isn't. She always ends up on the outside looking in," Keenan. –Notorious  
Notorious
by  Gordon Korman
AR Test
At A Glance
Interest Level

8+
Entertainment
Score
Reading Level
5.0
Keenan has lived all over the world, but nowhere quite as strange as Centerlight Island, which is split between the United States and Canada. The only thing weirder than Centerlight itself is his neighbor Zarabeth, a.k.a. ZeeBee. ZeeBee is obsessed with the island's history as a Prohibition-era smuggling route. She's also convinced that her beloved dog, Barney, was murdered—something Keenan finds pretty hard to believe.
Just about everyone on Centerlight is a suspect because everyone hated Barney, a huge dog—part mastiff, part rottweiler—notorious for terrorizing the community. Accompanied by a mild-mannered new dog who is practically Barney's opposite, ZeeBee enlists Keenan's help to solve the mystery.
As Keenan and ZeeBee start to unravel the clues, they uncover a shocking conspiracy that dates back to Centerlight's gangster past. The good news is that Keenan may have found the best friend he's ever had. The bad news is that the stakes are sky-high. And now someone is after them…
Centerlight's history is full of gangster lore and hidden treasure legends that Zeebee is excited to share with her new friend Keenan. Middle grade readers will relate to both characters because they are interesting, flawed, and struggle with typical teenage problems. Most of the chapters alternate between ZeeBee's and Keenan's points of view. However, some of the chapters are told from other characters' points of view, which makes it necessary to read the chapter titles. The changing points of view and the large cast of characters may confuse some readers.
Notorious blends mystery, adventure, and suspense into a story that is hard to put down. The story contains just enough gangster lore and teenage drama to hook the reader. Keenan thinks that ZeeBee's stories are exaggerated, while some of the local kids think that ZeeBee is crazy. ZeeBee struggles with the fact that even though she's always lived on Centerlight, she doesn't feel as if she belongs. All of these conflicting plots are interconnected and form a fabulously fun tale that contains many surprises.
Sexual Content
Violence
ZeeBee is obsessed with the town's prohibition past. When she gives Keenan a tour of the island, she takes him to a cliff. ZeeBee says, "They call it Ripley's Point because that's where the gangster Meyer Lansky dumped Reuben Ripley's body when they caught him helping himself to some of the booze shipments to sell for his own life… You used to be able to see a red stain on that sharp pointed one [rock], but it's faded over the years."
ZeeBee tells Keenan about a fourth of July when "this crew out of Detroit" was trying to "muscle in on Capone's business here in Centerlight… Capone's guys tossed a lit match into the fireworks… There was a lot of noise, so nobody noticed a few extra booms, pops, and bangs in there. But when it was all over, the entire Detroit crew was scattered around the park, dead."
ZeeBee and Keenan are out in the forest at night when two men approach them. ZeeBee's dog Barney "leaps on the bewildered giant, burying his teeth in the already scarred forearm." The two men threaten the kids, and Keenan twirls "around into the familiar tae kwon do stance, and my leg launches out into the kick I haven't been able to execute since I got sick. My whole body tenses… Whack! The sole of my sneaker smacks into the heavy piece of gold, ramming it into the side of Bryce's head… Bryce's eyes roll back and he crumples, unconscious, in the dirt." Keenan injures his foot. The police show up and arrest the bad guys.
 Drugs and Alcohol
Keenan finds dead animals in the forest. "There must be twenty-five or thirty of them—all small animals. This is a graveyard." Keenan thinks the animals ate poisoned meat.
The local fro-yo shop makes rum raisin frozen yogurt.
Language
There is some name-calling, such as jerk, idiot, and moron. For example, ZeeBee gets upset when Keenan begins hanging out with some boys from school. She tells him, "You're worse than Ronnie and those idiots! They're just brainless. You're a sleaze!"
When Keenan goes to visit an elderly man, ZeeBee wonders, "So why is Keenan visiting this jackass?"
ZeeBee is upset that Keenan went to a party. The kids broke into a lighthouse, and ZeeBee's father went to break it up. ZeeBee thinks, "But Dad wouldn't be much of a border officer if he didn't have the brains to reconstruct a crime scene. He passed every single one of those boneheads as they biked away from the lighthouse."
Keenan goes to talk to his friend's father. Later, the father tells his son, "I don't have time to waste on some twelve-year-old nutjob."
Supernatural
Spiritual Content
---
"Even though I'm new to Centerlight, I'm the one who gets invited to stuff. I'm the one with friends to sit on a bench and laugh with. And by some random quirk of borders, and where she goes to school, ZeeBee isn't. She always ends up on the outside looking in," Keenan. –Notorious