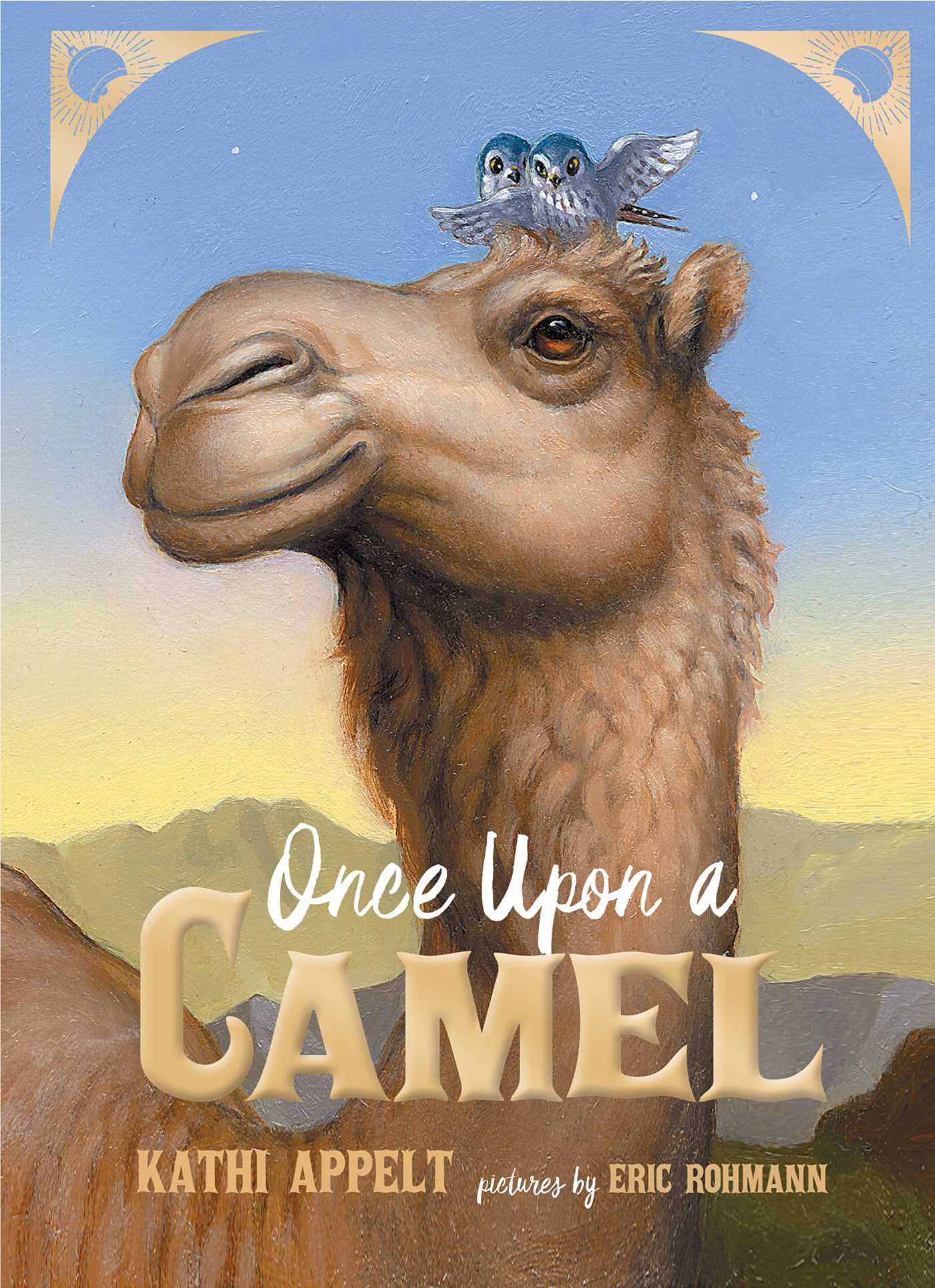 Buy This Book
---
---
"It seemed that no one in the United States Army realized that camels had served in militaries for millennia, including the mighty forces of Afghanistan, to the fierce fighters of Zanzibar. From A to Z, they had proven their valor, often at terrible risk." –Once Upon a Camel  
Once Upon a Camel
by Kathi Appelt
AR Test, Teaches About Culture
At A Glance
Interest Level

8+
Entertainment
Score
Reading Level
5.6
Zada is an achy, old camel with a treasure trove of stories to tell. She's won camel races for the ruling Pasha of Smyrna, crossed treacherous oceans to new lands, led army missions, and outsmarted a pompous mountain lion.
But these stories were before. Now, Zada wanders the desert as the last camel in Texas. But she's not alone. Two tiny kestrel chicks nestled in the fluff of fur between her ears and a dust storm the size of a mountain take Zada on one more grand adventure – and it could lead to Zada's most brilliant story yet.
Readers will fall in love with Zada as she protects two kestrel chicks from a windstorm. Zada's patience is never-ending, and she uses beautiful stories to keep the chicks occupied. However, some readers may become annoyed by the chicks' constant chirping and complaining. Despite this, the relationship between Zada and the birds is super sweet, and readers will relate to the chicks who are anxious about being separated from their parents.
The wind, which attacks Zada and her friends, is described as a living beast. For example, "As if they were waiting to grab one of the chicks, the willy-willies and the dust devils, the samiels and simoons, danced all around Zada. They swiped at her ankles, raced ahead of her, rose and fell, then rose and fell again, reminding her of ocean waves." Through the story, readers learn about the weather, which adds depth to the story.
Once Upon a Camel is best suited for advanced readers because of the constant back and forth between present day and the past. Each chapter begins with the name of a place and the year, which will help readers know if the events are one of Zada's stories or not. Some readers may be confused by the advanced vocabulary and the Turkish words, such as simoons, samiels, muster, escarpment, festooned, denizens, and dissipate. Detailed black and white illustrations appear every 8 to 16 pages, and a one-page glossary appears at the end of the book.
Each story Zada tells is full of magic. Zada demonstrates how stories can help us deal with an array of emotions. Zada's love for her original country shines, and readers will catch a glimpse of Turkey's culture through her stories. Even though Zada was born into a caravan of prized racing horses owned by a Turkish pasha, in 1857, she sails the seas and lands in Texas, where she discovers she will be a pack animal for the U.S. Army. Some readers may be disappointed with the lack of details about how the camels helped the army.
While Once Upon a Camel highlights the magic of storytelling, younger readers may struggle with the constantly shifting time period, advanced vocabulary, and Turkish words. By the end of the story, the chicks' "tap-tap-tap-KICK, tap-tap-tap-KICK," and "peeppeeppeeppeeppeeppeeppeepeep" becomes frustrating. However, Zada's point of view is interesting and unique, and she isn't afraid to jump in a potentially dangerous situation to help those in need. In the end, no matter how difficult a situation is, Zada is determined to "become the brightest star."
Sexual Content
Violence
Like human siblings, the two baby chicks argue and peck at each other.
When the camels traveled to Texas, they upset the horses. "The combination of hollering and gamboling set the resident equines into a frenzy of bucking and snorting. They reared up onto their hind feet, kicked each other, even cracked a bunch of teeth and jawbones."
Pecos de Leon, a mountain lion, would hunt for prey. "He would spot an unsuspecting pack rat from ten feet away, then boom! Four paws off the ground and no more pack rat. Even snakes weren't safe from his stalking prowess. He liked their spicy flavor."
A group of boys sees Zada and her friend. "The boys and horses surrounded the camels, and for no reason whatsoever, started pelting them with rocks. Whap, whap, whap! Ouch ouch ouch!"
A flock of Kestrels attacks a coyote puppy. The puppy "was trying to tuck itself underneath a mesquite bush. Its front paws were covering its eyes, and it was shaking from nose to tail. . .[the birds] swished by and scraped the coyote's ears with their sharp little talons. The coyote kept yipping and yapping and whimpering. The kestrels kept dive-bombing." Zada chases the birds away.
The birds attack the coyote puppy because it ate some kestrel eggs. "They made a quick breakfast for the hungry pup."
 Drugs and Alcohol
Zada goes to the races and sees amazing things, including travelers who carried wine.
Language
Supernatural
Spiritual Content
When the birds get separated, the bird's father Pard thinks his family will be at the mission. Pard "was praying that Perlita [the bird's mother] was already there."
---
"It seemed that no one in the United States Army realized that camels had served in militaries for millennia, including the mighty forces of Afghanistan, to the fierce fighters of Zanzibar. From A to Z, they had proven their valor, often at terrible risk." –Once Upon a Camel