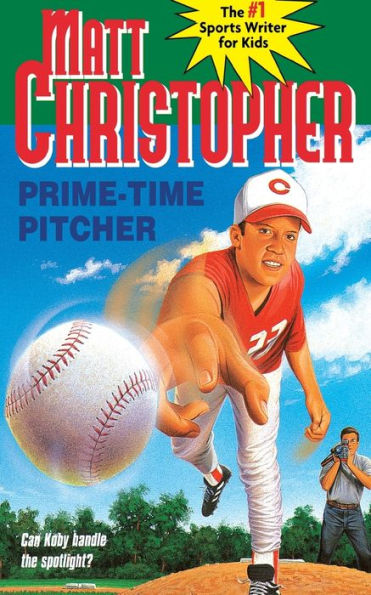 Buy This Book
---
---
"The common goal was to leave the field satisfied that we'd played our best and helped our teammates play their best, too. At the end of the day, we couldn't have done any better than that," Chuck Caplin. —Prime-Time Pitcher  
Prime-Time Pitcher
by Matt Christopher
AR Test
At A Glance
Interest Level

9+
Entertainment
Score
Reading Level
4.6
Seventh-grade baseball pitcher for the Monticello Middle School team, Koby Caplin, wants nothing more than to lead his team to victory this season. He's definitely got the pitching chops to help his team succeed. When a local TV station wants to do a documentary showing local youth sports, they pick Koby to be their star. Unfortunately, this causes a rift between Koby and his teammates when Koby lets his new stardom get to his head.
Matt Christopher's Prime-Time Pitcher deals with the issue of how the arrogance of individuals affects team sports. Koby is a good pitcher. Other players and students notice this fact, including student journalist Sara Wilson. Sara puts events into motion as her articles focusing almost solely on Koby's pitching, which causes the news station to select Koby for their documentary.
Koby's older brother, Chuck, helps Koby understand that the success of the team rests on the team and not just Koby. Chuck and Koby's teammates help Koby understand that teamwork is more important than individual stardom. When Koby's arrogance causes his teammates to distance themselves from him, Chuck shows Koby how his behavior needs to change if Koby really wants to do well in baseball and still have his teammates be his friends.
Prime-Time Pitcher is a short, straightforward story that will appeal to younger baseball fans. Koby's story isn't uncommon in youth sports (or professional sports for that matter), and the lessons he learns about being a good teammate and person, are applicable to all people, especially those who play team sports. The book contains sections of baseball trivia questions, which will appeal to both baseball fans and readers who like trivia.  Most importantly, the lessons Koby learns can be applied to all areas of life, not just baseball. Readers who love baseball but want a more complex plot should add Soar by Joan Bauer and The Brooklyn Nine by Alan Gratz to their reading list.
Sexual Content
Violence
Drugs and Alcohol
Language
Supernatural
After a game, Sara asks Coach T. a series of questions. Sara asks for Coach's prediction of how the game was going to go, and Coach replies, "I don't make predictions—that's for carnivals and fortune-tellers."
Spiritual Content
by Alli Kestler
---
"The common goal was to leave the field satisfied that we'd played our best and helped our teammates play their best, too. At the end of the day, we couldn't have done any better than that," Chuck Caplin. —Prime-Time Pitcher