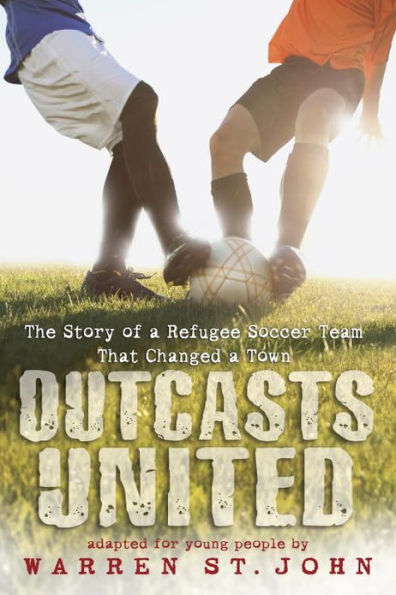 Buy This Book
---
---
"[Luma] said we're all foreigners, and this is a team where everybody unites. . . And she told us she was going to kick us off the team if we didn't," Yousph Woldeyesus. —Outcasts United
Outcasts United
by Warren St. John
AR Test, Diverse Characters
At A Glance
Interest Level

15+
Entertainment
Score
Reading Level
8.0
In the 1990s, the small town of Clarkston, Georgia, became the center for refugee resettlement. The United States government didn't tell the original residents that soon people from war-torn nations would be settling in the area and trying to navigate a world vastly different than the homes they had come from. When an American-educated, Jordanian woman named Luma Mufleh moves in, she starts a soccer team comprised of refugee kids, hoping to keep them off the streets. They dub themselves "The Fugees."
Outcasts United tells the true story of one of the Fugees' seasons, led by dedicated coach Luma. Reporter Warren St. John details the lives of the players and their coach on and off the field as they maneuver through their lives in a town that didn't see them coming. Their story demonstrates shared humanity and the need for compassion.
Much of the book revolves around Luma's life. Luma's old-school coaching methods produce results in her players. St. John captures how much Luma's players valued her, as she is much more than just a coach to them. Luma consistently helps the boys' families with daily tasks, especially when English isn't well-spoken or understood in the households. Despite her tough-love approach to coaching, the players see her as a mentor and someone to be admired.
The boys face serious challenges in their lives, but soccer unites them as brothers. Many of them come from rival nations that carry their own prejudices against each other, and the small southern town in Georgia they now live in certainly carries its own prejudices about the refugees. Despite these differences, Clarkston is a global community. Luma forces the boys to get along or get off the field, and the strategy in unifying Clarkson is not much different – they have to make the situation work. There is no other option.
The sense of community in Outcasts United is striking. Community is built from the ground up, and it requires that everyone makes an attempt to work within it. Luma has built a community through soccer, and the Fugees family still exists today with more teams and schooling opportunities. Luma could not have done this work without compassion—compassion for the refugee families in Clarkson and for the community that they were trying to build. Through that compassion and through soccer, they have created something truly beautiful.
Outcasts United is inspiring because of the work that Luma and her Fugees put forth. Despite their trials, they're a team that wants nothing more than to live their lives and play soccer. Although soccer fans will be the main target audience of this book, this true story is moving for anyone interested in themes of compassion and community through sports.
Sexual Content
Violence
Some of the players on the team are refugees, and they have experienced "the horrors of war. There were Sudanese players on the team whose villages had been bombed, and Liberians who'd lived through mortar fire that pierced the roofs of their neighbors' homes, taking out whole families." One boy "had been forced by soldiers to shoot a close friend."
Descriptions of violence and death are present throughout the book. The players' stories are revealed, detailing the histories of war-torn nations. In Liberia, one group's "force grew quickly, in no small part augmented by boys whom [Charles Taylor] armed and drugged into a killing frenzy. Some of these boy soldiers were orphans whose parents had been killed . . . others were kidnapped from their families by Taylor's own militias . . . Soldiers terrorized citizens and looted at will . . . More than one hundred and fifty thousand Liberians died."
One morning a player is shot at a practice, and "the exact circumstances of the shooting were murky." It is made clear that gang activity caused it and one of Luma's players, unfortunately, got caught in the crossfire. He survives.
There is a lot of discussion about gangs and gang activity throughout the book, and Luma does her best to deter the boys from joining.
Drugs and Alcohol
Former president of Liberia and convicted war criminal, Charles Taylor, was captured on the Nigeria-Cameroon border "in an SUV stashed with cash and heroin."
Language
Xenophobia is littered throughout the book. The old residents of Clarkston, Georgia often make it clear that they don't like the refugees or Luma, who is Jordanian. At one point, Luma is pulled over for a broken taillight on the way to a soccer match and the police cuff her and keep her overnight in jail "just in case." It is expressed here and elsewhere that Luma and the others know that this isn't normal protocol for a broken taillight, and it is in no way an isolated situation in the book.
The refugees also have their own baggage, which Luma discovers. Luma says, "The Afghan and Iraqi kids would look down on the African kids, and the kids from northern Africa would look down on kids from other parts of Africa."
Supernatural
Spiritual Content
Luma is from Jordan, which is under "Sharia law, which applies to domestic and inheritance matters, the testimony of two women carried the weight of that one man. A wife had to obtain permission from her husband to apply for a passport. And so-called honor killings were still viewed as minor crimes in Sharia courts." It is also stated that Luma is Muslim.
Places of worship are sometimes mentioned in town. For instance, "A mosque opened up on Indian Creek Drive" in Clarkston, Georgia, where Luma's soccer team was based.
In Clarkston, "a third of the students at the local elementary school skip lunch during Ramadan. Attendance at the old Clarkston Baptist Church dwindled from around seven hundred to fewer than a hundred."
Assistant coordinator Tracy Ediger, growing up with her sisters, "attended church three times a week, rarely watched television, and had each enrolled at Christian colleges after high school."
One of the refugees that Luma meets, says, "God very, very good."
Before a game, the team prays together, but not everyone practices the same religion. To remedy this, "Grace would offer a Christian prayer; Eldin, a Muslim one. The boys formed a circle at midfield, draped their arms around each other, and bowed their heads."
by Alli Kestler
---
"[Luma] said we're all foreigners, and this is a team where everybody unites. . . And she told us she was going to kick us off the team if we didn't," Yousph Woldeyesus. —Outcasts United