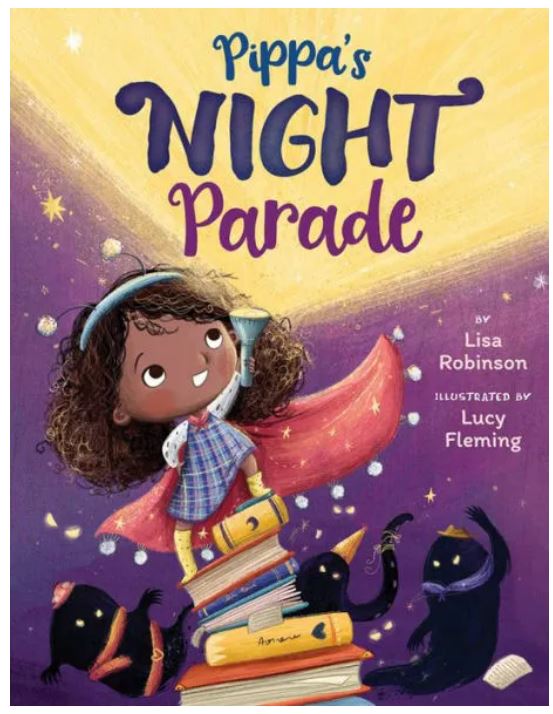 Buy This Book
---
---
"Pippa has a wonderful imagination, but sometimes it runs a little
too
wild. That's when Pippa gets worried."
– Pippa's Night Parade
Pippa's Night Parade
by Lisa Robinson
AR Test
At A Glance
Interest Level

4 – 7
Entertainment
Score
Reading Level
2.8
Pippa is a young girl with an incredible imagination and an eye for creativity. To Pippa, a mundane day can become a thrilling adventure. Each morning she tosses every item from her dresser and equips herself with masks, boots, and scarves. They may only be pieces of clothing, but to Pippa they are armor, and they will prepare her for whatever adventure comes her way.
However, Pippa's imagination doesn't seem to have an off-switch, and when night comes, it creates leering monsters that lurk from every shadow in her room and sinister characters that crawl out from her storybooks. Pippa has tried everything to stop these villains. She has tried to scare the dragons away with night lights, and to confuse the pirates by hiding under her covers. Yet none of these methods have worked, and every night Pippa is forced to flee to her parents, who only take her back to her room. This cycle repeats night after sleepless night. In Pippa's Night Parade, readers will witness Pippa come to realize her imagination is a wonderful gift that she alone can control. 
Pippa's Night Parade is a sweet and charming picture book and a particularly excellent story for those readers who are not fans of the dark. Readers will find an immediately likable and relatable hero in the character of Pippa, and her final plan against the monsters (which is equally hilarious and heartfelt) is nearly guaranteed to put younger readers' own fears of the dark to rest. With a straightforward story and only one to three sentences per page, the book makes for a quick and easy read.
The book's illustrator, Lucy Fleming, invigorates the story with vibrant drawings that bring Pippa's strange, obscure imagination to life. Each page is carefully lit and colored, from sunny, multicolored double-page spreads of Pippa's room during the days when she delights in her imaginary adventures to darker drawings of Pippa's room at night, where that very same imagination turns unpleasant; these illustrations are lit only by her dull night light and the creatures' glowing eyes. It is important to note that although the story involves monsters, witches, and beasts, Fleming does not draw these characters in a way that will scare young readers, and by the end of the story these villains appear just as friendly and approachable as the story's lead character.
By reading Pippa's Night Parade, readers who are worried about monsters in the dark will find a story that teaches that imagination is a gift that can be used to defeat or befriend monsters just as easily as it created them. If you are looking for a quick and easy picture book that is matched with a good story, a good heart, and a likable protagonist, Pippa's Night Parade is guaranteed to satisfy. Plus, the message is especially relevant and helpful. Other picture books that help readers overcome their fear of the dark include The Pout-Pout Fish in the Big-Big Dark by Deborah Diesen and Otis and the Puppy by Loren Long.   
Sexual Content
 Violence
Drugs and Alcohol
Language
Supernatural
The monsters that threaten Pippa's sleep include a dragon, a witch, a cyclops, and the Loch Ness Monster, among other supernatural creatures. The story clearly shows that these creatures exist only in Pippa's imagination.
Spiritual Content
---
"Pippa has a wonderful imagination, but sometimes it runs a little
too
wild. That's when Pippa gets worried."
– Pippa's Night Parade