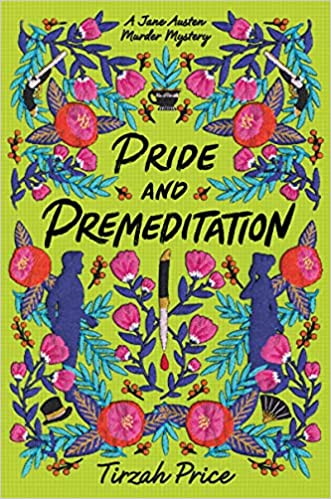 Buy This Book
---
---
"It is a truth universally acknowledged that a brilliant idea, conceived and executed by a clever young woman, must be claimed by a man," Tirzah Price.  –Pride and Premeditation
 Pride and Premeditation
Jane Austen Murder Mysteries #1
by Tirzah Price
AR Test, Must Read, Strong Female Character
At A Glance
Interest Level

14+
Entertainment
Score
Reading Level
6.1
Unlike other unmarried women her age, rather than a good husband, seventeen-year-old Lizzie Bennet wants nothing more than to practice law and work in her father's law office. When there is a murder in high-society London, Lizzie jumps at the opportunity to prove herself worthy of being a litigator.
Although the authorities have charged someone with the crime, Lizzie has her doubts, promising to catch the real killer and clear the name of the man accused of the crime. But many obstacles stand in her way. For example, the man accused of the crime isn't actually her client and is being represented by Mr. Darcy, a young lawyer and the heir of a prestigious law firm, who has no interest or patience for Lizzie's antics. In order to uncover the truth and catch the killer, Lizzie pushes the boundaries of social and gender norms in this regency-era murder mystery.
Pride and Premeditation reimagines Jane Austen's classic characters from Pride and Prejudice with a murder mystery twist. Following in the footsteps of the classic, Price examines gender roles and social standards of 19th century England. Lizzie is often pushing against preconceived sexist notions of what an unmarried, young woman should be doing. Rather than finding a husband of good social standing—as society and her mother tells her to—Lizzie would rather help her father around his office, and study contracts and case law. In conversations with her father or Mr. Darcy, Lizzie questions if she would be treated differently if she "weren't a young lady." Headstrong and extremely motivated, Lizzie explains she "will not live [her] life sitting by the side while there are so many men making a mess of things."
The novel also looks at the classism and the social hierarchy of English society at the time. Lizzie feels as if she is looked down upon by those with higher social standing. The upper class often looks down on Lizzie, judging her based on where she lives or what she wears. But Lizzie, actively aware of this classism, simply sees this as another obstacle she must face in order to prove herself. Furthermore, Lizzie observes how people of her social standing look down on people of a lower class. In one instance, her mother scolds Lizzie for socializing with "street children" (or "urchins" as her mother would say).
Full of witty dialogue, Pride and Premeditation is a fast-paced story centered not only on the murder of a member of high-society London, but also on notions of justice, class, and the role of women in 19th century England. Readers will relate to Lizzie, who struggles with social and familial standards, and the people who are trying to dictate her actions when Lizzie is simply trying to pursue her interests. Readers can learn the importance of unabashedly being oneself and sticking to one's convictions from Lizzie, no matter the obstacles society attempts to throw at you.
Pride and Premeditation has many familiar characters from Jane Austen, making it a great read for those familiar with Austen's works (though knowledge of the original characters can make the twists and turns of this mystery slightly more predictable). However, the novel can also be enjoyed as a standalone novel for those unfamiliar with Pride and Prejudice. With a strong female lead, Pride and Premeditation is an inspiring and fun book with just the right mix of mystery, adventure, and a hint of romance, making this book is a must-read.  Readers who enjoy historical fiction and mystery should also read Enola Holmes and the Black Barouche by Nancy Springer.
Sexual Content
Lizzie and Darcy share one kiss. When Lizzie sees Darcy a few weeks later she is "reminded of the warmth of their kiss."
Violence
The basis of this novel is the murder of Mr. Hurst, who was "stabbed with a fine penknife."
There is a discussion about the blood spatter on the body, Lizzie notes "when a creature is killed, there is usually a bit more splatter."
As she walks down the street, Lizzie is abruptly grabbed, as "a gloved hand" stops her from screaming and shoves her into a carriage. Lizzie is taken in order to talk to Lady Catherine de Bourgh, someone interested in Lizzie's investigation, then freed.
Lizzie discovers the dead body of Abigail who was left in the river Thames to drown with her hands "bound with rope".
After stumbling upon the ransacked offices of Pemberley and Associates, Darcy and Lizzie are shoved by the assailant "sending them tumbling into the records room." As the assailant rushes back to the streets, Georgina, Darcy's younger sister, "opened the door [of the carriage] as he went by and hit him quite hard," but he gets away.
In a heated moment of action, as Lizzie and the others discover what Mr. Wickham has done, he holds Lizzie at gunpoint, digging "the muzzle into her ribs."
Mr. Wickham drags Lizzie out of her house, threatening violence to anyone who interferes. A chase ensues. Lizzie manages to escape the grasps of Wickham, "plung[ing] the sharp end of her brooch into his thigh." As Lizzie tries to run away Wickham shoots at her, just missing her. The scene lasts over ten pages.
Darcy catches up to Wickham and Lizzie and confronts Wickham with a gun. In order to stop them from shooting each other, Lizzie steps in between the two. There is a confrontation between Darcy and Wickham where they talk about Wickham and Darcy's history. This is interrupted by the mastermind of the murder of Mr. Hurst and Abigail, who shoots Wickham. He "double[s] over …crumpl[ing] to the ground," falling into the river Thames. This action sequence is described over a chapter.
When Lizzie confronts a suspect, he grabs her, but she pulls away, drawing "Darcy's spare pistol, pointing it at [him] just as he brandished a knife."
Drugs and Alcohol
Multiple times, Mr. Hurst is referred to as a drunk and he is "always drinking." The night before he is killed, the man suspected of killing him finds him at a "club," brings him home, and tells "him to sober up."
There is a delay outside Darcy and Lizzie's carriage, and the driver blames it on "a drunk."
Language
Mrs. Bennet refers to Fred, Lizzie's informant, as an "urchin."
Words like "lord almighty," "for heaven's sake," and "bollocks" are used once.
Supernatural
Spiritual Content
by Mikaela Querido
---
"It is a truth universally acknowledged that a brilliant idea, conceived and executed by a clever young woman, must be claimed by a man," Tirzah Price.  –Pride and Premeditation