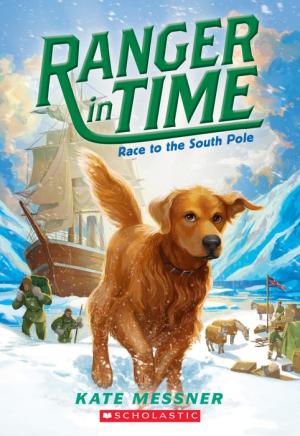 Buy This Book
Buy This Series
---
---
"Father always said that great rewards require great risk," Jack. –Race to the South Pole  
Race to the South Pole
Ranger in Time #4
by Kate Messner
AR Test
At A Glance
Interest Level

7+
Entertainment
Score
Reading Level
4.7
Ranger, the time-traveling golden retriever with search-and-rescue training, is back! This time, he joins a dangerous expedition to the South Pole!
Ranger joins an early twentieth-century expedition journeying from New Zealand to Antarctica. He befriends Jack Nin, the stowaway turned cabin boy of Captain Robert Falcon Scott's ship. They're racing against a rival explorer to reach the South Pole, but with unstable ice, killer whales, and raging blizzards, the journey turns into a race against time. . . and a struggle to stay alive.
Told in third-person, Race to the South Pole includes the inner thoughts of both Ranger and Jack. Even though Antarctica is dangerous, most of the danger comes from the harsh weather conditions. During the trip, both Ranger and Jack miss their families and wonder when they'll be able to return home. Although Jack faces deadly freezing weather, he works hard and never complains. However, Jack sneaks onto the ship without telling his family his plans. And while in the Arctic, he doesn't follow orders and instead sneaks out of the camp and almost dies alone.
Race to the South Pole is an entertaining and educational story that has a unique perspective because it focuses on a golden retriever. Readers interested in the men who attempted to reach the South Pole will enjoy Race to the South Pole, which has full-page, black-and-white illustrations approximately every six pages. Even though Ranger's story is fictional, facts are woven into the story. The end of the book has more information about the historic expedition as well as a list of further resources. Plus, the author's note includes information about Jack's Maori Chinese cultural background. The book references Ernest Shackleton who climbed Mount Erebus but did not reach the South Pole. Readers interested in learning more about Ernest's explorations can read Survival Tails: Endurance in Antarctica by Katrina Charman.
While Race to the South Pole lacks suspense, the story contains enough intrigue to keep the reader interested. Jack's desire to help his family is relatable and his determination is admirable. The author's note explains how the characters are based on real people, but the original expedition ended with the death of five members of the team, which will help readers understand how dangerous the expedition really was. Readers who want to learn more about how dogs help humans in frozen conditions should also read Dogs in the Dead of Night by Mary Pope Osborne.
Sexual Content
Violence
Horses and dogs were taken on the expedition, but there was not enough food to adequately feed them. "The sled dogs were getting lean, too. They were so hungry that one team attacked a pony that was stuck in a snowdrift. The horse fought off the dogs, but the pony was hurt, too weak to travel even another mile before the men made camp."
A sled dog team fell into a crevasse. "Ranger and Osman strained under the weight of the rest of the team. The other dogs dangled in midair, howling as the lines cut into their fur. . . Jack could hear them yelping and whimpering below." The dogs are saved.
Jack ventures out alone and falls in a crevasse. "The ice walls rushed past as he fell. . . Jack's leg twisted, and his knee gave a sickening pop. . . Just when it felt like he might plunge into the darkness forever, Jack thumped on his back onto a snow shelf. He landed so hard he couldn't breathe."
 Drugs and Alcohol
Language
When Jack falls overboard, one of the men yells, "Good Lord!"
Supernatural
Spiritual Content
---
"Father always said that great rewards require great risk," Jack. –Race to the South Pole