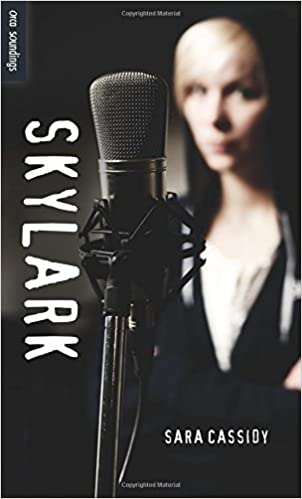 Buy This Book
---
---
"Pity is bitter, a bite of something rotten. Even while pity's eyes well up, brim with do-goodness, pity sneers," Angie. –Skylark  
Skylark
by Sara Cassidy
AR Test, Good for Reluctant Readers
At A Glance
Interest Level

12+
Entertainment
Score
Reading Level
4.7
Angie lives in an old car with her brother and mother. Homeless after their father left to find work, the family struggles to stay together and live as normally as possible. It is difficult though. Between avoiding the police and finding new places to park each night, it is a constant struggle. When Angie discovers slam poetry, she finds a new way to express herself and find meaning and comfort in a confusing world.
Living in a car makes Angie's life difficult and she tries to hide the fact that her family is homeless. Performing slam poetry gives her an outlet to explore her feelings. While performing, Angie meets several people her age. However, these relationships are superficial and add no depth to the story. For example, one boy continually glares at Angie, but the reason for his hostile behavior is never explained.
Through flashbacks, readers also get a look into Angie's family life before her father left. While Angie's father left to find work, Angie still wonders if he will ever return. Through Angie's experiences, readers get a glimpse into the world of a homeless teen and her complicated family life. However, Angie's poetry and the poetry slam are the main focus of the story. Because of this, readers who aren't interested in poetry or language may find Skylark a difficult book to complete.
Written as a part of the Orca Soundings books, which are specifically written for teens, Skylark is an easy to read story that uses large text, short chapters, and a relatable protagonist to keep readers engaged. Despite this, Skylark is not a typical, fast-paced story, but instead, Angie's thoughts are what drive the story. Readers who love delving into the inner thought of characters will enjoy Skylark. However, none of the supporting characters have any depth; instead, they are flat and add little to the story.
Because of the story's slow pace and lack of dynamic characters Skylark is not for readers who love action and adventure. Even though the book shines a light on homelessness, readers interested in the topic may want to read books with more depth and character development such as Almost Home by Joan Bauer.
Sexual Content
Violence
 Drugs and Alcohol
Angie's mom gets injured, and her dad "got her painkillers from the drugstore and fed her a couple every few hours."
Language
Crappy, hell, piss and ass are all used once.
Supernatural
Spiritual Content
---
"Pity is bitter, a bite of something rotten. Even while pity's eyes well up, brim with do-goodness, pity sneers," Angie. –Skylark