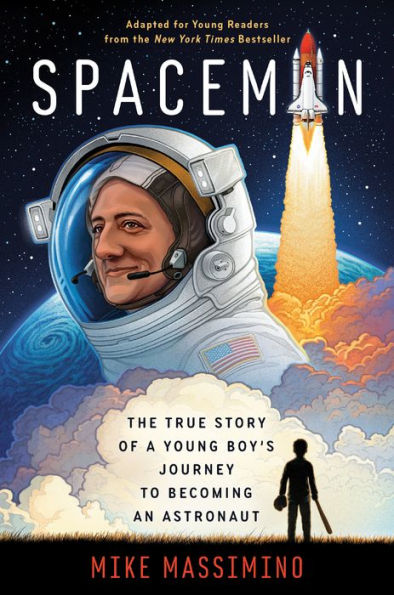 Buy This Book
---
---
"The kid who looked up at the moon and wasn't afraid to dream—I decided that part of me deserved a chance. . . You only have one life. You have to spend it doing something that matters. Mike –Spaceman
Spaceman (Adapted for Young Readers): The True Story of a Young Boy's Journey to Becoming an Astronaut
by Mike Massimino
At A Glance
Interest Level

9+
Entertainment
Score
Reading Level
6.3
From the time he was seven years old and saw Apollo 11 land on the moon, Mike Massiamo dreamed of becoming an astronaut. But Long Island is a long way from space. Kids like him, growing up in working-class families, seldom left the neighborhood. But with the encouragement of teachers and mentors, Mike ventured down a path that took him to Columbia University and MIT.
It wasn't easy. There were academic setbacks and disappointments aplenty—and NASA turned him down three times. Still, Mike never gave up. He rose to each challenge and forged ahead, inching closer to realizing his boyhood dream. His love of science and space, along with his indomitable spirit and sense of teamwork eventually got him assigned to two missions to fix the Hubble Space Telescope as a spacewalker.
Growing up, Mike didn't know anyone who could tell him how to become an astronaut. "There was no science club at school where we could build and launch rockets. None of my friends were into space; it was something I did on my own. I had my spaceman costume, my Astronaut Snoopy and my library books, and that was it." However, Mike learned that "being the smartest isn't always the most important trait in school or in life; working hard, having a positive attitude, and getting help when you need it can be more important." Mike chronicles his life's failures, his successes, and the people who help him along the way.
Mike tells his story as if he were sitting down to coffee with a friend. His conversational tone and plenty of life lessons make his story even more interesting. He doesn't leave out the difficult decisions he had to make, or the mistakes he made along the way. Mike says, "I don't know if there are any lessons to take from this except to realize that the things you think are mistakes may turn out not to be mistakes. . . if you make the most of what you've got, you can find a way to keep moving forward." In the end, what makes Mike stand out is his determination to find a way to overcome life's obstacles.
Throughout Mike's journey, he shows how people at MIT and NASA work together as a team. People helped Mike not to get something out of it, but "because that's what you're supposed to do. That's how a team works. You help the people around you, and everybody's better off for it." Despite receiving help from others, Mike didn't always know what to do, and he wasn't always confident in his abilities.
Many of the lessons in Spaceman are told in such a matter-of-fact way, that it sounds like advice from a big brother. Mike reminds readers that, "If you get caught up worrying about things you can't control, you'll drive yourself crazy and waste valuable time. It's better to focus on the things right in front of you that you can control." Throughout his time at NASA, Mike's experiences changed his perspective. To Mike, one important aspect of space travel is that "every person who goes to space, every person who gets to peek around the next corner, is someone with the potential to help change our perspective, change our relationship with the planet, change our understanding of our place in the universe."
While Spaceman is full of encouraging advice, life lessons, and interesting anecdotes, younger readers may have a difficult time understanding the significance of Mike's experiences. The ending's pace is slow and uneventful because it explains how the termination of the space program affected Mike. However, anyone who loves space should read Spaceman. In addition, high school readers would greatly benefit from reading Spaceman because Mike shows how hard work and determination can help a person fulfill their dreams.
Sexual Content
Violence
 Drugs and Alcohol
Language
Supernatural
Spiritual Content
When Mike went to work for NASA, he loaded up his car and "prayed I didn't break down in the backwoods of Appalachia along the way."
When Mike interviewed for a job as an astronaut, he worried that he couldn't pass the eye exam. He "was praying for something so far out of my control that I could throw up my hands and say, 'Well, that's life. Nothing I can do.'"
When Mike reapplied to be an astronaut, he "prayed I'd be ready in time."
---
"The kid who looked up at the moon and wasn't afraid to dream—I decided that part of me deserved a chance. . . You only have one life. You have to spend it doing something that matters. Mike –Spaceman