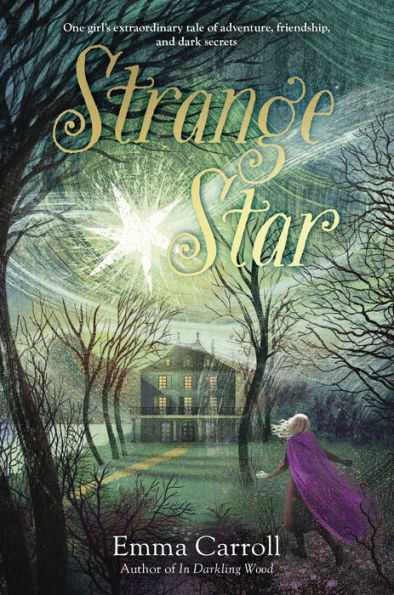 Buy This Book
---
---
"For the book was also about ambition. About wanting to be the biggest, the best, the most famous at any cost. It was about pushing the boundaries of discovery. Most of all, though, it was a warning: without love and kindness, we all become monsters." ―Strange Star
Strange Star
by Emma Carroll
AR Test
At A Glance
Interest Level

10+
Entertainment
Score
Reading Level
4.3
In 1816 Switzerland, Lordy Byron and his guests have gathered around the fire to tell ghost stories. A pounding on the door reveals a strange girl covered in unusual scars, and she tells a chilling tale of her sister being snatched by Mary Shelley, one of the guests at the party.
The girl, Lizzie, tells her story of losing her mother, and almost losing her life to the experiments of an ambitious scientist. This scientist wants to use the power of electricity to bring the dead back to life. And she wants to use Lizzie in one of her experiments. Lizzie's story was inspired by the book Frankenstein.  Although the story has been adapted for a younger audience, the story will still give the audience a frightful chill. For the younger reader who likes to be frightened Strange Star is a creepy good horror story.
Sexual Content
Miss Goodwin's father comes looking for her when she "runs away" with a man. "He's come to bring her home before she brings shame on the family."
Violence
A scientist orders her servant to kidnap Peg, who is locked in a cellar. As Lizzie tries to save her, they enter a room that has specimens, "like baby animals and birds and toads with two heads!"
After his employer scolds Mr. Walton, he takes out his humiliation on a servant. "Next came the thud of a fist hitting flesh. . . It was about his own humiliation. And like all bullies, he had to inflict it on someone else."
Miss Stine and others grab Lizzie . ". . . More hands seized me, pulling my arms behind my back. I twisted. Shouted. Kicked out with my feet. I was no match for the two, maybe three sets of hands. They yanked me and turned me till I was sure my arms would be torn from their sockets." She is tied to a chair, and wires are put on her. "She pressed cold metal against those places on my head, neck and feet. Wires crisscrossed my face." Lizzie is let go when a dead wolf is brought in and Miss Stine decides to experiment on it instead of Lizzie.
When Lizzie tries to leave Miss Stien's house, she is stopped. "We grappled our way down the passage like a pair of fighting village boys, all arms and elbows and kicking feet. Once or twice I slipped in something wet. Something oily. I didn't want to think what it means . . . With my arms now pinned behind my back by his hand, I couldn't wriggle free."
A wolf attacks a man. "There was frenzy of claws. Snarling. Snapping. Something sounding horribly wet. Then came a rip, a tearing noise like a rabbit being skinned. And gurgling and gasping that was definitely human."
Drugs and Alcohol
Language
Supernatural
Mercy believes that Lizzie and her mom are going to die because she saw their spirits in the cemetery on Midwinter's Eve. "Pass by a church at midnight on Midwinter's Eve and you'd see an entering it the souls of those who'd face death within the year. Those who came out again would survive. And those who didn't . . ." Later in the year, lightning strikes Lizzie and her mom. Her mom dies.
Miss Stine believes the dead can be brought back to life with electricity. Miss Stine attaches wires to a wolf's head, paws, and chest. When electricity surges through the wolf, he comes back to life.
Spiritual Content
---
"For the book was also about ambition. About wanting to be the biggest, the best, the most famous at any cost. It was about pushing the boundaries of discovery. Most of all, though, it was a warning: without love and kindness, we all become monsters." ―Strange Star