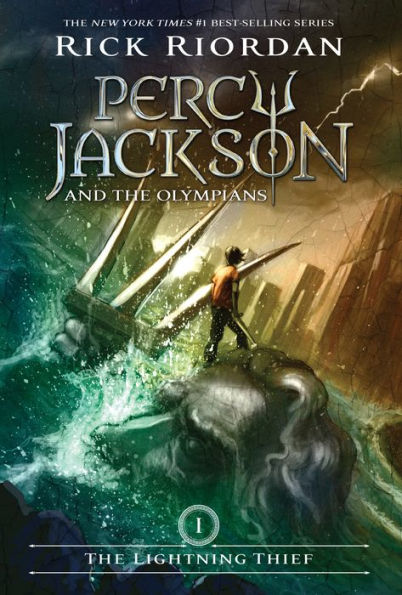 Buy This Book
Buy This Series
---
---
"If my life is going to mean anything, I have to live it myself."  —The Lightning Thief
The Lightning Thief
Percy Jackson and the Olympians #1
by Rick Riordan
AR Test, Must Read
At A Glance
Interest Level

9+
Entertainment
Score
Reading Level
4.7
Percy's life consists of him being moved from boarding school, to military school, to private school. Pretty much any school that will take him. Because no matter where he goes, or how good he tries to be, something always goes wrong.
At the end of sixth grade, Percy figures out why is life has always been so difficult. He is the son of the Greek god Poseidon, which makes him a half-blood. A demi-god. Monsters are attracted to him. To protect himself, Percy goes to Camp Half-blood, where he learns sword fighting, archery, and a myriad of other skills that he will need to survive. He soon learns that his father is on the brink of war with Zeus and that he may be the only one who can stop it. The Lightning Thief is an enjoyable adventure that will keep readers engaged. There is a lot of fighting with monsters, but asides from that this book is friendly to younger readers.
Sexual Content
Dionysus is on probation because he, "took a fancy to a wood nymph who had been declared off-limits."
Violence
Percy is taught in class how Kronos ate his children "And later, when Zeus grew up, he tricked his dad, Kronos, into barfing up his brothers and sisters."
It turns out Percy's teacher is a monster in disguise. "She snarled, 'Die, honey!' And she flew right at me . . . I did the only thing that came naturally: I swung the sword. The metal blade hit her shoulder and passed clean through her body as if she were made of water. Hisss!"
Percy is in a car crash. "There was a blinding flash, a jaw-rattling boom!, and our car exploded. I remember feeling weightless, like I was being crushed, fried and hosed down all at the same time."
Percy loses his mother. "Then, with an angry roar, the monster closed his fists around my mother's neck, and she dissolved before my eyes, melting into light, a shimmering golden form . . . A blinding flash, and she was simply . . . gone."
Furies attack Percy. "I turned and sliced the Fury on the right. As soon as the blade connected with her neck, she screamed and exploded into dust."
Percy kills Medusa. "I slashed up with my sword, heard a sickening shlock!, then a hiss like wind rushing out of a cavern – the sound of a monster disintegrating . . . I could feel warm ooze soaking into my sock."
A Chimera attacks Percy. "Before I could swing my sword, it opened its mouth, emitting a stench like the world's largest barbecue pit, and shot a column of flame straight at me. I dove through the explosion. The carpet burst into flames; the heat was so intense, it nearly seared off my eyebrows."
Percy kills a monster. "The ropes readjusted themselves at my command. Crusty's whole head struck out the top. His feet stuck out the bottom . . . I had no qualms about what I was about to do . . . I swung the sword. Crusty stopped making offers."
Percy goes to the Underworld. "Even from far away, I could see people being chased by hellhounds, burned at the stake, forced to run naked through cactus patches or listen to opera music. I could just make out a tiny hill, with the ant-size figure of Sisyphus struggling to move his boulder to the top. And I saw worse tortures, too – things I don't want to describe."
Percy kills a wild boar in self-defense. "I slashed upward. The boar's severed right tusk fell at my feet, while the disoriented animal charged into the sea . . . a wave surged up from nowhere and engulfed the boar, wrapping around it like a blanket. The beast squealed once in terror. Then it was gone, swallowed by the sea."
Percy's mother turns her abusive husband to stone with Medusa's head.
Drugs and Alcohol
The director of Camp Half-Blood is Dionysus, the god of wine. "He waved his hand and a goblet appeared . . . The goblet filled itself with red wine."
Language
Supernatural
Percy Jackson is a demi-god, the son of Poseidon. He goes to Camp Half-Blood, where there are demi-gods, satyrs, nymphs, a centaur, and even a minor god. All the monsters of Greek mythology are real too.
Spiritual Content
Percy and Chiron discuss the existence of the Greek gods. Percy said, "You're telling me there's such a thing as God." Chiron replies, "God – capital G, God. That's a different matter altogether. We shan't deal with the metaphysical . . . gods, plural, as in, great beings that control the forces of nature and human endeavors: the immortal gods of Olympus. That's a smaller matter."
Percy visits the Underworld, ruled by Hades.
After every meal at camp, "everyone was taking a portion of their meal and dropping it into the fire, the ripest strawberry, the juiciest slice of beef, the warmest, most buttery roll . . . Burnt offerings for the gods."
---
"If my life is going to mean anything, I have to live it myself."  —The Lightning Thief