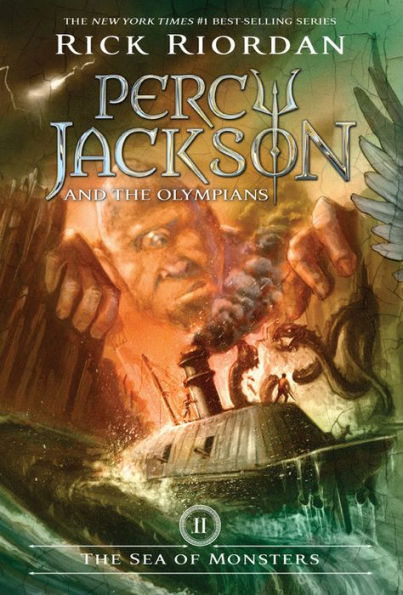 Buy This Book
Buy This Series
---
---
"I've met plenty of embarrassing parents, but Kronos, the evil Titan Lord who wanted to destroy Western Civilization? Not the kind of dad you invited to school for Career Day." —The Sea of Monsters
The Sea of Monsters
Percy Jackson and the Olympians #2
by Rick Riordan
AR Test
At A Glance
Interest Level

9+
Entertainment
Score
Reading Level
4.6
Percy is a year older, but much remains the same. Once again, Percy is expelled from school when attacked by monsters, and he must flee to Camp Half-Blood. But Camp Half-Blood is not the safe haven Percy was looking for. The camp's magical boundaries are dying, and soon Percy is on another quest. Joined by Annabeth and his new half-brother Tyson, Percy traverses the Sea of Monsters to both rescue Grover and save the future of Camp Half-Blood.
A wonderfully engaging story, Percy takes readers on an epic journey of strength and heroism. The reader will learn about acceptance alongside Percy because one of the themes is not to judge someone based on his or her looks.  The Sea of Monsters has many, well, monsters. As a result, there is much fighting, but the violence is not portrayed in a bloody manner.
Sexual Content
When they win a race, "Annabeth planted a kiss on [Percy's] cheek."
Violence
Percy plays dodgeball with cannibals. One cannibal says, "We Laistrygonians aren't just playing for your death. We want lunch!" Then the cannibal "waved his hand and a new batch of dodgeballs appeared on the center line . . . They were bronze, the size of cannon balls, perforated like wiffle balls with fire bubbling out the holes."
Annabeth kills one of the cannibals. "Suddenly the giant's body went rigid. His expression changed from gloating to surprise. Right where his belly button should've been, his T-shirt ripped open and he grew something like a horn—no, not a horn—the glowing tip of a blade."
Tantalus tells the story of why he was punished. "No one noticed that his children were missing. And when he served the gods dinner, my dear campers, can you guess what was in the stew?"
Percy is attacked by a Hydra. "There was a flash of light, a column of smoke, and the Hydra exploded right in front of us, showering us with nasty green slime that vaporized as soon as it hit, the way monster guts tend to do."
Percy's boat explodes. "I spun in the air, got clonked on the head by something hard, and hit the water with a crash . . . The last thing I remembered was sinking in a burning sea, knowing that Tyson was gone forever, and wishing I were able to drown."
Percy runs into piranha sheep. "The deer stumbled and was lost in a sea of wool and trampling hooves. Grass and tufts of fur flew into the air. A second later, the sheep all moved away, back to their regular peaceful wanderings. Where the deer had been was a pile of clean white bones."
Percy and Clarisse fight the Cyclops. "She charged the Cyclops again and again. He pounded the ground, stomped at her, grabbed at her, but she was too quick. And as soon as she made an attack, I followed up by stabbing the monster in the toe or the ankle or the hand."
Drugs and Alcohol
Percy drinks a potion that turns him into a guinea pig.
Language
Supernatural
Percy is a half-blood, the son of Poseidon. The Greek gods, monsters, and most things from the old Greek tales are all true.
Spiritual Content
by Morgan Lynn
---
"I've met plenty of embarrassing parents, but Kronos, the evil Titan Lord who wanted to destroy Western Civilization? Not the kind of dad you invited to school for Career Day." —The Sea of Monsters