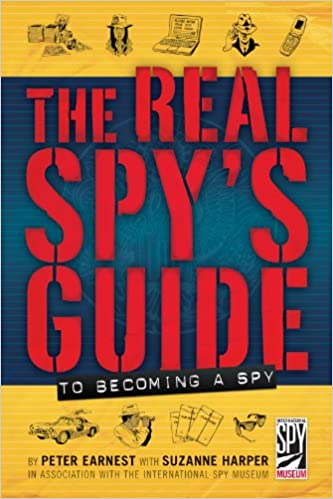 Buy This Book
---
---
"Whether spies are getting information on terror plots or new technology, the goal is to figure out what's happening in the world—not the world as we'd like it to be, but the world as it
really
is."
–The Real Spy's Guide to Becoming a Spy
The Real Spy's Guide to Becoming a Spy
by Peter Earnest with Suzanne Harper
AR Test
At A Glance
Interest Level

8+
Entertainment
Score
Reading Level
8.1
Created by the founding executive director of the International Spy Museum, who is also a former operative in the CIA's Clandestine Service, this is the official handbook for kids who dream of one day becoming a spy or working in the intelligence field.
 
Have you ever wondered what spies really do? What kind of training is involved? Do you have to go to a special school or take a polygraph test? How do you live your "cover?" How does your work life affect your relationships with your friends and family? Is there danger involved?
 
This fascinating, fact-filled book answers these questions and more while providing a historical timeline, definitions of key terms, suggestions for further reading, an index, quizzes, and exercises to see if you have the right spy stuff. 
The Real Spy's Guide to Becoming a Spy is packed full of interesting information about the spy world and it explains why spies are important. "Every country wants to know what other countries—both friends and enemies—are doing and how it might affect their national interests." Readers will learn about the world of spies through fun infographics that include spy terms, job descriptions, true stories, and quizzes. Readers will also learn about common spy myths and what a spy's life is really like.  
Readers will also learn about other jobs within the spy world, such as people who create spy science and technology, a case officer, and an intelligence analyst. In addition, the book explains what qualities spies need and what steps to take in order to become a spy. While a spy's life isn't as exciting as James Bond portrays it, readers will still enjoy learning about dead drops, listening devices, and ciphers. After taking the quizzes, readers will know if a spy's life is for them.   
The book's conversational tone and graphic elements give the story an interesting flair. Every page has some type of graphic element including black and white illustrations, "Spy Speak" glossaries, lists, and/or bold red titles. Breaking up the text with these graphic elements makes the reading more enjoyable and presents facts in a way that makes them easy to remember. Even though the book's topic is serious and the importance of intelligence gathering is highlighted, the book will not fail to entertain readers interested in the world of spies.  
As a former CIA operations officer and the founding executive director of the International Spy Museum, Peter Earnest uses his knowledge to teach readers about becoming a spy. By the end of reading The Real Spy's Guide to Becoming a Spy, readers will have a better understanding of the spy world and if they have what it takes to go undercover. Readers who want to jump into the exciting, but the fictional world of a group of young spies should read the City Spies Series by James Ponti.  
Sexual Content  
Violence  
A timeline titled "How Long Have Spies Been Around?" includes spies who were executed for espionage. For example, "Julius and Ethel Rosenberg were executed in the United States for espionage on behalf of the Soviet Union. . . The Rosenbergs were members of an atomic spy ring whose espionage helped the USSR develop its own nuclear bomb."

 
"A defector from Russian intelligence dies of radiation poisoning in London." The defector believed the Russian president planned his assassination.

 

Sometimes countries kill enemy leaders. "This is called targeted killing, rather than assassination."

 

In order to stop terrorist attacks, President Bush declared "war on terror. . . Armed drones have also been used to attack terrorist strongholds and kill terrorist leaders. The terrorists also rely on their own intelligence capabilities and covert tradecraft to plan and carry out their deadly activities."

 
Drugs and Alcohol  
When the KGB suspected that one of its operatives was working for the British, they gave him a truth serum. 

 
Language    
Supernatural 
Spiritual Content  
---
"Whether spies are getting information on terror plots or new technology, the goal is to figure out what's happening in the world—not the world as we'd like it to be, but the world as it
really
is."
–The Real Spy's Guide to Becoming a Spy