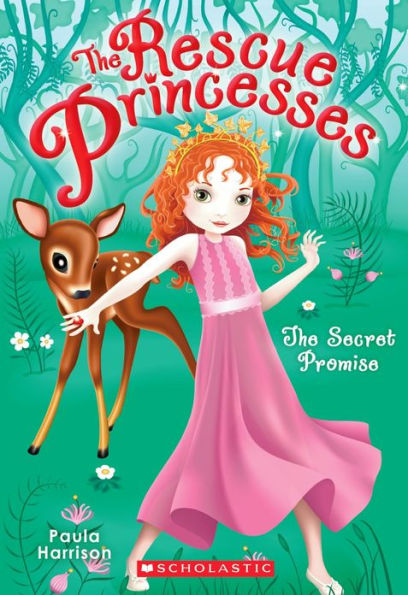 Buy This Book
Buy This Series
---
---
"We can't give up now. We're princesses," Emily. –The Secret Promise
The Secret Promise
The Rescue Princesses #1
by Paula Harrison
AR Test, Diverse Characters
At A Glance
Interest Level

7+
Entertainment
Score
Reading Level
4.5
These are no ordinary princesses—they're Rescue Princesses! Princess Emily sometimes wishes that being a princess meant more than wearing fancy dresses and performing endless curtsies. She longs for a life-changing adventure – and she may just get one!
Someone is plotting to hurt the deer who live in the beautiful Mistberg Forest. Together with some new friends, Emily will have to use her smarts, her savvy, and even some newfound ninja skills to save them.
As the first book in The Rescue Princesses Series, The Secret Promise introduces four princesses who aren't just stereotypical princesses. They like dresses and jewels, but they also like obstacle courses and learning ninja moves to help injured animals. The determined princesses aren't afraid to tackle difficult situations. Even though the princesses know who the villain is, they still use their skills to gather evidence to take to the king. At the end of the story, the king praises the princesses because "they showed us how to be brave, inventive, and kind to other creatures."
The Secret Promise will keep readers interested because the story has action, mystery, and daring princesses. Even though the vocabulary isn't difficult, the story uses some complex sentence structures that are appropriate for strong readers. Cute black-and-white pictures appear every 2-7 pages. Many of the pictures are full-page and show the princesses in action. On the inside cover, the princesses are shown in full color and include characters of different ethnicities. However, in the black-and-white illustrations, the princesses look very similar to each other.
Throughout the story, several minor characters are introduced and the conclusion sets the stage for book two, The Wishing Pearl. Despite this, the books do not need to be read in order. The Secret Promise showcases adventurous princesses who use teamwork and show compassion for animals. Readers who enjoy animal stories may also want to add Rainbow Magic: The Pet Fairies Series by Daisy Meadows to their reading list.
Sexual Content
Violence
The princesses find a deer that is caught in a trap. "The trap's clamped really tightly around its foot. . . Even if we manage to open it, the deer still won't be able to walk."
Drugs and Alcohol
Language
Supernatural
Jaminta can give jewels power. She explains, "I found a way to make jewels work like gadgets. . . I can give them power or make them warm. Or I can make them light up just like this."
Jaminta makes a jewel. "They're diamonds that light up like magic when they're close to metal."
Jamita makes rings with jewels. "Now they are communication rings. So if you speak into yours, we'll all hear you, no matter where we are and no matter how far away."
Spiritual Content
When the princesses try to free a deer from a trap, Emily "kept a tight hold on the leg, praying that Jaminta could work magic with her screwdriver and get the trap undone."
---
"We can't give up now. We're princesses," Emily. –The Secret Promise