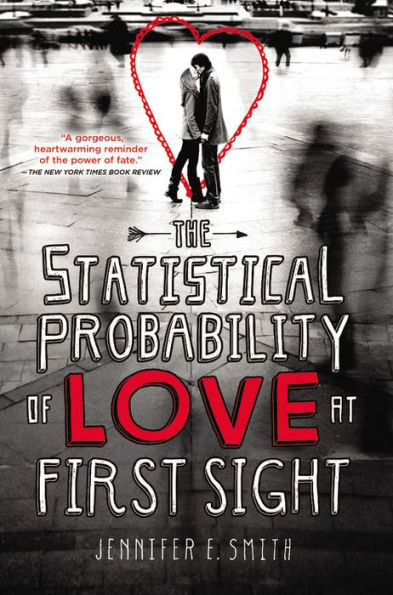 Buy This Book
---
---
"Who would have guessed that four minutes could change everything?" —The Statistical Probability of Love at First Sight
The Statistical Probability of Love at First Sight
by Jennifer E. Smith
AR Test
At A Glance
Interest Level

13+
Entertainment
Score
Reading Level
6.1
In a book that takes place in the time span of about a day, Hadley Sullivan misses her flight at the airport in a matter of minutes. Those minutes will change her life as she is forced to take the next flight, and meets Oliver, a tall and handsome boy from England. They instantly connect at the airport and on the plane, but after the flight, Hadley is left wondering if that is the end of their journey, or if fate will bring them together again.
Hadley is on her way to her father's wedding, where he is marrying a woman she has never met, an English lady, who her father fell in love with while he was teaching at Oxford. Still upset by her parent's divorce, and coming to terms with her father's marriage, Hadley must battle with the mixed feelings she has for her father as she grabs the next flight to London.
Hadley is a very relatable character and her interactions with Oliver are sweet. The novel is overall fun and light, even though it touches on some heavy content with both Hadley and Oliver's fathers. Hadley's story is fun, fast, and touching. The Statistical Probability of Love at First Sight is a cute love story that navigates the emotions of a young teenage girl dealing with a broken home.
 Sexual Content
Hadley mentions that she is a part of an e-mail chain, where one of the things Charlotte and her bridesmaids talks about are, "lingerie preferences."
Hadley and Oliver almost kiss, causing Hadley's heart to skip around and the feeling of a "bolt of electricity" when their hands brush, but they get interrupted.
Hadley and Oliver kiss in the airport before they leave, and Hadley describes Oliver's lips as, "soft and taste salty from the pretzel they shared."
When she meets Oliver at the funeral home, they share an urgent and desperate kiss.
Oliver tells Hadley that his father has had multiple affairs.
 Violence
Drugs and Alcohol
Language
Supernatural
Spiritual Content
by Rebecca Mondon
---
"Who would have guessed that four minutes could change everything?" —The Statistical Probability of Love at First Sight