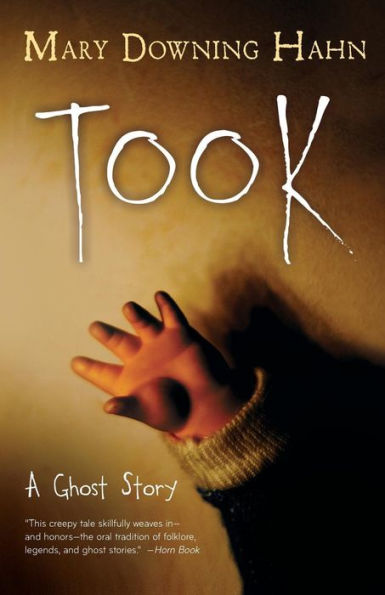 Buy This Book
---
Took
by Mary Downing Hahn
AR Test
At A Glance
Interest Level

8+
Entertainment
Score
Reading Level
4.3
When Daniel and his sister move to rural West Virginia, Daniel doesn't think things can get any worse.  The students at his new school torment him. The teachers are indifferent. He has no friends. His parents are unhappy. And to make matters worse, his sister spends all of her time talking to her doll.
When Daniel hears stories of Old Auntie, who kidnaps a girl every 50 years, he thinks it's just an old tale used to frighten children. But then he feels someone watching him. He sees strange shadows. And when his sister suddenly disappears, Daniel is convinced Old Auntie isn't just a story.
As Daniel's parents lose themselves in grief, Daniel decides he must face his fears and bring his sister home. With the help of his neighbor and one of Old Auntie's descendants, Daniel fights for his sister's freedom.
Right from the start, Took: A Ghost Story will capture the reader's attention. Young readers will be able to relate to Daniel, who feels as if all of life's decisions are out of his control. Although Daniel clearly cares for his parents and sister, his frustration with them is understandable. Daniel is a likable character, who faces his fears and in the end, brings his family back together.
The story is primarily told from Daniel's point of view but has several chapters told from Old Auntie's point of view. This adds suspense to the story and helps develop the creepy mood. This is not a book to read with the lights out. Because Old Auntie and Bloody Bones are described in such realistic, vivid detail, readers will be entertained and frightened.
Sexual Content
Violence
Bloody Bones kills someone. "Tore him clean apart with the panther's teeth and ate him up. Then he dug his grave with the bear's claws and brushed the ground smooth with the raccoon's tail."
The kids at school are mean to Daniel. They "accidentally" hit him and kick the back of his seat on the bus.
When Daniel and his sister, Erica, are in the woods, Daniel sees something and forces Erica to leave with him. They get into a fight. ". . . She struggled harder to get away from me, crying and screaming . . . she managed to bite me twice and scratch my face."
Bloody Bones is going to throw Daniel off of a cliff, so Eric throws rocks at him. "Bloody Bones plunged over the edge of the cliff, screaming as he bounced from rock to rock, his bones flying apart and scattering as he went."
Drugs and Alcohol
Daniel and Erica's parents are seen drinking wine. When Erica is "took," their parents drink even more. "There was an empty wine bottle on the table and an ashtray full of cigarette butts and ashes."
When Daniel goes to a friend's house, his friend's father smells of beer and cigarette smoke.
Language
Supernatural
The story revolves around Old Auntie, a "conjure woman" who takes a girl every 50 years. When she takes a girl, she returns the one that was "took;" however, the girl is the same age as she was when she was first "took" and has no memory of her former life. Auntie weaves spells to influence people's decisions.
One character describes Old Auntie as "a haunt come back from her grave."
Old Auntie takes the form of a girl, so she can talk to Erica without scaring her. Auntie also uses a doll to convince Erica that no one loves her except Auntie.
Auntie has a razorback hog, called Bloody Bones, which she called back from the dead. "His bones put themselves together and rose up on their hind feet. His skull jumped on top of the bones, and off he danced."
Spiritual Content
The townspeople are mean to the new family because they do not join the only church in town. "We weren't only outsiders, we were godless outsiders."