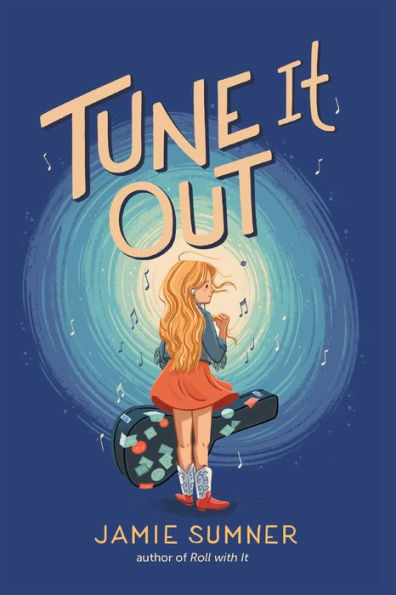 Buy This Book
---
---
"I lie on the bed and think about what Well said, about how you can't pick your family. . . Maybe you can't pick who you get in the beginning, but you can sure pick who you end up with," Lou. –Tune It Out
Tune It Out
by Jamie Sumner
AR Test, Must Read
At A Glance
Interest Level

10+
Entertainment
Score
Reading Level
4.4
Lou has the voice of an angel, or so her mother tells her and anyone else who will listen. But the two of them have been performing the country fair and street circuit for so long that Lou can hear only the fear in her own voice. She's never liked crowds or loud noises or even high fives; in fact, she's terrified of them, which makes her pretty sure there's something wrong with her.
But when Child Protective Services separates the mother-daughter duo after a snowy accident, Lou is forced to start all over again at a fancy private school far away from anything she's ever known. Lou had never had a friend before, apart from her mother. After being sent to live with her aunt and uncle, Lou realizes most people don't live like her—moving from place to place, unsure of their next meal, and not going to school. But Lou worries she will "freak out" at her new school because of her sensory disorder, neuroatypicality.
Luckily for her, she meets Well, an outgoing sixth-grade actor extraordinaire. With the help of Well, her aunt and uncle, and the school counselor, Lou begins to see things differently. A sensory processing disorder isn't something to be ashamed of, and music just might be the thing to save Lou—and maybe her mom too.
Lou's compelling story has a cast of complex characters who help Lou along her journey. As Lou navigates through life, she is reluctant to allow the school counselor to "label" her. However, Lou finally realizes that she must learn coping mechanisms so she doesn't continue to "freak out" due to loud noises and light touches.
Many students will relate to Lou who doesn't feel like she is "normal." Tune It Out highlights the fact that most people have difficulties to overcome, no one is perfect, and people must learn from their mistakes in order to live their best life.
Tune It Out will entertain readers of all ages because it draws readers into Lou's world from the very first page. The diverse cast of characters that surround Lou adds interest and depth to the story. In addition, the engaging story shows the importance of speaking up for yourself. Tune It Out will help readers understand Lou's sensory disorder as well as teach them the importance of empathy. Readers who are interested in reading more books about overcoming obstacles should add Almost Home by Joan Bauer and Wish by Barbara O'Connor to their reading list.
Sexual Content
Lou's mother "wasn't sure who [Lou's] daddy was, and she didn't want to be sure either."
During play practice, one of the girls makes out with someone in the costume closet.
Violence
 Drugs and Alcohol
Lou misses living in Biloxi and "the casinos with their jangling noises and bright lights and carpet that smelled like beer and cigarette ash."
Once when Lou "freaked out," some people wondered if she was on drugs.
After a car accident, a doctor tells Lou to take Tylenol or ibuprofen for the pain.
Language
Lord and oh God are both used as an exclamation once.
Hell is used once.
Supernatural
Lou knew a woman who "used to read tea leaves." The woman would "tell you whether you'd meet the love of your life, or if a big change was coming, or if you should buy that alligator purse on sale."
Spiritual Content
One of Lou's friends is large, and his mother is upset when he starts drinking SlimFast. She says, "Son, you don't mess with the body the good Lord gave you. God made you to be a man of stature. You better figure out how to use it, not lose it."
---
"I lie on the bed and think about what Well said, about how you can't pick your family. . . Maybe you can't pick who you get in the beginning, but you can sure pick who you end up with," Lou. –Tune It Out