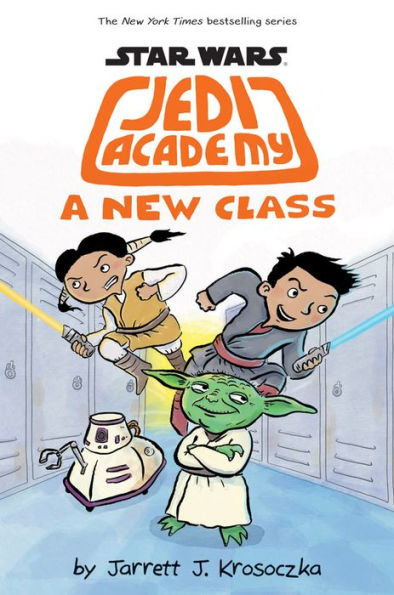 Buy This Book
---
---
"Contrary to popular belief, I love you. You are my brother. My only brother! Now clear your mind or I'll clear it for you," Christina. –A New Class
A New Class
Star Wars: Jedi Academy Series #4
by Jarrett J. Krosoczka
AR Test, Good for Reluctant Readers
At A Glance
Interest Level

8+
Entertainment
Score
Reading Level
3.7
Victor is thrilled when he is accepted to study at the Jedi Academy! His old school wasn't a good fit for him, as his overenthusiastic use of the Force often got him in trouble. But at his new school, Victor is sure he will become a great Jedi Master. The only trouble is, Victor's awesome new friends may not be as awesome as they appear. Victor also struggles to focus in class and he suspects his roommate is a Sith in training. As his grades suffer, Victor can't stop getting into trouble. He's warned if he doesn't improve both his grades and his behavior, he may be sent home from the Jedi Academy – permanently.
A New Class teaches the importance of being true to yourself and shows the difference between true friends and those who are friendly simply because they want something from you. For instance, Zach tries to tell Victor, "if you want somebody to like you, you just need to completely change who you are." But Victor insists, "my mom told me that if people didn't like me for who I am that was their problem, not mine."
By the end of the story, Victor realizes Zach isn't a true friend at all. As he gets more comfortable with himself and stops trying to be cool, he discovers his true friends were right in front of him the whole time. Victor realizes, "I was looking for friends in all the wrong places. I was looking in places that just weren't ME!"
Victor is an extremely relatable character for young readers because he struggles to focus in class and accidentally gets into mischief. His friends are diverse and supportive, and they challenge Victor to grow in positive ways. Victor's teachers range from supportive to silly to strict, which adds an enjoyable aspect to the story. As Victor learns self-control and how to focus, his grades start to improve.
Told from Victor's point of view, much of the story is written in an easy-to-read, diary format. The diary entries are frequently broken up by school newsletters, fun galaxy feeds, and space-themed comics. In addition, part of A New Class is told in graphic-novel format. Large, often comical, black and white illustrations appear on every page. The illustrations show Victor's range of emotions and bring the other human and alien characters to life. The illustrations break up the text, making each page accessible to most readers. A New Class is listed as the fourth book in the Jedi Academy series, but it starts a brand-new storyline with a new main character. The previous books do not need to be read in order to enjoy and understand A New Class.
 A New Class is chock-full of fun, with Star Wars references galore and plenty of fun twists and turns. Parents will love the positive messages about friendship, while readers will enjoy the silly adventures. With loads of amusing pictures, humor, and middle school drama, A New Class is sure to delight tweens.
Sexual Content
When Victor joins Drama Club, he "had these visions of sharing the spotlight with Maya on stage. Maybe there would even be a scene where we got to kiss!"
Violence
Victor draws a comic where he "easily destroyed the evil droids" with a lightsaber.
When Victor sneaks away from a school field trip, he is attacked by an enormous gorax. His classmate, Artemis, uses the Force to pull Victor out of harm's way, then cuts a tree trunk with a lightsaber. The tree tips over and falls on the gorax's head, and the boys run away.
When Zach gets angry, he punches a locker and calls a droid a "hunk of junk."
Zach shuts Victor's new friends in a locker. When Victor tries to save them, Zach uses the Force to throw a droid. Then, Victor attacks Zach with his lightsaber. They duel until Victor's sister saves the day, using the Force to throw Zach and free Victor's trapped friends.
Drugs and Alcohol
Language
Zach calls Victor's new friends "dweebatroids."
Supernatural
Victor lives in a Star Wars inspired time, with lightsabers, aliens, star ships, and more. He goes to a school that trains future Jedis, and he learns to use the Force.
Spiritual Content
by Morgan Lynn
---
"Contrary to popular belief, I love you. You are my brother. My only brother! Now clear your mind or I'll clear it for you," Christina. –A New Class