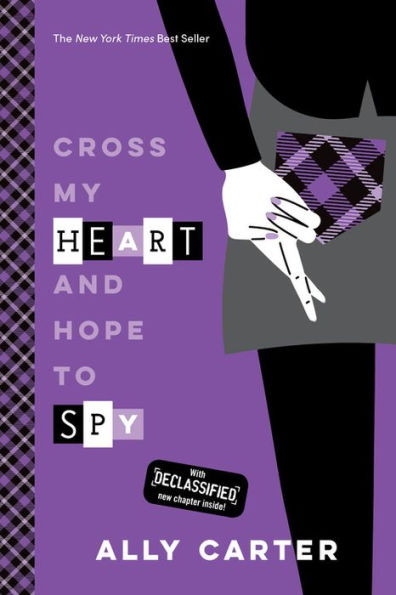 Buy This Book
Buy This Series
---
---
"Because even though the truth can set you free, that doesn't mean it won't be painful."  —Cross My Heart and Hope to Spy
Cross My Heart and Hope to Spy
Gallagher Girls #2
by Ally Carter
AR Test
At A Glance
Interest Level

12+
Entertainment
Score
Reading Level
6.1
Spies are the ultimate actors. After the Blackthorn boys move to the Gallaher Academy, Cammie and her friends must find out if cute, spy-boy Zach can be trusted.
When the Blackthorn boys move into the school, Cammie and her friends discover that the only thing harder than spy school is girl stuff—how to fix your hair, how to apply make-up, and how to dress for a dance. After all, the Gallagher Academy may have taught them covert operations, but it has not taught them anything about the opposite sex.
Cross My Heart Hope to Spy has less action than the first book; however, it is still an entertaining story. The story focuses on Cammie's confusion about boys, especially the confusion on how to deal with a break-up. Even though the story lacks the action of book one, the same loveable characters are in book two and they help drive the story. Cross My Heart Hope to Spy has the perfect blend of romance and intrigue for all age groups.
Sexual Content
Cammie is trying to get over her ex-boyfriend. While she is in town, she thinks about her first kiss.
While Cammie is getting ready for a date, the girls talk about if there will be kissing. One of the girls says, "You can have dating without kissing, but kissing without dating is entirely different."
Cammie is reminded that she needs to be casual because, "Guys are like dogs—they can always tell when you're needy."
One of Cammie's friends insist she wear a push-up bra on her date because, "push-up bras were invented for honeypot situations."
While on a date, Zach tells Cammie that he is going to kiss her. They are interrupted by someone that Cammie knows. Then Cammie notices her ex-boyfriend is near, and she wonders if Zach was only going to kiss her because her ex-boyfriend was near.
Violence
According to rumor, Mr. Solomon, "once strangled a Yugoslavian arms dealer with a pair of control-top panty hose."
When men steal the list of the Gallagher Academy alumni, the girls try to get it back. "Bex jumped from the roof, flattening one guard, then swept a leg out and knocked a second one off his feet in one smooth motion." No one is seriously hurt.
Drugs and Alcohol
Language
Supernatural
Spiritual Content
---
"Because even though the truth can set you free, that doesn't mean it won't be painful."  —Cross My Heart and Hope to Spy