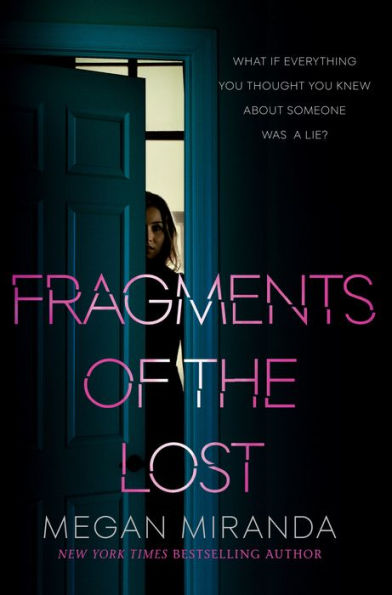 Buy This Book
---
---
"If I'd learned nothing else, it's that nobody was who I thought. Everyone had secrets. Trust is a luxury for fools," Jessa. –Fragments of the Lost
Fragments of the Lost
by Megan Miranda
AR Test
At A Glance
Interest Level

14+
Entertainment
Score
Reading Level
4.8
People blame Jessa for her boyfriend Caleb's death, but most of them don't know about the breakup. Instead, they focus on the day he died. The last time Jessa saw Caleb was standing in the bleachers during a track meet. When her good luck dragonfly necklace broke, she ran to him, handed him the necklace. And then he left.
Jessa knows that the teens at school aren't the only ones who blame her for Caleb's death. His mother thinks the accident was Jessa's fault. But when Caleb's mother asks Jessa to pack up his things, Jessa agrees. She's hoping that it will help her work through her grief, take away her guilt, and lessen her depression.
But as Jessa begins to box up the pieces of Caleb's life, every item she touches brings back memories. As the memories flood over her, she thinks that maybe she didn't know Caleb at all. Each fragment of his life reveals a new clue that propels Jessa to search for the truth about Caleb's accident. Can she put the pieces together to reveal what really happened on the day he died?
Fragments of the Lost, which is told from Jessa's point of view, gives a unique perspective on the life of a person. As Jessa reflects on Caleb, her memories are mixed with other people's memories of Caleb. Each person, each object, each memory shows a different fragment of Caleb, which adds mystery. The story is broken into two parts, with the second part ramping up the action. Although the ending of the story is action-packed, the beginning of the story is character-driven and readers must emotionally connect to Jessa or they will not enjoy the story.
The main part of the story is about Caleb's death; however, Fragments of the Lost also gives a glimpse into Jessa's home life, where she often feels overshadowed by her older brother. As Jessa recounts the past, she learns valuable lessons about love, life, and the importance of being honest with others. Although the story has mystery, the clues fall into place too easily which allows the readers to correctly guess what will happen next. This will not make the story less enjoyable for those who enjoy character-driven stories such as E. Lockhart's We Were Liars. Fragments of the Lost will leave readers wondering what fragments they leave behind.  
Sexual Content
Jessa and her boyfriend kiss. The first time they kiss, Caleb "stepped even closer, so his body brushed up against mine. I could feel his breath, the tremble of his hand, smell the salt and sunscreen and summer air as he leaned in to kiss me. I kissed him back, my hands sliding around his waist. . ."
After a dance, Caleb and Jessa sit in the car. "My fingers on the buttons of his white button-down shirt. His hands on my bare shoulders when he kissed me." Nothing else happens. Jessa and Caleb kiss 4 more times, but it is not described.
Once Mia's sister walked into Caleb's room and saw Jessa and Caleb. Caleb "was easing my shirt over the sunburn when the door opened. . . I yanked my shirt back down."
The story implies that Jessa and Caleb had sex. Someone finds condoms hidden in Caleb's room.
Someone catches Caleb in Jessa's room when "Caleb wasn't supposed to be in my room. We were only doing homework. And okay, his hand was on the small of my back, under my shirt, but still. Homework."
Jessa wonders if Caleb talks about their sex life. "I had always thought Caleb was like me, keeping those details to himself. But suddenly I wasn't sure, and I couldn't stand the thought—that I might be a secret, to be shared."
As part of school spirit week, someone wrote on the school flag and "they'd added a line in black marker about their opponent. Specifically referring to how badly, and what, they sucked."
While at school, Caleb and Jessa sneak into the "locker room to fool around in the ten minutes before their pregame warm-up."
Jessa kisses a boy that is not her boyfriend. When he "finally lowers his lips to my own, I think I have never felt something so real." Jessa contrasts how the two boys kiss. One boy's "kisses more tentative, unsure. My first thought down by the riverbank, when he finally lowered his lips to mine, was frustration that he was pulling away and stepping back, until something tipped and he pulled me closer, our clothes cold and clinging to our skin, my body trembling against his. . . where Caleb was all anticipation and surprise."
Jessa kisses Mas. "I close the gap between us, and I kiss him. I feel him smiling in the second before he kisses me back. His hand at the side of my face, his fingers in my hair."
Violence
Caleb and his step-father had a fight. Caleb said, "Sean was hurting me. He was choking me." Caleb's mother pushes a man out the window, and he falls to his death.
While in a forest, Caleb's mother finds Jessa and pushes her over a waterfall.
Drugs and Alcohol
When Caleb doesn't answer Jessa's calls she wonders if he had a hangover.
At a graduation party, "an ice bucket of cheap beer" went missing. The teens play beer games with it.
Language
Badass is used once.
Ass and damn are used twice. Jessa's friends Hailey "could transform from 'girl in a dress with red lipstick' to 'girl who can kick your ass in red lipstick' in the time it took to slip on running shoes."
Crap is used occasionally.
Oh God and oh my God are occasionally used as an exclamation. Jesus is used as an exclamation once.
Hell is used four times. For example, when someone grabs a paper out of Jessa's hands, she gets a paper cut and says, "What the hell?"
"Dick move" is used twice. Jessa thinks about telling someone something "just to watch him squirm, but that would be a dick move too, so I don't."
A girl calls someone a jerk.
Supernatural
Spiritual Content
---
"If I'd learned nothing else, it's that nobody was who I thought. Everyone had secrets. Trust is a luxury for fools," Jessa. –Fragments of the Lost