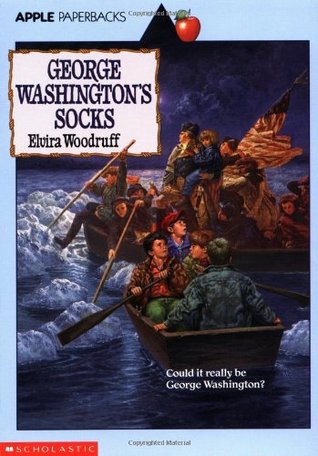 Buy This Book
---
---
"Matt felt the heavy weight of the musket in his hands. He looked down at the cold pointed spike of the bayonet and he was suddenly filled with terror. . . This was a mistake. He wasn't a rebel. He was just a kid from the twentieth century, who lived in a condo, and watched TV, and ate food that was cooked in a microwave," Matt. –George Washington's Socks
George Washington's Socks
Time Travel Adventure #1
by Elvira Woodruff
AR Test
At A Glance
Interest Level

9+
Entertainment
Score
Reading Level
5.0
When five kids take a walk along Lake Levart late one night, a mysterious wooden rowboat beckons them aboard. As if in a trance, they all step inside. But what they don't realize is that this enchanted boat is headed back in time—to the time of George Washington. And their neighborhood lake has been transformed into the icy Delaware River on the eve of the battle at Trenton. Matthew, Quentin, Hooter, Tony, and Katie experience the American Revolution firsthand and learn the sobering realities of war. But how will they ever find their way home?
The first six chapters of George Washington's Socks are slow, but readers who stick with the book will be glad they did. Matt and his friends time jump and end up in the middle of George Washington's rebels crossing the Delaware. The rebels are preparing to attack the enemy, in a surprising way. Matt is soon separated from his sister and his friends and marching to battle. Along the way, Matt befriends Isaac, who didn't join the Army because he believed in the cause, but rather because he needed to help support his younger siblings. While marching with Isaac and the other soldiers, Matt gets firsthand experience with the difficult situations that the rebels faced. Once Matt jumps into the past, he's in for an action-packed adventure.
George Washington's Socks gives readers a close look at war; while none of the descriptions are bloody, Matt sees several people whom he considered friends die. During the war, the rebels faced danger, death, and harsh conditions and yet they carried on. Seeing these experiences changes the way Matt views the rebels and the enemy. For example, Matt sees some of George Washington's rebels being disrespectful to a Hessian soldier that they killed. "Matt suddenly felt sick to his stomach. He hated to see them acting so badly, for these were his rebels. They were the special brave men that he had always dreamed about and suddenly they seemed neither special nor brave." Because of his experiences, Matt realizes that the line between good guys and bad guys isn't always clear. Instead, "there's no such thing as just good guys fighting bad guys. It seems like there's good and bad on both sides."
George Washington's Socks will appeal to history lovers and readers who want a great time travel adventure. Even though the story focuses on colonial America and the Revolutionary War, the story highlights the kindness of others and has pockets of humor. In addition, Matt is a compassionate and relatable protagonist who learns that history books do not tell the whole story. Readers who enjoy historical fiction and want to learn more about the Revolutionary War should read Daniel at the Siege of Boston 1776 by Laurie Calkhoven.
Sexual Content
Violence
Adam Hibbs was supposed to take the kids to safety, but "Adam Hibbs lay bleeding, with his head resting in Hooter Melrose's lap. It seemed the young corporal had been standing in a boat looking up the shore when he stumbled and fell onto his bayonet. . . Adam Hibbs was not expected to live the night."
Two Indians find Matt alone in the woods. "One raised a tomahawk while the other held a bow with a long arrow pointed directly at Matt's heart."
When Katie wanders off, Hessian soldiers find her. When Matt and his friends discover the group, "Matt took a deep breath and reached for a musket. Tony and Hooter did the same. At the sound of their footsteps, the Hessians swung around and drew their swords. . . The soldiers waved their swords and shouted until Matt and the boys put their hands over their heads."
A Hessian soldier, Gustav, was helping the kids when there was "the sound of musket fire." The kids "looked on in horror as Gustav cried out in pain, for a musket ball had ripped through his back. He took a step, then fell forward, toppling to the ground with his face in the snow."
 Drugs and Alcohol
One of the soldiers has "sour rum breath."
A young soldier is eating snow when he says, "I wish we had a small beer to wash it down with."
A soldier's father "has a likeness for rum. . . He spends most of his day in the tavern."
Language
One of Matt's friends asks if Matt's grandfather is "a little bit batty."
Several times the soldiers refer to the enemy mercenaries as "Hessian pigs." They are also said to be "blood-thirsty."
While traveling to attack the enemy, Colonel Knox says, "We're hours behind because of this damn storm."
When Matt decides to stay close to his dying friend, a soldier calls Matt a "little fool."
After killing Hessian solider, a man refers to the dead man as "scum."
Supernatural
Matt's grandfather tells a story about a friend, Adam Hibbs, who disappeared. Adam "was out on the lake in a rowboat, a rowboat my grandpa had never seen before. . . Grandpa ran to the tent to get a lantern. But when he got back to the lake it was too late. Adam Hibbs was gone, disappeared, boat and all, and no one to this day knows what happened to him."
When Matt and his friends see a mysterious rowboat, "he was the first to come under the boat's spell. It was the same desire to board the boat that he'd felt when he first saw it. . . Smiling, as if in a trance, Matt reached for an oar."
After their adventure, Katie tells the rowboat to take them home. A soldier is surprised when it looks like the kids "disappeared into thin air. . . They were in a boat on the beach and suddenly they started to spin around and then they vanished!" The general thinks the soldier imagined it because of his "harsh whisky breath."
While the kids were gone, no one missed them because, "a person traveling through time can experience days, weeks, and even years, and then return home to find that he's only been gone a few hours."
Spiritual Content
A soldier thinks Matt and the kids are enemy spies. The soldier says, "God forgive the cold Tory heart that would send children out to face the dangers of this night."
General Washington says, "God willing, we'll all live to remember this night." Later he says, "God granting, the day will be dark."
When Matt's friend dies, a man says, "He's no longer here, but in God's glorious kingdom."
---
"Matt felt the heavy weight of the musket in his hands. He looked down at the cold pointed spike of the bayonet and he was suddenly filled with terror. . . This was a mistake. He wasn't a rebel. He was just a kid from the twentieth century, who lived in a condo, and watched TV, and ate food that was cooked in a microwave," Matt. –George Washington's Socks