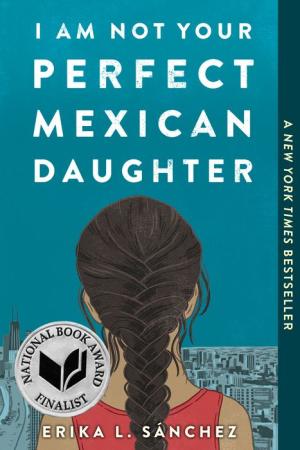 Buy This Book
---
---
"I'm sorry that I'm not Olga and I never will be. I love you, but I want a different life for myself. I don't want to stay home. I don't even know if I ever want to get married or have kids. I want to go to school. I want to see the world. I want so many things sometimes I can't stand it. I feel like I'm going to explode," Julia. –I Am Not Your Perfect Mexican Daughter
I Am Not Your Perfect Mexican Daughter
by Erika L. Sánchez
AR Test, LGBTQ, Teaches About Culture
At A Glance
Interest Level

14+
Entertainment
Score
Reading Level
4.7
An ambitious and fiercely independent teenager, Julia Reyes never seemed to fit in with her family's traditional Mexican values. Her sister, Olga, was who her mother considered a "perfect Mexican daughter." Olga was content with living at home, helped her mother cook and clean, and never got into trouble. However, after Olga's sudden and tragic death, Julia feels pressure to fill the gap in her family, despite not being able to live up to her mother's expectations.
Dealing with grief and conflicting personalities, Julia and her mother "Amá" struggle to mend their relationship. Amá, who grew up in Mexico, wants an obedient and responsible daughter, while Julia, who was raised in America, wants to explore the world and dreams of being a famous writer. Eventually, the pressure from her mom becomes too much for Julia to handle. Julia struggles with her mental health and feels misunderstood by her parents and friends. To make matters worse, after exploring her sister's room, Julia discovers that Olga may not have been a perfect daughter after all.
Julia is a very realistic and relatable protagonist. She works hard to figure out her place in the world even though she makes mistakes along the way. As the child of Mexican immigrants, Julia experiences both generational and cultural conflicts with Amá and her father "Apá" who, while physically present, is often emotionally absent from Julia's life. Although she has her friend, Lorena, and a new attentive boyfriend, Connor, Julia realizes grief is a difficult experience and it can take a lot of time to heal.
The book has a strong theme of self-acceptance and acceptance of others. Although Amá has difficulty understanding Julia, she learns to see what makes Julia unique and different from Olga. Julia also must learn to stop comparing herself to her sister and accept who she is and what she wants to be: a writer.
I Am Not Your Perfect Mexican Daughter tackles mature themes of death, suicide, abortion, and rape. The novel also contains Spanish words which are used naturally in the dialogue to better represent Julia's culture, and most words and phrases are understandable within the context of the scene.  If you want to explore another book with these themes, Loveboat, Taipei by Abigail Hing Wen should be on your reading list.
Overall, the poignant story explores the challenges of youth, especially the cultural and generational boundaries between first-generation immigrants and their children. Eventually, Julia and her mother must learn to see things from each other's perspectives. Julia also begins to understand a lot about her mental health and how to heal from painful situations to become a stronger and more balanced young woman.
Sexual Content
After searching through Olga's bedroom, Julia finds "five pairs of silk-and-lace thongs. Sexy lady underwear I imagine a very expensive hooker might buy."
Julia describes a time Olga's friend Angie came over and Julia "walked in on her touching Olga's boobs."
Julia feels uncomfortable around her friend Lorena's stepdad. "Every time I know he's going to be home, I wear my baggiest shirts and sweaters so he can't gawk at my boobs. Sometimes it feels like he's undressing us with his eyes."
Julia falls asleep at Lorena's house. When she wakes up, she sees Lorena's stepdad, José Luis, crouched in front of her. "He looks like he's doing something with his phone, but I'm not sure." Julia is too exhausted to process what is happening. It is unclear what José Luis' exact intentions were.
Julia and Lorena visit the lake with two boys. Julia wonders where Lorena has gone and assumes she and Carlos are "probably fucking somewhere, even in this cold, and most likely without a condom."
Ramiro, a boy Lorena sets Julia up with, kisses Julia, but she doesn't really enjoy it. "At first the kisses are soft and feel all right, but after a while, he spirals his tongue against mine." Julia and Ramiro soon stop kissing. She feels uncomfortable kissing someone she barely knows.
Julia states that her tío Cayetano "used to stick his finger in my [Julia's] mouth when no one was looking."
During a party, Julia notices people "dancing so close they're practically dry-humping."
Julia watches a couple make out in public. "Their kisses are wet and sloppy, and you can see their tongues going in and out of each other's mouths."
Lorena's friend, Juanga, starts to describe different penis shapes he has seen. "The craziest one, he says, was long and pointy."
A man harassing Julia on the street says he has something to show her "'cause you have nice tits." When an adult helps Julia, the harassers eventually drive away.
After her first kiss with Connor, her first boyfriend, Julia describes how "Connor is gentle with his tongue, and something about the way he touches me makes me feel so wanted."
Lorena tells Julia she'll have to "shave [her] pussy" before having sex with Connor.
Julia and Connor have sex. Julia looks away while Connor puts a condom on. She states, "it hurts more than I imagined, but I pretend it doesn't." This is all that is described.
Julia discovers Olga was "having sex with an old married dude, hoping he would one day leave his wife."
After taking a pregnancy test with fuzzy results, Lorena believes she might be pregnant.
Violence
Julia describes the appearance of her dead sister at the funeral stating, "the top half of her face is angry—like she's ready to stab someone—and the bottom half is almost smug."
Julia explains how Olga was "hit by a semi. Not just hit, though—smashed."
It is implied that Julia tried to kill herself by cutting. The scene is not described.
In a support group, Julia meets a boy who is "here because his stepdad beat him with cords and hangers when he was a kid."
On the journey to America, it is implied El Coyote raped Amá and "held [Apá] down with a gun."
While visiting Mexico, Julia hears gunshots in the street and sees "two dead bodies are lying in the middle of the street."
Drugs and Alcohol
Julia's uncle once teased Olga's boyfriend, Pedro, for being innocent. Julia remembers "tío Cayetano trying to give him a shot of tequila once, and Pedro just shaking his head no."
Lorena and Julia smoke weed at Lorena's house. Julia explains she has smoked weed "a total of five times now."
At a birthday party, Julia's father, and her uncles drink tequila.
At a party, Lorena and Juanga take shots while Julia opens a beer, "which [Julia] regret[s] immediately."
At another party, "the girls all choose Malibu rum," while Julia drinks "Hennessy and Coke."
Language
Profanity is used in the extreme. Profanity includes ass, crap, fuck, hell, shit, and bitch. For example, after Olga's death, Julia's mom was screaming and "telling the driver and God to fuck their mothers and themselves."
Lorena calls Julia a "bitch" for underestimating her intelligence. When Julia is on a bus after skipping school, she believes "the school has already called [her] parents and [she's] in some deep shit again."
Lorena tells Julia to give papers about a college tour to her "crazy-ass mom."
Pissed is used often. At Olga's funeral, Julia decides "it's easier to be pissed," rather than sentimental.
Supernatural
Spiritual Content
Julia shares that she and her mom argue about religion often. Julia "told her that the Catholic church hates women because it wants us to be weak and ignorant. It was right after the time our priest said—I swear to God—that women should obey their husbands."
Amá forces Julia to attend church meetings. Julia wonders "who in the world would want to spend their Saturday night talking about God?"
by Elena Brown
---
"I'm sorry that I'm not Olga and I never will be. I love you, but I want a different life for myself. I don't want to stay home. I don't even know if I ever want to get married or have kids. I want to go to school. I want to see the world. I want so many things sometimes I can't stand it. I feel like I'm going to explode," Julia. –I Am Not Your Perfect Mexican Daughter