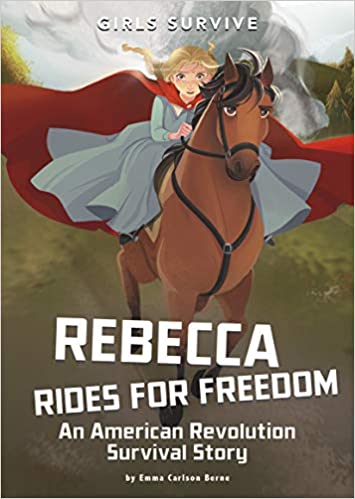 Buy This Book
---
---
"Fury surged through me. I'd ridden miles in the snow, been captured, escaped, and forded the frozen creek. I hadn't come this far only to be dismissed as a silly girl," Rebecca. –Rebecca Rides for Freedom  
Rebecca Rides for Freedom: An American Revolution Survival Story
Girls Survive
by Emma Carlson Berne
AR Test, Strong Female Character
At A Glance
Interest Level

8+
Entertainment
Score
Reading Level
4.6
The American Revolution is raging in Philadelphia, and Rebecca is determined to do all she can to help. With her father stationed with Washington's army at nearby Whitemarsh, it's up to Rebecca to help her mother at home with her younger siblings. That includes selling vegetables to British officers stationed in wealthy houses nearby. When Rebecca intercepts a message about an impending British attack against the Patriots from one such house, she knows she must act. It's up to her to get the message to the Patriot army – before it's too late.
 Rebecca Rides for Freedom begins by describing how the American Revolution affected families. Rebecca's father leaves the family alone so he can fight alongside General Washington. However, because of the families' loyalties to the Patriots, there is constant fear that the Tories will harm them. Despite the danger, Rebecca is determined to deliver an important message to her father's garrison. Rebecca's ride through dangerous territory highlights her bravery and determination. When she is finally close to the Patriot's camp, a soldier tries to send her away, but Rebecca refuses to give up. She thinks, "I'd ridden miles in the snow, been captured, escaped, and forded the frozen creek. I hadn't come this far only to be dismissed as a silly girl."
Rebecca's experience doesn't go in-depth about the history behind the American Revolution. However, readers will begin to understand people's fear of the Redcoats and how the war impacted families. While Rebecca's fear of the soldiers is obvious, the events are described in kid-friendly terms. However, this doesn't detract from Rebecca's harrowing experiences or her bravery.
To make the story easy to follow, each chapter begins with Rebecca's location, the date, and the time. Every 7 to 10 pages there is a black-and-white illustration. The illustrations focus on Rebecca and the events surrounding her. Some of the illustrations show the Redcoats carrying rifles. The book ends with a note from the author that describes her inspiration for writing the story, a glossary, and three questions about the story.
Rebecca Rides for Freedom is a fast-paced, entertaining book that will spark readers' interest in history. While Rebecca is a fictional character, the author explains how real women inspired Rebecca's character. The author writes, "The women behind Rebecca's story were real wives, mothers, and daughters. They were ordinary women who showed extraordinary courage in order to protect both family members they loved and the ideals they believed in." This allows girls to see the important and often overlooked, contribution women made during the American Revolution. In addition, Rebecca Rides for Freedom will encourage readers to stand up for their beliefs. Readers who want to learn more about the Revolutionary War should grab a copy of George Washington's Socks, which is a fast-paced time travel adventure that goes into more detail about the war.
Sexual Content
Violence
When the Redcoats moved into one family's home, they "turned the families out onto the street in the middle of the night. Lydia Wright's baby sister had died that way."
A Redcoat officer accidentally "shot himself in the foot."
Rebecca meets Betsy whose "brother was beaten in the street when he wouldn't get out of the way of the Redcoats. They broke his arm."
For Rebecca to take papers with attack plans, Betsy helps. Betsy "swept her arm across the surface of the desk. All the papers fluttered to the floor." As Rebecca leaves the house, "there was a smacking sound, and Betsy cried out."
Rebecca is captured by the Redcoats. When she escapes, she jumps on her horse, Brownie, who "ran directly through the soldier's campfire before any of them could realize what was going on. . . the soldiers dived for safety to either side."
 Drugs and Alcohol
A group of Redcoats apprehends Rebecca. That night at their camp, the men were "Passing their jug from hand to hand, sometimes breaking into song. When the sergeant speaks, there is the "unmistakable slur of drink in his voice."
Language
A Redcoat refers to General Washington's soldiers as "Patriot devils."
Supernatural
Spiritual Content
When Rebecca is planning to escape from the Redcoats, she "prayed none of them would sense my movement."
While crossing a swollen river, Rebecca "held the wet reins, clinging to Brownie's wet mane, and prayed. It must have been heard because the water grew more shallow."
---
"Fury surged through me. I'd ridden miles in the snow, been captured, escaped, and forded the frozen creek. I hadn't come this far only to be dismissed as a silly girl," Rebecca. –Rebecca Rides for Freedom