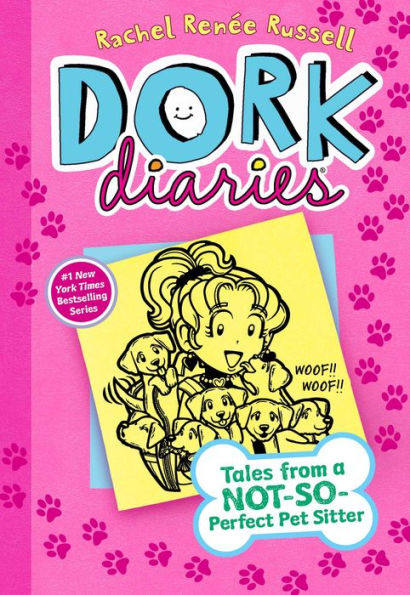 Buy This Book
Buy This Series
---
Tales from a NOT-SO-Perfect Pet Sitter
Dork Diaries #10
by  Rachel Renée Russell
AR Test, Good for Reluctant Readers
At A Glance
Interest Level

9+
Entertainment
Score
Reading Level
4.4
Nikki is excited that mean girl MacKenzie is no longer going to her school. She thinks MacKenzie is out of her life for good, but she is wrong. By accident, Nikki finds out that MacKenzie is telling her new friends all kinds of lies. Should Nikki tell MacKenzie's friends the truth?
Then Nikki and Brandon find Holly and her seven puppies outside of Fuzzy Friends, a dog shelter where Brandon volunteers. The shelter is full, and Brandon is worried because "Not all places in the city have a no-kill policy like we do." The friends think about hiding the dogs in the shelter even though it's "a serious violation that could get us shut down." When MacKenzie overhears Nikki and Brandon's plot, they decide to take care of the dogs themselves.
Nikki lies to her mother, telling her that, "due to a family emergency, a good friend of mine needs a pet sitter for his dog." Since Nikki's mother said she didn't want a dog in the house, Nikki decides to hide Holly and her puppies. Nikki's friends help her come up with a plot to keep Nikki's parents out of the house. When her mom unexpectedly stays home, Nikki and her friends try to hide the dog at the school, which requires more lies and plotting. When Nikki involves her friends and another girl in her schemes, she says, "I felt like a snake. A dishonest, manipulative, and very desperate snake!" That is an accurate description of Nikki's character.
The conflict of hiding Holly and her puppies would be sufficient to keep readers entertained. Adding the character MacKenzie simply brings out the worst in Nikki and turns her into a mean girl. At one point, Nikki thinks the mean girl MacKenzie is like a disposable baby diaper because, "they're both plastic, totally self-absorbed, and full of poop!!" However much like MacKenzie, Nikki's treatment of MacKenzie and her sister makes Nikki come across as self-absorbed and snotty.
Dork Diaries is written in the form of a diary, which contains lists, quote bubbles, emoji's and text talk such as "BFF and OMG." The cute black-and-white illustrations show Nikki and the others in stylish clothes. Since the story is written in diary format, most paragraphs consist of one to two sentences and much of the text is stereotypical preteen talk.
The fun story will entertain readers. However, Tales from a Not-So-Perfect Pet Sitter shows Nikki being dishonest and still being rewarded. In the end, Nikki's parents never learn of her deception, and her parents decide to bring home the exact puppy that Nikki had wanted. Tales from a Not-So-Perfect Pet Sitter is an easy-to-read, fun story, but the main character has many qualities that parents will not want their child to emulate.
Sexual Content
Nikki has a crush on Brandon. They go to a cupcake shop and "then we just stared at each other and blushed. All this staring, gushing, and blushing went on like, FOREVER!" While there, "dozens of butterflies started fluttering in my stomach. It made me feel very giggly and a little queasy. All at the same time. Like I wanted to. . .vomit. . . rainbow-colored. . . CUPCAKE SPRINKLES!"
MacKenzie interrupts an almost kiss between Nikki and Brandon.
MacKenzie flirts with Brandon. When talking to him, she was "batting her eyelashes all flirtylike as she twirled her hair around and around her finger in a blatant attempt to hypnotize him to do her evil bidding."
Makenzie starts a rumor that Brandon, "had kissed her on a bet just to get free pizza."
 Violence
Drugs and Alcohol
Language
OMG is used often.
Brandon tells MacKenzie that, "I don't hang out with sociopaths!"
"Oh crud" is used once.
MacKenzie calls a group of kids "idiots."
Nikki uses the phrase "I threw up in my mouth" several times.
Nikki thinks that her little sister is "bratty."
When Nikki meets her friend's uncle, she thinks, "I'd much rather spend the weekend with a pack of wild dogs than her whiny, slightly nutty, germophobic Uncle Carlos."
When MacKenzie sees her sister talking to Nikki's sister, MacKenzie yells, "I told you never to talk to that little BRAT or her PATHETIC sister again!"
Supernatural
Spiritual Content