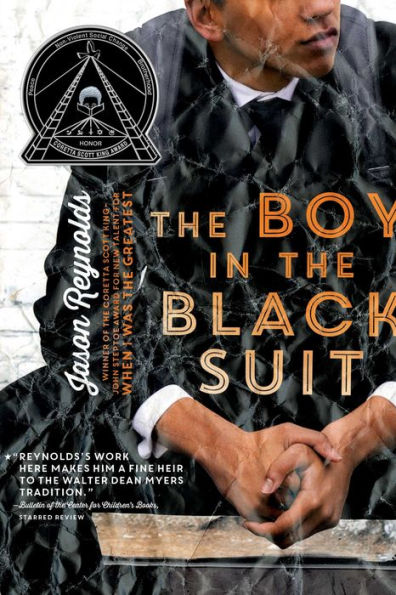 Buy This Book
---
---
"I liked watching other people deal with the loss of someone, not because I enjoyed seeing them in pain, but because, somehow, it made me feel better knowing that my pain isn't only mine. That my life isn't the only one that's missing something it will never have back." Matt. —The Boy in the Black Suit
The Boy in the Black Suit
by Jason Reynolds
AR Test, Diverse Characters
At A Glance
Interest Level

12+
Entertainment
Score
Reading Level
4.8
Matt wears the same suit every day. Even to school. He needs the suit for his job at Mr. Ray's funeral home, which he does because his mom died and his dad's struggling with the bills and alcohol. Despite his mom's recent death, Matt doesn't mind working in a funeral home. In fact, he likes sitting in on the services and finding the most grief-stricken person. It makes him feel less alone.
Then Matt meets Love, who has experienced even more tragedy than Matt. She's tough and kindhearted despite her circumstances. Matt finds himself drawn to her strength. Love understands Matt's pain and loneliness, and she might be able to help him be strong too.
Death is the main focus of The Boy in the Black Suit, and the topic is handled gracefully and respectfully. Although the content is dark, Reynolds balances this with lighthearted moments. The funerals that Matt describes often have some element of comedy. Some characters treat the funeral as a celebration of life rather than a loss. Matt likes seeing both the positive and tragic responses because it gives him an outlet for his own pain.
Throughout the novel, Matt quietly deals with his grief. Matt's grief over his mother's death is not immediately obvious, but his thoughts slowly let the reader into his carefully locked-away emotions. Many of the other characters struggle with grief as well. For instance, Matt's father sinks into alcoholism after his wife's death. The funeral homeowner, Mr. Ray, still struggles with his wife's tragic passing many years ago. Matt also discovers that when Love was younger, she witnessed her mother's murder.
The grief-stricken characters deal with their sadness in realistic ways. Reynolds manages to create well-rounded characters while still showing how grief has influenced their personalities. The Boy in the Black Suit offers a variety of responses to terrible events. After her mom's death, Love continues her mom and grandmother's work with the homeless and carries their spirits with her. Despite the tragedies in Love's life, she doesn't let them get her down. Because of her compassion and quiet strength, Matt is drawn to Love. With her help and the powerful supporting cast, Matt can begin to come to terms with his grief.
The Boy in the Black Suit tells a story about grief and growth in an accessible way for young adult readers. The themes are universal, and many characters learn to grow from their unfortunate circumstances. The Boy in the Black Suit is an important read because it shows that kindness exists even in dark times, and it introduces topics like death in a mature way for readers. Although this book is somewhat darker, fans of Reynolds's other work will enjoy this thoughtful story.
Sexual Content
Matt thinks about his best friend Chris Hayes and how "girls had a thing for his shaved head."
One of Matt and Chris's classmates, Shante, "got pregnant sophomore year."
Mr. Ray, the funeral homeowner and Matt's friend, tells Matt that he "was thinking about one thing only—skirts," meaning girls. Matt misunderstands and says, "You were thinking about wearing skirts?"
Mr. Ray tells Matt that once he and his brother "Robbie done wrecked many a car, taking our eyes off the road to check out some lady's hind-parts."
Matt's mom wrote on the cover of a cookbook: "The Secret To Getting Girls, For Matty" because "cooking is what girls really like."
While in Mr. Ray's basement that was dedicated to his dead wife, Matt "watched [Mr. Ray] take a few more moments down memory lane, back when he could make the game-winning three-pointer, then kiss his girl after he came from the locker room."
At her grandmother's funeral, Matt flirts with Love. Matt tells Chris about it later, and Chris misunderstands. Chris asks, "The girl from the Cluck Bucket [a local restaurant] is your girlfriend?" Matt says no, but he does express that he likes her.
Matt explains Chris's dating history. Chris "used to kick it with Shannon Reeves, a certified winner. Shannon was so fly, all the older dudes would try to get at her until they found out she was only sixteen. And even then, some of them still tried to get at her. [Chris] also used to kick it with Lauren Morris and Danni Stevens at the same time. Danni was kind of geeky, but in a cute way. And Lauren was a cheerleader at our school, so she had that whole thing going on. Long hair, pretty smile, in shape, all cheery, all the time. The two girls knew about each other, because Chris was up front and told them the truth." This exchange continues for several pages.
Matt tells his dad about how Matt and Love are having Thanksgiving together. Matt's dad says, "And if for some reason you feel like having dessert, think twice, son. One slice of her pie could equal a lifetime of your cake, if you know what I mean." Matt is mortified at this innuendo.
Matt and Love help at a homeless shelter. When handing out chicken, Matt asks, "Leg, wing, or breast?" An older man replies, "Well, I'm known to be a breast man." The lady standing behind him "slapped him on the back of the head."
At the park, there's a couple making out on a park bench. Matt says, "The girl across from us moved her mouth to her boyfriend's neck. Yuck."
Love kisses Matt at the Botanic Gardens. He spends a page hyping up his feelings, and then describes the kiss as "a peck… Yup. Just a peck."
After the Botanic Garden date, Love and Matt kiss again. Matt describes it, saying, "I pressed my lips against hers again, this time kissing her longer and pulling her as close as possible. I wrapped my arms around her, and I could feel her hands gripping my back." This description lasts for less than a page.
Violence
When someone tried to steal a bag of chips from the local bodega, the owner, Jimmy, "pulled the biggest knife I've ever seen—I mean, like a machete—from behind the register and started banging the blade on the counter… He then said that if he catches anyone stealing, he'll leave their fingers on the bodega floor for the cat to nibble on."
Matt's mom gives Chris's mom "the green light to pop [Matt] if she needed to." In a flashback where Matt is suggesting breaking the rules, Matt considers this potential consequence.
One night, Chris and Matt hear Chris's neighbor get into an altercation with her boyfriend that ends with the cops and paramedics at the apartment complex. The boyfriend shot and killed her. The description of the altercation lasts for a couple of pages but is only told through what the boys can hear. Matt describes, "All of [the man's] words were long, like he was halfway singing, so we knew he was drunk. And the lady was pretty much screaming, 'It's over! It's over!' and kept telling him to go home… the loudest sound I had ever heard in my entire life came rushing toward us, making both of us shout out and slam the door. Then came the screams of the woman, and the drunk man in the hallway now mumbling something about him being sorry and that he didn't mean it."
A car hits Matt's dad. He was drunk. "When he got to the corner of Fulton and Albany, he lost his balance and stumbled out into the street. Gypsy cab got him."
Mr. Ray's wife "slipped, hit her head, and was gone before anyone could even get to her."
Matt destroys the wilted flowers sitting on his mom's grave because he's upset. He "grabbed a fistful of the flowers by their brittle stems and began beating them against the ground… as if [he] were hitting a drum."
When Love was seven, her mom was murdered. The guy was "accusing her of cheating. He called her all types of names… About five minutes later… gunshot."'
The guy that asked Love for her number at the beginning of the book is killed. No explicit details are given, but Matt works the funeral.
Drugs and Alcohol
At a funeral for a man named Speed-O, Speed-O's friend, Mouse, tells a story about a horse that's dead-tired. Mouse says that Speed-O said, "that somebody slipped a cigarette in the horse's mouth to smoke because the dang horse looked so stressed out by the heat… 'I know it was real because I was the one who lit the horse's cigarette!'" It is made clear that the cigarette was not real but alluded to because of the exhaustion. However, later Speed-O was "lighting a smoke."
Matt thinks about how rumors spread and warp into lies, including when it comes to his mother's death. Matt thinks, "Knowing this neighborhood, people were probably saying it was a drug overdose because that's always what people say. 'Yeah, she used to get high. That's why she was always so funny.'"
Outside of Chris's apartment building there is often drug dealing. Matt describes, "There's always a gang of dudes posted up outside all night, talking trash, and pushing packs of whatever to whoever."
The night when Matt's mom died, his dad was "down in the kitchen, pouring shot after shot of cognac since around midnight." It is later described that after his wife's death, he becomes an alcoholic. One night, Matt finds his dad in the kitchen, and Matt notes, "his words were slurring. I ran down the steps to find him on one knee, holding on to the kitchen counter, trying to pull himself up… On the kitchen floor was a soggy paper bag, soaked with what was obviously cognac. The bottle had broken and glass had torn through the bag and cut his hand. Liquor and blood, everywhere."
Matt's dad was an alcoholic before he met Matt's mom. Matt thinks about how his mom says, "Baby, the bottom of the bottle was your daddy's second home… And if I didn't stop him, he would've made that second home his grave."
Mr. Ray's youngest brother "was a straight-up drunk" and is often seen loitering outside the liquor store.
On the way to the hospital to see his dad, Matt says that he would've "taken anything [Mr. Ray] offered [him]. Even a cigarette."
Matt says that "Chris used to always tell [him] that drug dealers played [chess] to keep their minds sharp."
Mr. Ray tells Matt about his friend who would "invite me and [Mr. Ray's wife] to his shows—this was before he was doing Broadway—and we'd all go out afterward and run through a pack of smokes like it was nothing." Matt notes that Mr. Ray was "probably thinking about his own cigarette habit that he couldn't kick, even after cancer. Twice."
Mr. Ray and his brother sometimes smoke cigarettes.
Outside the homeless shelter, "there were a few guys… all huddled up. One was holding a handful of cigarette butts while the others sifted through, picking out the ones that still had a little tobacco left in them."
Outside one of the funerals, "teenagers stood on the steps and watched [the procession], some lighting cigarettes, others slipping fingers behind their sunglasses to wipe hidden tears."
Language
Profanity is used frequently. Profanity includes asshole, crap, damn, and shit.
Fuck is used once. Mr. Ray has a shrine to his wife who passed away, and he shows it to Matt. Mr. Ray tells Matt, "I was a goddamn mess [when she passed], which is when I started this room, this shrine of all the fucked-up things that happened to me."
A kid ran up behind Chris and Matt at school, "slapped [Chris] on the ass, and rambled off some dumb joke, calling us gay or whatever."
Supernatural
 Spiritual Content
Mr. Willie Ray is the neighborhood mortician. Matt thinks, "after he beat [cancer] the second time, he basically became, like, a Jehovah's Witness for cancer, knocking on doors and passing out pamphlets. He swears the only reason God spared his life twice is so that he could spread the word about the illness."
Matt says that his mom used "to always joke with [Mr. Ray] and say, 'Willie, God saved you just so you could torture the hell outta the rest of us?'"
Matt thinks about his father's alcoholism. "All I could do was pray to God that he would get a handle on it." Other characters also say, "Lord knows…" to explain their thoughts.
Matt works at Mr. Ray's funeral home, and Matt often sits in on the funerals that take place in the church. Prayers lead by the surviving family members usually occur.
Matt attends a funeral for a woman named Gwendolyn Brown. The minister giving the opening speech says, "We don't come in sadness. No, we come in joy, for sister Brown is finally at peace with the mighty King of Kings." The funeral program stated that Brown "loved God."
Matt goes to his mom's grave and tells her about Love. He thinks, "I was going to ask my mother to make me and Love work out, like maybe she had some kind of magic power, or could ask God and the angels to fool around with Love's mind to make sure this whole thing goes smooth."
by Alli Kestler
---
"I liked watching other people deal with the loss of someone, not because I enjoyed seeing them in pain, but because, somehow, it made me feel better knowing that my pain isn't only mine. That my life isn't the only one that's missing something it will never have back." Matt. —The Boy in the Black Suit