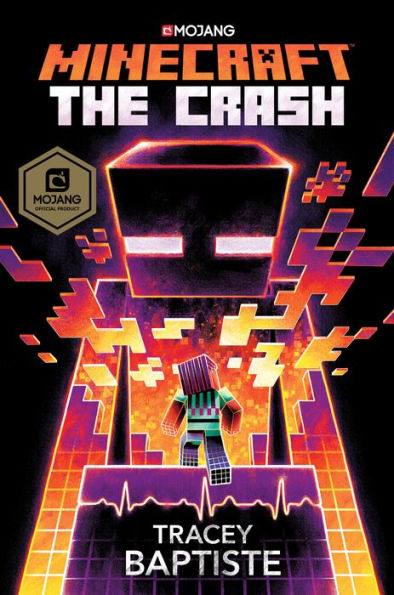 Buy This Book
Buy This Series
---
---
"Whatever we do, we need to stick together. We can work through anything if we just work as a team," Anton said. —Minecraft: The Crash
Minecraft: The Crash
Minecraft
by Tracey Baptiste
AR Test, Diverse Characters
At A Glance
Interest Level

10+
Entertainment
Score
Reading Level
5.1
Bianca doesn't think before she acts because her best friend, Lonnie, has always been there to catch her when she falls. But when Bianca and Lonnie are in a horrific car crash, Bianca learns that thoughtless actions can lead to severe consequences for her and for others.
Bianca wakes up in the hospital with painful injuries. She is afraid to find out what has happened to Lonnie—did he survive or has Bianca lost her best friend? To avoid the painful truths of reality, Bianca jumps into the virtual reality world of Minecraft. When she meets a glitching avatar that might be Lonnie, Bianca vows to do everything she can to help Lonnie in the virtual world.
Bianca teams up with Esme and Anton, two other kids who are in the hospital. While in the Minecraft world, the kids must face dangerous mobs that are generated by their fears and insecurities. With the help of her new friends, can Bianca overcome her fears and return to reality?
Minecraft: The Crash begins with a graphic crash scene, which leaves Bianca wondering what happened to Lonnie. Bianca's resulting fear and guilt conflict drive much of the story. Her time in the Minecraft world adds interest to those who play the game, but fans may not like that the story does not stay true to the actual Minecraft game. Instead, the author changed many of the game's elements to fit the story's plot. On the other hand, if someone is not familiar with the Minecraft game some events will be confusing.
Bianca, Esme, and Anton interact like typical teenagers—they argue and disagree, but they also work together (most of the time.) Esme and Anton show the importance of working together to solve a problem. They also encourage Bianca to face her issues. Esme and Anton are likeable characters who stick with Bianca through everything. However, Bianca is hard to relate to because she comes off as a self-centered person who is dishonest when it benefits her. Although Esme and Anton are doing everything they can to help her, Bianca does little to contribute to the group's plan. Instead, she does what she wants even if it may cause harmful consequences to others. Although she feels guilty for causing the car accident, she has not learned from the event.
The length of the book, the complexity of the plot, and some difficult vocabulary combine to make Minecraft: The Crash more appropriate for middle-school readers than younger readers, as does the fact that the story deals with the difficult topic of death. Although Bianca recognizes that she is to blame for Lonnie's death, the ending of the story does not acknowledge the long-term ramifications of the car crash or the pain Lonnie's death caused others. Despite these drawbacks, this book will keep readers who want to jump into the Minecraft world entertained with battle after battle.
Sexual Content
Violence
Bianca and her friend are in a car crash. Bianca could see the driver of the other car; "his head lurched back as his green car collided with our blue one." During the crash, "there was the smell of smoke. And the taste of blood. And the scrape of something against my body that felt like it had gutted me open somewhere in the middle. I wondered if I'd been halved." Bianca is seriously injured. Her friend dies.
While in the Minecraft word, Bianca meets a zombie mob. She began "plowing through green guys with the sword like an Amazon warrior. . . I was screaming and chopping and generally having a great time until one of them hit me, and the energy bar at the top of my vision went down half a heart." The battle takes place over three pages. During that time, Bianca kills zombies. When she kills one, "green slime burst in pixelated arcs that fell on the ground and disappeared in seconds."
While in the Minecraft world, Bianca tries to go into another player's house. She triggers an explosion and "blocks exploded, lava erupted, and a series of sparks bloomed in front of my eyes.
Spiders charge the three kids. Bianca "picked up my sword again and hacked at the charging spider. It broke into blue pieces and fell to the ground . . ." Then Anton "did a spin and swiped at another spider. It broke apart, but the river of spiders just kept pouring out of the house."
A group of villagers attacks and "they all turned on us, mercilessly raining down blows. . . Anton got the brunt of the blows."
While in a tunnel, zombies attack. Lonnie and Esme "started slashing through the mob. . ." Later, creepers appear. As Bianca tried to escape, "creepers pressing in. One on the far end popped and set off a chain reaction."
Witches begin throwing potions at the group. As Bianca was fleeing, "a potion hit me and exploded. My movements instantly became slower. My heath bar over my head dipped. . . . Ashton kept on hitting until the witch died."
A line of endermen appear and "this group seemed to be gunning for us, arms outstretched in attack mode. . . I swung my sword, just missing it, and giving it enough time to reach me. My health points took a big hit when it landed a blow. . . The endermen pounded me with its fists. I put my arms up, unable to do anything else. . ." The battle takes place over two pages.
Endermen attack the group again. Endermen "rained down on us like black hail. . . Esme fired arrow after arrow into the crowd of them. I hacked my way through at one side . . ."
When Bianca's friends try to get her to leave the game, she "thought about the TNT I had in my inventory, and how I needed a distraction. It suddenly appeared and detonated instantly in front of us. We were blown back in different directions. My heath bar took a major hit." Bianca's friends were "thrown back into the exit portal." They were forced out of the game.
A slime mob attacks a house. Bianca "charged in, giving my best warrior yell. I bashed through the little slimes that were at my feet while keeping the skeletons away from Lonnie." The battle takes place over three pages.
Zombies come into a bobby-trapped house. When the zombies got to the door, "there was the click of a trigger, and the sound of a low whistle that got louder and louder, and then bam! Both of them got smashed by an anvil." The battle takes place over two pages.
While in the bobby-trapped house, Bianca steps on a pressure plate. She runs, but "a series of flaming arrows flew towards us. Most stuck in the ground, burning in place, but a few of them hit us. The sharp stab of the arrow piercing me was bad enough, but the fire . . . I started to crawl away, but Lonnie sat where he was, pinned by three arrows that hit his legs and arm. . . d" No one is seriously injured.
Zombies attack again. Bianca "continued slashing with my sword while pushing Lonnie backward, away from danger. . . a zombie hit me, sending me sprawling. My body felt leaden as I hit the floor, and I didn't know if I had the energy to escape the approaching zombie. . . " Lonnie pulls her to safety.
Bianca and Esme get into an argument. Bianca "pushed her to the ground and started to hit her with my fist, but she was back up on her feet a moment later, punching back. . . I pulled my hands up to shield my face, hoping the blows would end soon, and a moment later she stopped." Someone pulls Esme off Bianca.
A scarred enderman appears and Bianca "thrust upward with the sword. I caught the enderman's arm. It staggered back a step, but then reached around with its other arm to strike me. . . the enderman's arm flashed out, lightening quick, thwacking my face. The blow burned like fire. . ." Esme shoots the enderman, but others appear. Anton has TNT so he "lobbed the bombs over our heads as we kept firing. . ." The group is able to escape. The battle takes place over 2 ½ pages.
Witches ambush Bianca. "They pelted potions, and I warded them off with my sword as best I could. Then I charged the closet witch—the one on my right—slashing until it died, droppings ticks and glass bottles." Someone saves Bianca.
Wither skeletons with swords attach the group. "Anton killed one at close range by sticking its torso, and one of Esme's arrows found its target, destroying the third one."
Ender pirates attack. Bianca tries to escape, but one "extended its hand and knocked me over. I fell to the floor, but I didn't seem to have taken much damage. The fighting continued around and over me for a second before I regained my footing." The battle continues for 3 ½ pages and ends when Anton detonates an explosion, "The yellow and orange of the bomb was bright against the sky. . . I (Bianca) jumped up onto the rail, and dove into the water as the pirate ship blew up behind me."
Someone steps on a pressure plate and enemies appear. "The silverfish looked vicious, and they came straight toward us with their jaws unhinged, as if they meant to take a bite out of anyone who got close enough. . . They swarmed around us, unrelenting and hideous, but our armor kept us relatively safe. . ." They escape through a portal.
Bianca and her friends jump through a portal, but an enderman appears and grabs Bianca. "The enderman grabbed me by the hand, pulled me backwards, and threw me down on the ground. It kneeled over me, wrapped its hands around my neck, and squeezed. I choked for air. My legs and arms flailed as I tried to dislodge myself from the enderman's grasp." The game glitches and Bianca reappears somewhere else.
In a final battle, Bianca and her friends fight a dragon. "Its eyes blazed as it charged straight toward us. I could feel the heated air radiating from its flapping wings. . . The dragon dropped its wing and clipped Anton on his back. He lurched forward, landing at Lonnie's feet and staring up at the sky." The battle takes place over 10 pages.
Drugs and Alcohol
While in the hospital, doctors gave Bianca painkillers. When she woke up, she "considered that the drugs were making me loopy." Later Bianca's father is told that doctors have "administered the strongest painkillers we can under the circumstances. . ."
Language
Darn, jeez, heck, and crap are each used one time.
Pissed is used five times. For example, Bianca thinks that another player "looked pissed."
Anton says that Esme is "a jerk sometimes."
Supernatural
Spiritual Content
---
"Whatever we do, we need to stick together. We can work through anything if we just work as a team," Anton said. —Minecraft: The Crash