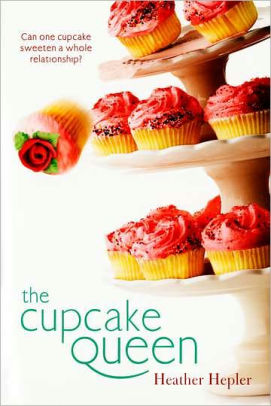 Buy This Book
---
---
"You're not boring, Penny. You just keep all of your interesting stuff on the inside," Tally. –The Cupcake Queen
The Cupcake Queen
by  Heather Hepler 
AR Test
At A Glance
Interest Level

12+
Entertainment
Score
Reading Level
4.4
When her mom decides to leave Manhattan and open a cupcake bakery in Hog's Hollow, Penny gets dragged along. She doesn't know how she'll survive high school without her lifelong friends and big-city comforts. To make matters worse, her father is staying behind, and her mom isn't talking about what the future holds for them. And as if that weren't enough, Penny's clumsiness leads to a cupcake-avalanche mishap at the Queen Bee's birthday party, which instantly makes her a social pariah.
But small-town life isn't all bad. Penny finds bright spots in Hog's Hollow—like her art class and her free-spirited friend Tally. Then there's Marcus, the cute and enigmatic boy who is always running on the beach. . . and into Penny. Just when Penny is settling in, her parents ask her to make a choice that will turn everything upside down again.
Told from Penny's point of view, The Cupcake Queen focuses on small-time life in Hog's Hollow. Anyone who has been a target of bullying will relate to Penny as she tries to find her place in a new town. Penny struggles with the changes in her life, including her parents' separation. Like many teens, Penny is frustrated that her parents are keeping secrets from her, especially since their decisions have a huge impact on her life.
The story also shines a light on the importance of dealing with loss. Even though Penny's parents are alive, she feels neglected by a father who doesn't have time for her. Penny's friend Tally lives with her aunt because her musician father's career is more important than her. Meanwhile, Marcus still grieves his mother's death. Even though each character has faced the loss of a parent differently, the book acknowledges that sometimes, "Life can be pretty hard. . . I'd like to tell you it gets easier, but it doesn't. It just gets different."
While The Cupcake Queen has some predictable factors such as a mean girl, a cute boy, and an eccentric friend, the characters are relatable and likable. Tally adds a dash of spice to the story, while Marcus adds a little romance that doesn't go past holding hands. The Cupcake Queen doesn't sugarcoat events that are confusing and hurtful. Instead, both Penny and Tally learn that "at some point you just have to let go of what you thought should happen and live in what is happening."
Middle school readers who want a character-driven story with a sprinkle of romance will enjoy The Cupcake Queen. Penny's story continues in the holiday-themed book Frosted Kisses. Readers may also want to add How to Steal a Dog by Barbara O'Connor and The Dog Who Lost His Bark by Eoin Colfer to their reading list. Both are engaging stories that skip the romance and focus on parental problems.
Sexual Content
Violence
 Drugs and Alcohol
Language
Someone calls manure "cream of crap."
In a yearbook, someone drew over Penny's mother. "You know, the usual—glasses, mustache, black teeth. Underneath the photo someone crossed out her name and wrote in Hog's Hollow Ho." Penny's friend tells her, "Don't let those morons get to you."
A mean girl calls Penny a loser and stupid.
Supernatural
Spiritual Content
---
"You're not boring, Penny. You just keep all of your interesting stuff on the inside," Tally. –The Cupcake Queen