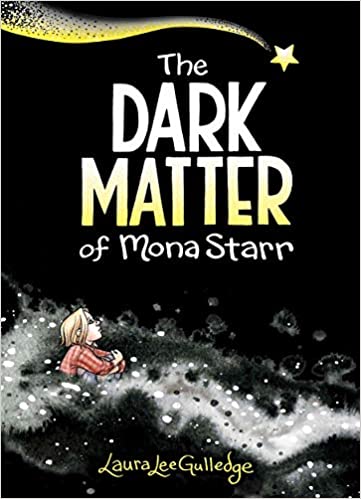 Buy This Book
---
---
"My nana always said it's the most difficult thing about us that ends up becoming our greatest strength. That our gifts can come wrapped in curses," Nash. –The Dark Matter of Mona Starr  
The Dark Matter of Mona Starr
by Laura Lee Gulledge
At A Glance
Interest Level

12+
Entertainment
Score
Reading Level
3.0
Sometimes the world is too much for Mona Starr. She's sweet, geeky, and creative, but it's hard for her to make friends and connect with other people. So much so, that her depression seems to take on a vivid, concrete form. Mona Starr calls it her Matter.
The Matter seems to be everywhere, telling Mona she's not good enough and that everyone around her wishes she'd go away. But with therapy, art, writing, and the persistence of a few good friends, Mona starts to understand her Matter and learns she can turn her fears into strengths.
Many readers will relate to Mona, who struggles with insecurity, indecision, and negative thoughts. Even though Mona tries to hide her dark thoughts, she realizes that she can rely on others for emotional support. As Mona tries to understand her depression, she has the help of a therapist, her parents, and her friends. While this takes away much of the shame associated with depression, the constantly shifting scenes make the story disjointed. Despite this, Mona's personal journey allows teens to understand depression and how depression can impact people.
Throughout the graphic novel, Mona struggles with dark thoughts and wonders if "I'm doomed. . . and it's all doomed. That I don't matter. . . none of it matters." Her emotions are expressed in both the text and the illustrations. For example, in one scene the picture shows her surrounded by speakers that blare comments such as, "You deserve to be alone. You're lame. You're a bad person." Her dark thoughts take several different forms, such as a huge blanket, loudspeakers, and space. While the illustrations are beautiful and complex, the inconsistency may confuse some readers.
One negative aspect of the graphic novel is that some of the comments don't connect with the story's plot. For example, Mona tells her counselor, "I know I shouldn't complain as a privileged white American" which may imply that Mona's problems aren't valid. Plus, there are several other comments that needed to be developed in more detail. For example, Mona thinks her depression caused a benign tumor to grow. However, this thought is never explained or discouraged.
The Dark Matter of Mona Starr will give readers insight into how to cope with depression. Not only does Mona go to therapy, but each chapter begins with advice that helps Mona deal with her dark thoughts. For example, "draw it out," "turn emotion into action," and "break your cycles." Mona learns to lean on her friends and to be honest about her difficulties. She also learns that "I can't erase the negative story in my head that says I'm crazy but maybe I can replace it with a story that is more accurate."
The black-and-white illustrations are captivating because of their complexity. Instead of just relying on facial expressions, Mona's emotions take on forms of their own. For example, at one point Mona is overwhelmed and the illustration shows her surrounded by a brick wall. In another image, Mona's hope is highlighted by a yellow glow and when Mona's parents support her, they have yellow hearts surrounding them.
Readers who would like to explore how other characters deal with anxiety should read Guts by Raina Telgemeier and Breath Like Water by Anna Jarzab. Page by Paige by Laura Lee Gulledge also deals with a teen's overwhelming emotions and self-doubt, but it does a better job explaining these emotions better
Sexual Content
Violence
Mona's father talks about his sister who was "mentally unwell. She ended up taking her own life."
 Drugs and Alcohol
Mona overhears her parents' conversation. Her mother says, "Maybe she needs medication? My sister is on antidepressants and says it helps."
Language
Supernatural
Spiritual Content
---
"My nana always said it's the most difficult thing about us that ends up becoming our greatest strength. That our gifts can come wrapped in curses," Nash. –The Dark Matter of Mona Starr