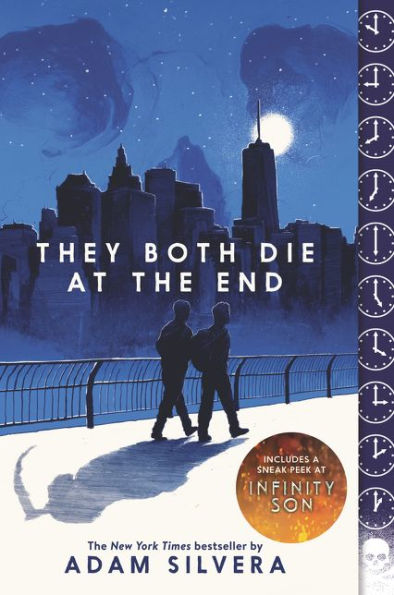 Buy This Book
Buy This Series
---
---
"No matter how we choose to live, we both die at the end," said Mateo. –They Both Die at the End
They Both Die at the End
by Adam Silvera
AR Test, Diverse Characters, LGBTQ
At A Glance
Interest Level

14+
Entertainment
Score
Reading Level
5.5
Mateo Torrez and Rufus Emeterio both receive a call from Death-Cast at around midnight on September 5, 2017. Death-Cast tells them that they will die sometime in the next 24 hours.
Until that day, the boys had nothing in common. Mateo has spent his life inside, fearing the day he gets the call and doing everything he can to avoid bringing it about early. Rufus, on the other hand, has seen death up close and personal. After losing his family in a car accident, he has vowed to live every day to the fullest.
Their paths cross when they each download the app Last Friend, designed to give people a chance to connect with someone on their End Day. The novel follows the boys as they try to make each final moment count, and learn to balance healthy fear with the pursuit of feeling truly alive one last time.
The spoilers are in the title, but knowing the ending makes the reading journey more valuable. The audience is given happy moments, not a happy ending. Readers must grapple with their own mortality and ask whether they have been living more like Mateo or Rufus. For these reasons, the book is recommended for older teenaged readers. While the message is valuable, it is at times difficult to confront, so readers should approach the book with caution. They Both Die in the End addresses death, illness, difficult upbringings, terrorism, spirituality, suicide, and first loves.
The story alternates between the first-person perspectives of Rufus and Mateo as well as a third-person view of characters whose stories intertwine with theirs. As their lives intertwine, characters who may seem unrelated at first, find themselves deeply affected by the boys. This unifies the plot and allows Silvera to explore a diverse collection of characters and their relationships with death without becoming too unfocused. Despite the sadness of a short life, the collective experiences of Rufus and, more particularly, Mateo, leave readers with the hope that though the boys may not have lived long lives, they each lived fully on their final days.
Sexual Content
Mateo wants to go do something outside, so he does not spend the day "masturbating because sex with an actual person scares [him]."
Mateo's best friend Lidia is an 18-year-old single mother.
A man approaches a woman at a club and says, "Maybe you'll live to see another day with some Vitamin Me in your system." This causes her friend to "[swing] her purse at him until he backs up."
Rufus's foster home has a "bulletin board with information about sex, getting tested for HIV, abortion and adoption clinics, and other sheets of that nature".
Aimee, Rufus's ex-girlfriend wishes Rufus would "watch porn" rather than reality TV.
Rufus remembers when he and Aimee were dating, and they would "rest underneath the blanket together."
Mateo distinguishes between the Last Friend app and Necro "which is intended for anyone who wants a one-night stand with a Decker—the ultimate no-strings-attached app." Mateo says, "I've always been so disturbed by Necro, and not just because sex makes me nervous." Mateo doesn't like the app's eight-dollar fee because he feels "as if a human is worth more than eight bucks."
Rufus describes his outfit, including basketball shorts over gym tights to prevent his "package" from "poking out there like Spider-Man's."
A potential Last Friend reaches out to Mateo, but she reveals she does not really want a friend. She says, "do you have an open house then? I'm supposed to lose my virginity to my bf but i want to practice first and maybe u can help me out." Mateo blocks her after he sees the message.
Another potential Last Friend tricks Mateo by implying he can save Mateo from death. When Mateo asks him how, he says he should come over to his apartment because he "[has] the cure to death in [his] pants." Mateo blocks him as well. Rufus later receives the same message when he downloads the app.
After hearing Rufus is dying Aimee cries, holds Rufus's hand and hugs him. He remembers how "she would relax on [his] chest whenever she was about to watch one of her historical documentaries." After noticing that "she's mad close," Rufus "[leans] in" to kiss Aimee but is interrupted.
Mateo changes his profile to only allow sixteen- to eighteen-year-olds to message him, so "older men and women can no longer hit on [him]."
Mateo can hear the sounds coming from different apartments, including "one couple moaning" and laughter which he says could possibly be from "being tickled by a lover."
Mateo considers the life of birds who "mate and nurture baby birds until they can fly."
On the party train, Rufus notices "a girl . . . hops onto the bench seat to dance. Some dude is hitting on her, but her eyes are closed, and she's just straight-up lost in her moment."
A girl described as gorgeous, hazel-eyed, and black approaches Rufus on the party train and he feels "her breasts against [his] chest and her [lips] against [his] ear." She asks if he wants to go home with her, and Rufus refers to her as his type, but he ultimately says no, due to him not having "much [he] can offer her, besides what she's obviously suggesting." He acknowledges that "sex with a college girl has gotta be on mad people's bucket lists—young people, married-dude people, boys, girls . . ." However, he remembers Aimee and thinks, "I'm not trying to cheat that with something fake like this."
The girl ultimately leaves with another guy, and Rufus suspects "they'll just have sex tonight and he'll call her 'Kelly' in the morning."
Mateo tells Rufus about his parents' proposal story. He explains, "My mother turned him down twice. He said she liked playing hard to get. Then she found out she was pregnant with me and he got down on one knee in the bathroom and she smiled and said yes."
Mateo discusses his parent's relationship in terms of songs, saying, "Another of Dad's favorites is 'Come What May,' which my mother sang to him and womb-me during a shower they took together before her water broke."
Delilah places her phone on the pillow "on the side of the bed that was Victor's whenever he stayed over."
Rufus tells Mateo, "Your Last Friend is gonna make sure you go out with a bang. Not a bad bang, or a you-know-what bang, but a good bang,"
Rufus jokes that if observing makes one able to do something, then "[he has] watched enough porn to make [him] a sex god."
As Mateo looks at Rufus's Instagram, Rufus says he feels "exposed." Rufus likens it to "someone watching [him] wrap a towel around [his] boys" after a shower.
When Rufus was thirteen, he describes how "flipping through magazines, [he'd] scout for pictures of girls in skirts and dudes in shorts and would tilt the page to see what was underneath."
At Make-A-Moment, Mateo notices that "a couple are kissing in a hot air balloon."
Mateo meets a boy who "was pretty sure love didn't mean that your father slept on the couch and that your mother didn't care when her husband was caught cheating on her with younger girls in Atlantic City."
After Mateo's nightmare, he notices how Rufus "shifts closer…[Rufus's] knee knocking against [his]."
Rufus explains that Althea Park is "where [he] kissed this girl, Cathy, for the first time."
Mateo tells Rufus he's never dated anyone, but he has had crushes. Then Mateo thinks to himself, "I sense there's something more he wants to say; maybe he wants to crack a joke about how I should sign up for Necro so I don't die a virgin, as if sex and love are the same thing."
Mateo describes riding the bike with Rufus. He says, "I would lean against Rufus, shifting my weight against him . . .  keep holding him." He determines that he is "going to do something small and brave."
Rufus will not express his interest in Mateo, because, "He's gotta make a move himself."
When talking about the ending to his dream, Rufus says, "Nah, I think I started dreaming about sex or something and woke up from that."
Mateo recognizes that Rufus is "probably not a virgin."
While sitting next to each other on the train, Rufus "shifts, his body leaning against [Mateo's]."
A comment could imply a history of sexual assault. A girl tells someone "all the heartbreaking [secrets] she always kept to herself because speaking up was too hard."
Rufus, Mateo, and Lidia go swimming unexpectedly and strip down to their underwear. Rufus says, "[Mateo] avoids looking my way . . . unlike Lidia . . . who's looking me up and down."
When they prepare to jump into the pool, Rufus says, "I grab Mateo's hand and lock my fingers in his. He turns to me with flushed cheeks . . . " After they jump, they are still holding hands, and Rufus hugs Mateo in the water.
Later, Rufus thinks, "We don't bring up the hand-holding or anything like that, but hopefully he gets where I'm coming from now in case he had any doubts." Rufus says, "[The Plutos are] smiling at me like they wanna tag-team bang me."
A girl "eyes [Rufus] up and down" and Mateo's "face heats up." He says, "But then Rufus catches up to me and pats my shoulder and the burn is different, like when he grabbed my hand back at the Travel Arena."
Mateo and Rufus sing karaoke. Then Mateo drags Rufus "offstage, and once we're behind the curtain, I look him in the eyes and he smiles like he knows what's about to go down . . . I kiss the guy who brought me to life on the day we're going to die." Afterward, Rufus kisses Mateo.
Mateo and Rufus slow dance. "We place our hands on each other's shoulders and waist; [Mateo's] fingers dig into him a little, the first time I'm getting to touch someone else like this." Mateo admits that "maintaining eye contact with Rufus is really hard" because it is "the most intense intimacy [he has] ever experienced." They speak into each other's ears and continue to dance before they kiss and part.
Rufus thinks, "Part of me can't help but wonder if Mateo is bringing me home so we can have sex, but it's probably safe to assume sex isn't on the brain for him."
Mateo sings "Your Song" for Rufus, and in the middle of the song, Rufus kisses his forehead.
Mateo and Rufus sit on the bed, "linking [their] arms and legs together."
Rufus tells Mateo, "I would've loved you if we had more time . . .Maybe I already do . . ." Mateo then says, "I want to say it as many times as I want—I love you, I love you, I love you." To which Rufus responds, "You know damn well I love you too . . . I don't talk out of my dick, you know that's not me." He says he wants to kiss him again, but he doesn't.
Rufus narrates as Mateo "climbs into [his] lap, bringing [them] closer." They stay close together and kiss one more time before sleeping side by side.
Violence
After he finds out that he is going to die, Mateo wants to "curse into a pillow" because his dad is in a coma or "punch a wall because [his] mom marked [him] for an early death when she died giving birth to [him]."
Mateo tells the story of a President who "tried to hide from Death in an underground bunker four years ago and was assassinated by one of his own secret service agents."
Frequently, Mateo and Rufus imagine the scenarios in which they could die. These are often worst-case scenarios, and some are gruesome. For instance, Mateo says, "I could choke on a cough drop; I could leave my apartment to do something with myself and fall down the stairs and snap my neck before I even make it outside; someone could break in and murder me."
A fight between Rufus and Peck, Aimee's new boyfriend, occurs over nine pages. Rufus repeatedly punches Peck, while pinning him down. Rufus fears he may kill Peck. He checks to make sure Peck doesn't have a pocketknife, concerned that Peck may be the one to kill him. Rufus picks "Peck up by the back of his collar and then [slams] him against the brick wall . . . Blood slides from an open wound in [Peck's] forehead." Finally, a friend of Rufus's looks like he is "about to kick [Peck] like his head's a soccer ball." Peck is not killed but walks away severely injured.
Rufus explains that his family's car "flipped into the Hudson River" killing his sister and parents. Rufus later goes into more detail about the crash. He explains, "I'd sat shotgun because I thought it bettered our chances of surviving a head-on car crash if both my parents weren't in front." He says that it did not change anything "before going on about the screeching tires, the way we busted through the road's safety rail and tumbled into the river. . ." Rufus says, though he forgets their voices, "I could recognize their screams anywhere."
Victor, a Death-Cast employee, explains that his day included telling a mother her four-year-old daughter will die today and sending police to her home just in case the mother is responsible for the impending death.
While contemplating death, Rufus thinks "I'm praying that I don't drown like my parents and sis." He then says he's "counting on not getting shot."
Despite telling his friends he "wasn't going to kill" Peck, Rufus internally admits, "I could've killed him."
Rufus says that his survivor's guilt after his family's death was so strong that "there's no way in hell [he] would've been chill with [himself] for beating someone to death."
Wondering what happened to a blogger who died, Mateo considers looking into "muggings or murders in Central Park" to see if one victim was the blogger.
Rufus tells the readers that his friend "Malcom's parents died in a house fire caused by some unidentified arsonist, and whoever it was, Malcolm hopes he's burning in hell." He later says Malcolm learned from "the flames that burned his house, parents, and favorite things" how to value people over things.
Rufus's friend's father "committed suicide."
After telling Aimee that he promises not to die before he gets to see her again, she responds with the question, "How many Deckers make those promises and then pianos fall on their heads?"
Rufus warns Aimee that Peck "better not call the cops" so that Rufus doesn't "find [himself] on the wrong end of some officer's club."
A picture in Rufus's room is described as showing his friend with a bloody nose after an attempt to create a handshake went awry "because of a stupid head-butt."
A man using the Last Friend app "unwittingly befriended the infamous Last Friend serial killer."
The characters occasionally joke that another character could kill them from frustration. For instance, Rufus says, "It's possible I'm gonna die at the hands of my foster father; if you're not his alarm clock, you shouldn't wake him up."
Rufus describes how Aimee pushes him, and that, "She doesn't play when it comes to violence because her parents got real extra when they tag-team-robbed a convenience store, assaulting the owner and his twenty-year-old son." He clarifies that she will not be arrested like they were for "shoving [him] around."
Peck is described after the fight as having "one eye shut, a cut on his lip, spots of dried blood on his swollen forehead."
Playing a video game, Mateo watches his avatar "[step] on a land mine" which causes the virtual "arm to fly through a hut's window, his head rockets into the sky, and his legs burst completely." However, a moment later, the character returns "good as new," which makes Mateo contemplate the finality of his own death.
Mateo has a panic attack and lashes out. He throws "these books across the room and even kick some of my favorites off their shelves . . . I rush over to my speakers and almost hurl them against the wall, stopping myself." He stops because the electricity could kill him.
Rufus, while biking to Mateo's home, says, "He better not be a serial killer or so help me . . . "
Rufus's friends, Malcolm and Tagoe, are arrested by the officers who are trying to track down Rufus, because "Malcolm argued with the police officer and resisted arrest" and "Tagoe jumped into the argument too with more aggression than Malcolm himself was using."
The narrator explains that "Malcolm has never even been in a fight before, even though many paint him to be a violent young man because he's six feet tall, black, and close to two hundred pounds."
Mateo is concerned that Rufus is going to rob him when he first meets him. He checks the hallway "to see if he has some friends hiding against the walls, ready to jump me for the little I have."
Mateo imagines his death again and cringes from the phantom feeling of "falling face-first onto spiked fences or having your teeth punched out of your mouth." He runs through a list of scenarios with Rufus and their plan, should one of them occur. These scenarios include "some truck might run us down," "someone pulls out a gun," and "a train kills us."
Mateo and Rufus come across a dead bird that "has been flattened; its severed head is a couple inches away." Mateo thinks "it was run down by a car and then split by a bike." When Mateo goes to bury the bird, he fears its head will "roll away."
Mateo remembers seeing a baby bird fall out of its nest and how "its leg broke on impact."
Rufus is grateful their train arrived because "we can safely rule out falling onto the exposed tracks, getting stuck while rats run by us, and straight chopped up and flattened by the train."
Rufus says that getting Mateo "out of the apartment was one thing, but I'm probably gonna have to knock the dude out and drag him out of the hospital,"
Mateo tells Rufus about a childhood incident in which a bully took his lunch money, saying, "He punched me in the face and took it all."
When Mateo goes to an ATM, he is "praying someone doesn't come out of nowhere and hold [them] up at gunpoint for the money—we know how that would end."
When exploring a ditch, Rufus tells Mateo, "If you find any toes in there, we're jetting." Mateo says there are no body parts, but in the past, he has found a "guy with a bloody nose and no sneakers. . . [he was] beat up and robbed."
"Four six-foot-tall kids jumped [Kendrick] and stole" his sneakers. He ended up with a bloody nose and "walking home in his socks was painful."
Mateo has a nightmare. "My skis disappeared and I flew straight off the mountain while headless birds circled overhead and I kept falling and falling."
Rufus cries, mourning his own death, and becomes violent in response. He narrates, "I hammer at the railing with the bottom of my fist. I keep going and going. . . I stop, out of breath, like I just won a fight against ten dudes."
An angry man, Vin, is said to "like to be feared" which is why he wrestles. However, he got sick and now cannot do that to take out his aggression. This results in him deciding to build a bomb to destroy the gym, those inside, and his coach, as his coach "suggested a new career route." The narrator says, "Vin is going to die where he was made. And he's not dying alone."
Mateo and Rufus are caught in the explosion. "Glass shatters and we're suddenly thrown backward through air as fire reaches out toward a screaming crowd. . . I slam against the driver's side of a car, my shoulder banging into the rearview mirror. My vision fades—darkness, fire, darkness, fire." He has no idea what happened, just that "Rufus is struggling to open his eyes and others are screaming. But not everyone. There are bodies on the ground, faces kissing cement." He sees a woman whose "blood is staining a rain puddle."
Deirdre is described "on the ledge of her apartment building" contemplating suicide. She sees people below and assumes they are betting on "if she's a Decker," or someone who knows they will die that day. Deidre says, "The blood and broken bones on the pavement will settle their wager." It is said that this is not the first time she has thought about killing herself.
When Deidre was in a fight at school when she was young, someone called her "that lesbian with the dead parents." This prompted her to go to a ledge, though her friend talked her out of killing herself.
Rufus seems to have struggled with suicidal thoughts before. He tells Mateo, "There was a point where I didn't think any of this was worthwhile." He goes on to say, "I would've been game with game over…but surviving showed me it's better to be alive wishing I was dead than dying wishing I could live forever."
Rufus tells Mateo he doesn't deserve to die. Mateo responds that no one does. Rufus asks, "Except serial killers, right?" However, Mateo does not respond, implying he believes they are no exception.
Peck's friend has been "stealing candy from the drugstore . . . fighting those who are the Goliath to his David. Starting a gang."
Peck's friend wants to hurt those who hurt Peck. He "imagines Rufus's face where the dartboard is. He throws the dart and shoots bull's-eye—right between Rufus's eyes".
The narrator says, "Peck will gain respect by unloading his gun into the one who disrespected him."
Mateo hugs his best friend, Lidia. "She says everything in this hug—every thank-you, every i-love-you, every apology." Mateo returns the hug. However, after a moment "Lidia steps back and slaps [him] hard across the face."
A police officer is afraid of getting the call every night, "especially since losing his partner two months ago." His partner died tracking someone participating in Bangers, which encourages Deckers to "kill themselves in the most unique way possible" and post videos that can win their family money. However, he says, most do not win, and "you don't exactly get a second shot." The Decker's attempt to kill themselves resulted in the partner's death.
There is a car crash. In the midst of a car ride, "Sandy's eyes widen" then "the car jerks and Howie closes his eyes, a deep sinking in his chest." The crash is narrated from the perspective of the boys who caused the accident. "The two boys laugh when one car bangs into another, spinning out of control until it crashes against the wall." A girl survives the accident and remembers the "way [Howie's] head banged against the reinforced window, heard the sickening crack that will stay with her forever—"
Peck pulls out the gun at the club, intending to kill Rufus. There is a stampede and Mateo says, "People are stepping on me and this is how I'm going to die, a minute before Rufus gets shot to death."
There is a fight to get Peck to put the gun away. "Mateo punches Peck in the face." Then, "Peck's homie swings at Mateo" and someone runs "into Peck and his boy like a train, carrying them through the air as the gun drops, and he slams them against the wall." Rufus is able to get the gun after he kicks "Peck's other boy . . . in the face as he goes to grab it. . . Rufus unloaded the gun. All the bullets find their way into the wall."
Mateo dies in a fire. "When I switch on the burner, my chest sinks with regret. Even when you know death is coming, the blaze of it all is still sudden."
Rufus fights through the fire to try to find Mateo. He inhales a lot of smoke but reenters the apartment. He finds Mateo and grabs "Mateo, my fingers sink deep into boiled skin . . . half of his face is severely burned, the rest is deep red."
Drugs and Alcohol
Mateo regrets that "no one will ever get high with [him]."
Rufus describes his appearance in a photo saying, "my eyes uneven, kind of like when I'm high, which I wasn't (yet)."
Two potential Last Friends reach out to Mateo with the message subject line being "420?" Mateo narrates, "I ignore Kevin and Kelly's message; not interested in pot."
Rufus says the gas station "smells like piss and cheap beer."
Mateo changes his profile to only allow Deckers to reach out, "so I don't have to deal with anyone looking to buy a couch or pot."
A girl approaches Rufus on the train who has "an extra can of beer" and asks, "Want one?" Rufus refuses.
Rufus later takes pictures of the "crushed beer cans and water bottles" on the train.
Mateo does not regret going to the party but thinks, "I don't want to be around people who get so drunk they pass out and eventually black out the nights they're lucky to be living."
A girl has a cigarette at one point.
Officer Andrade and his partner "traded dad jokes over beers."
Officer Andrade plans to "share a beer" with his partner in heaven.
Lidia says while drinking, "I wish this had some kick to it . . . I can't be sober when I lose you."
Rufus and Mateo sing "American Pie" which includes lyrics about "whisky and rye."
Language
Profanity is used often. Profanity includes asshole, god, dumbass, jacked up, damn, multiple forms of shit, hell, fuck, pissed, bullshit, ass, bitch/bitching, dope, dick, bastard, motherfucker, and piss.
Mateo says he'll "feel ballsier" once he has said his goodbyes to those he loves.
Rufus says to Aimee, "There isn't a bigger kick to the nuts than you turning your back on the Plutos for the punk-ass kid who got them locked up."
After Mateo talks about wanting to "leave [their] mark," Rufus jokes, "We going outside to piss on fire hydrants?"
When Rufus says he loves the Plutos, he notes that "No one cracks homo jokes."
After Rufus refers to Malcolm and Tagoe as "shadows," Malcolm jokingly responds, "That because we're black?"
Supernatural
Rufus asks the Death-Cast employee about how they know when people will die. He guesses, "Crystal ball? Calendar from the future?" He remembers the theories told to him about Death-Cast being a "band of legit psychics and . . . an alien shackled to a bathtub and forced by the government to report End Days."
Mateo believes Rufus is not a monster because monsters "trap you in your bed and eat you alive" rather than "come to your home and help you live."
A boy was writing a book about a "demon doctor wearing a stethoscope that could read his patients' minds."
Spiritual Content
Rufus considers taking a picture of Aimee's church to post to Instagram but decides his "nonbelieving ass" shouldn't have that as his last post.
Aimee is described as "pretty Catholic."
Rufus explains that "Malcom and Tagoe are always mocking the churches that shun Death-Cast and their 'unholy visions from Satan.'" He goes on, saying that he finds it "dope how some nuns and priests keep busy way past midnight for Deckers trying to repent, get baptized, and all that good stuff."
Rufus says, "If there's a God guy out there like my mom believed, I hope he's got my back right now."
Mateo implies that his mother wanted to marry his father before he was born due to "her family's traditions" believing him to be a "bastard" if she should not. He thinks "the whole bastard thing is stupid."
Rufus and Mateo visit a graveyard and discuss how they, and others, view the afterlife. Rufus thinks that there are two afterlives: one "when Death-Cast tells us to live out our last day knowing it's our last" and "then we enter the next and final afterlife without any regrets." He also believes that if we live too long after knowing we will die then "we turn into ghosts who haunt and kill." He thinks the final afterlife is "whatever you want."
Mateo's dad "believes in the usual golden-gated island in the sky", which Lidia likes because "the popular afterlife is better than no afterlife". Mateo thinks it will be "a home theater where you can rewatch your entire life from start to finish".
Rufus says, "I'm not religious. I believe there's some alien creator and somewhere for dead people to hang out, but I don't credit that all as God and heaven."
Mateo says, "I hope reincarnation is real." This becomes a recurring wish for him. That in another life, he will be able to find Rufus again.
Mateo asks if Rufus believes in fate. Rufus says he doesn't, but Mateo asks, "How else do you explain us meeting? . . . If you can believe in two afterlives, you can believe in the universe playing puppet master."
A girl talks about the book that she is writing which is about reincarnation and a girl trying to find her sister after the sister's death. The girl also mentions the origins of her name in "a heroine in Irish mythology who took her own life."
Rufus says after cliff jumping, "It's like I've been baptized or some shit, ditching more anger and sadness and blame and frustration beneath the surface."
by Jennaly Nolan
---
"No matter how we choose to live, we both die at the end," said Mateo. –They Both Die at the End