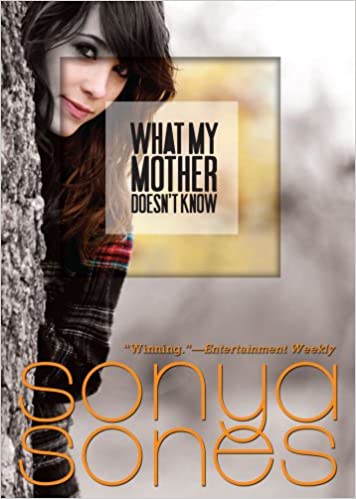 Buy This Book
Buy This Series
---
---
"I mean, he's Murphy. We're just friends. And that's all we'll ever be. Right?" Sophie Stein.

–What My Mother Doesn't Know
What My Mother Doesn't Know
by Sonya Sones
AR Test
At A Glance
Interest Level

12+
Entertainment
Score
Reading Level
5.3
When Sophie Stein enters high school, she finds herself falling in love with a boy named Dylan. However, as she goes through some difficult self-discovery, she realizes that she and Dylan are not compatible. Instead of being attracted to Dylan's intellect, Sophie is only attracted to him physically. Meanwhile, the ups and downs of this romance lead Sophie to chat online with Chaz. At first, Chaz gives Sophie the validation she seeks, but Chaz isn't prince charming. Instead, Chaz makes sexual comments toward Sophie, who finds herself alone again. 
Then Sophie meets Murphy, an unpopular boy who isn't conventionally attractive. Despite this, Sophie becomes enamored by him and they start hanging out. Sophie discovers that she has more in common with Murphy than she initially thought, and she eventually falls in love with him. In this relationship, her connection with Murphy is stronger than anything she had previously experienced. However, Sophie has a difficult time telling her two best friends about the romance, since most of the school has spent many years making fun of Murphy.  
Sophie is a relatable character dealing with the average struggles of a teenager. Throughout the novel, she attempts to discover who she is in both her romantic life and family life. She also combats peer pressure and her own insecurities. In the end, Sophie overcomes her fears of becoming unpopular and is no longer afraid to show her affection toward Murphy. One of the big themes of this novel is that attempting to be popular and well-liked should not come above what brings happiness. Another theme is to not judge a book by its cover. At first, Sophie judges Murphy, but when she looks beyond his appearance Sophie forms a beautiful relationship with him. These messages will resonate with many teens. 
The story's conclusion is predictable because from the first time Murphy appears Sophie finds herself dealing with a strange attraction toward him. Plus, the story lacks conflict and the ending is a bit too happily ever after. Because Sophie is a teenager, she can act a little childish at times. She approaches many things, like romance, for the first time in her life. Therefore, she comes across as a bit naive when dealing with these new situations. Since Sophie focuses a lot on her blooming sexuality and the intense attraction she feels towards the men in her life, only big romance fans will enjoy What My Mother Doesn't Know.  
What My Mother Doesn't Know is told through a series of poems and diary entries that Sophie writes, making it a quick read. While the novel is told entirely from the perspective of the main character, readers won't find it difficult to relate to other characters in the book. Not only are Sophie's romantic interests well-developed, but so are her best friends and parents. Overall, the story is a cute tale of teenage romance.
Sexual Content  
After sitting on a guy's lap in a car, Sophie said it felt like "some R-rated movie and everyone else in the car was just going to fade away and this guy and I were going to start making out."

 

Sophie makes sexual references to prove that her father is not actually listening to her. When he asks how her day at school was, she says,

"We played strip poker during third period and I lost." Her dad replies, "'That's nice,' without even looking up from his meatloaf." 

 

Sophie has to listen to her friend, Grace, "moan about how horny she is."

 

Sophie

says

her "breasts have been growing so fast lately that if [she] were to sit there and watch them for a while . . . [she] could actually see them getting bigger."

 
Sophie

discusses

how her mother has never talked to her about safe sex or birth control, yet her mother is still scared Sophie will "get pregnant or something."

 

Sophie and her friends go to the ice cream shop wearing no clothes under their coats: "This afternoon before we put on our raincoats, we took everything else off!"

 

Sophie talks about how she only really liked Dylan physically, saying,

"If Dylan and I had met by chatting on the Net . . . instead of face to face and I hadn't seen his lips or the way he moves his hips when he does that sexy dance and I hadn't had a chance to look into his eyes and be dazzled by their size and all that I had seen were his letters on my screen, then . . . I think I would have liked him less." 

 

Chaz tells Sophie that one of his favorite things to do is "jerk off in libraries."

 

While waiting for her mother after the school dance, a boy grabs Sophie's breast on a dare. "The guy standing closest to me is suddenly bursting out laughing and grabbing my breasts with his slimy paws."

 

While having breakfast at a hotel, Sophie imagines "what it would be like to be lying naked underneath a sheet while a strange man rubbed oil all over my body."

 

Sophie dreams about having a man "remove every stitch of [her] clothes." The man in her vision turns into Murphy and she dreams of "how his hands will feel cupping the lace of [her] bra."

 
Violence  
When a boy grabs Sophie's breast after the school dance, she "slams [her] knuckles into his chin" and "smashes [her] foot into his friend's knee."

 
Drugs and Alcohol  
Sophie briefly mentioned how her mother is "stuffing Hershey's Kisses into her mouth, chain-smoking, watching her soaps, and weeping." 

 
Language                                                                                                                                               
Supernatural  
 Spiritual Content  
Sophie flashes back to a confrontation with a group of girls where she is ridiculed for her faith. The girls ask Sophie's friends, "Don't you know you aren't supposed to play with anyone who doesn't go to church?"

 
---
"I mean, he's Murphy. We're just friends. And that's all we'll ever be. Right?" Sophie Stein.

–What My Mother Doesn't Know